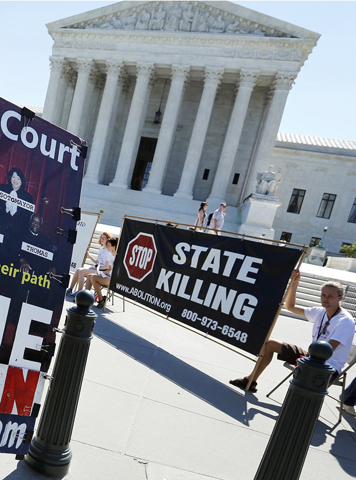 Protesters against the death penalty gather in front of the U.S. Supreme Court building in Washington June 29, 2015. (CNS/Reuters/Jonathan Ernst)
The U.S. saw a marked decline in the use of the death penalty, recording in 2015 the "fewest executions, fewest death sentences, and fewest states employing the death penalty in decades," according to a year-end report from an anti-death-penalty group.
"By all measures, use of and support for the death penalty continued its steady decline in the United States in 2015," reported the Death Penalty Information Center, noting that "the number of new death sentences imposed in the U.S. fell sharply from already historic lows" and "executions dropped to their lowest levels in 24 years."
The majority of Americans (56-61 percent) support the death penalty, according to national polls conducted by Gallup and the Pew Research Center. However, these numbers represent a continued decline of nearly 20 percentage points from the peak levels of support in the 1980s and '90s, and "were close to 40-year lows," the Washington-based Death Penalty Information Center noted.
Furthermore, polling found that when given a choice, "a majority of Americans preferred life without parole to the death penalty," the report said.
According to "The Death Penalty in 2015: Year End Report," 28 death row prisoners were executed in 2015, the lowest number of executions since 1991. Forty-nine people were sentenced to death in 2015, a 33 percent decline from the number of death sentences imposed in 2014, and the lowest number of new capital punishment sentences issued in a single year since the early 1970s.
Six death row inmates were exonerated of all charges in 2015, one each from Alabama, Arizona, Florida, Georgia, Mississippi and Texas, according to the report.
Six states executed prisoners in 2015. Texas executed 13; Missouri, 6; Georgia, 5; Florida, 2; and Oklahoma and Virginia one each.
The number of people on death row continued to decline, dropping below 3,000 for the first time since the spring of 1995, the center reported, citing surveys by the NAACP Legal Defense and Educational Fund.
The national trend of abolishing the death penalty continued in 2015. Nebraska became the 19th state to abolish the death penalty on May 20. Nebraska Gov. Pete Ricketts vetoed it May 26, but his veto was overridden on May 27. Pro-death penalty forces gathered enough signatures to put a repeal of the law on the ballot for voters in November 2016.
The Connecticut Supreme Court determined its death penalty was unconstitutional. Following the lead of Colorado, Oregon and Washington, Pennsylvania Gov. Tom Wolf declared a moratorium on executions in 2015.
Several states put the death penalty on hold due to difficulty importing execution drugs or administering execution protocols.
New Mexico, Connecticut and Maryland had inmates on death row at the beginning of the year but barred the death penalty for future cases.
For the fifth year in a row, fewer than 100 death sentences were imposed in the U.S. Three states -- California, Florida and Alabama -- account for more than half of all the new death sentences. Thirteen of the verdicts originated in four California counties.
Texas, with a death row population of 265, the third-highest count by state, added only two new death row inmates in 2015. California has the largest death row population, 746 prisoners, followed by Florida with 400.
A total of 18 states imposed no death sentences in 2015.
At least 70 death-row prisoners with 2015 execution dates were given stays, reprieves or commutations, which translates to 2.5 times the number of people who were executed.
The Death Penalty Information Center report includes the following data on inmates executed last year:
Two-thirds exhibited signs of severe mental illness, intellectual disability, or debilitating effects of abuse or trauma;
Sixty percent were black or Latino;
Six executions involved cases in which black victims were murdered, even though almost half of those murdered in the U.S. are black;
Eight executions involved interracial murders with at least one white victim.
While national polling figures showed a decline in support for the death penalty, especially when polling respondents are offered an alternative punishment, like life in prison without parole, surveys conducted "in areas historically considered death penalty hotbeds also revealed dramatic changes in public attitudes," the report said.
Two studies the report cited were:
The Kinder Institute for Urban Research at Rice University surveyed residents of Harris County, Texas, where Houston is located, which has executed more inmates than any county in the country. It found that 28 percent of respondents "say they now prefer the death penalty to life without parole as punishment for first-degree murder," according to the Death Penalty Information Center report.
Oklahoma's SoonerPoll.com, the report said, "found that an 18-percentage-point majority of Oklahomans would support abolition of the death penalty if capital punishment were replaced with the alternative sanction of life without parole, plus a requirement that the inmates pay restitution to victims' families."
[Elizabeth A. Elliott is an NCR Bertelsen intern. Her email address is eelliott@ncronline.org.]
A version of this story appeared in the Jan 15-28, 2016 print issue.