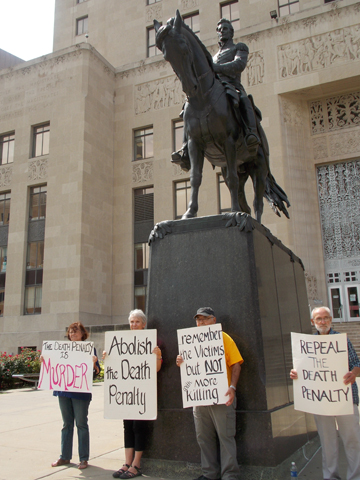 Members of the Missourians for Alternatives to the Death Penalty stand with signs in front of the Jackson County Courthouse in Kansas City, Mo. (NCR/Elizabeth A. Elliott)
Kansas City, Mo. — June 29, 2016
National and local groups are marking today -- the 44th anniversary of the Supreme Court's decision in Furman v. Georgia, which started a nationwide, albeit short, moratorium on executions -- with demonstrations and fasts.
The groups are also remembering July 2, the 40th anniversary of Gregg v. Georgia, the Supreme Court decision that allowed executions to resume.
Missourians for Alternatives to the Death Penalty, or MADP, coordinated with the Abolitionist Action Committee's annual Starvin' for Justice fast and vigil for the first time to "rally in solidarity for those that wish to participate but are unable to go to [Washington] D.C.," said Edward Norton, administrative assistant for MADP.
MADP supporters rallied in front of the Jackson County Courthouse in downtown Kansas City, Mo.
Cathleen Burnett is on the statewide board of MADP and is also the founder of the Kansas City chapter. She told NCR that when there's an execution in Missouri MADP does demonstrations on the eve of executions "but this is the first time we've joined with the national folks in spirit."
Burnett said the motivation to join with the national celebration is "we're trying to slow down executions and the trend nationally is to slow down and decline in executions and sentencing people to death row. To show we're part of the national trend of slowing down executions, it became symbolic for us at this point to say we're all in it together and hopefully the trends will continue here in Missouri."
Terri Beutel is an associate of the Sisters of Charity of Leavenworth, Kansas. She believes the death penalty is applied unfairly and spoke of the Furman v. Georgia anniversary at the Kansas City rally.
She told NCR that she was remembering the moratorium anniversary "day with fondness, hoping we get back to that point again. I hope that justice is handed down fairly and that we come up with a better way to rehabilitate people to be productive members of society."
Sharon Gibson, who belongs to Peace Church in Kansas City, said she attended the event because it is something she has always felt strongly about, and "I was thinking this morning it's almost a religious freedom thing. My religion says 'thou shall not kill' and I don't think that the government or whomever should force me to murder people. That's the bottom line."
The MADP supports stood silently with signs in opposition to the death penalty. Participants also were asked to fast. Norton told NCR that "fasting allows for a stronger demonstration and internal recognition of what it takes to make a positive impact for those in need." Burnett said the St. Louis Chapter will be staging a similar protest on Thursday.
Allison Nagle is a student at St. Teresa's Academy, an all-girls high school in Kansas City sponsored by the Sister of St. Joseph of Carondelet. She told NCR she came to the event after hearing about it from MADP. Nagle and four other students started the Stars for Life club at the school, a prolife group that tries to educate about abortion, death penalty and euthanasia.
Starvin' for Justice is a national movement that started in 1994 by the Abolitionist Action Committee. The four-day liquid only fast and vigil takes place on the sidewalk in front of the U.S. Supreme Court. Participants in the event include exonerated death row prisoners, murder victim family members, death row family members and leaders in the national movement to abolish the death penalty.
Speakers include Joe D'Ambrosio, Ohio Death Row Survivor, Jenn Meeropol, executive director of the Rosenberg Fund for Children and granddaughter of Julius and Ethel Rosenberg, executed in 1953; Bill Pelke, fast and vigil co-founder; and Fr. Neil Kookoothe who helped get D'Ambrosio released from death row.
About 100 people participate directly through the vigil, fasting or speaking at evening programs, according to Scott Langley, organizer at the Abolitionist Action Committee. Participants from about 17 states went to Washington, D.C. Event sponsors include Pax Christi USA, the Catholic Mobilizing Network, People of Faith Against the Death Penalty and the Catholic Worker movement.
Starvin' for Justice is planning to commemorate the 40th anniversary of Gregg v. Georgia with speakers including Chuck Culhane, whose death row sentence was changed by the Furman v. Georgia decision and George White, a murder victim family member and survivor of wrongful conviction and incarceration.
In related news, Arizona will not be able to perform executions for the foreseeable future due to problems obtaining lethal-injection drugs, according to The Atlantic. A filing by the Arizona Department of Corrections said the "lack of the drugs and its current inability to obtain these drugs means that the Department is presently incapable of carrying out an execution."
The state amended its execution protocols to omit the drug midazolam, according to the article. The current supply is scheduled to expire before a lawsuit by five death-row inmates challenging the use of the drug will be completed.
Pfizer released a statement in May that they will restrict the sale of drugs to a "select group of wholesalers, distributors and direct purchasers but under the condition they will not resell the products to correctional institutions for use in lethal injections."