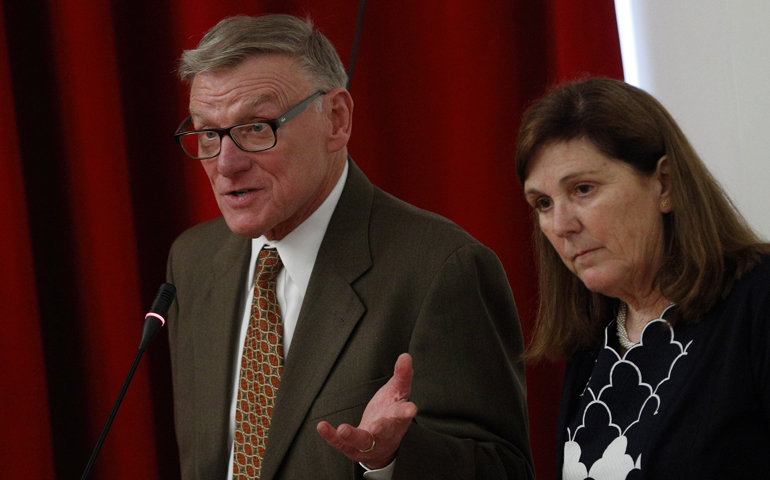 Robert Senkewicz and Rose Marie Beebe speak at a media briefing on Blessed Junipero Serra sponsored by the Los Angeles archdiocese Thursday in Rome. (CNS/Paul Haring)
Blessed Junipero Serra is being canonized because he was holy, not because he was perfect, said a team of experts on the life and ministry of the 18th-century Spanish missionary.
Although he is a historian, not a theologian, Robert Senkewicz said: "My sense is that people are not canonized because they are perfect -- otherwise, presumably, St. Peter would never have been canonized. They are canonized because they made a commitment which, on balance, had more good than non-good associated with it."
Senkewicz, a professor of history at Santa Clara University in California, and Rose Marie Beebe, his wife who also is a professor at Santa Clara, are co-authors of a new biography, Junipero Serra: California, Indians, and the Transformation of a Missionary.
The Los Angeles archdiocese hosted a media briefing about Serra on Thursday in Rome; the four speakers were scheduled to attend a study day about Serra and a Mass with Pope Francis on Saturday at the Pontifical North American College, the U.S. seminary in Rome.
Pope Francis is scheduled to canonize Serra on Sept. 23 at the Basilica of the National Shrine of the Immaculate Conception in Washington.
The pope's decision, however, has led to some controversy, particularly over how Serra treated Native Americans.
Beebe, a professor of Spanish literature who has translated Serra's letters and homilies, said that through her work, she has come to see him as "a complex human being, warts and all," who was "transformed by working with the indigenous people."
Ruben Mendoza, a professor of archaeology at California State University, Monterey Bay, and a person who describes himself as being of Mexican-Indian descent, told Catholic News Service that Serra was devoted to the Native Americans and to sharing the Gospel with them.
"The irony is that, over these many years, those same communities tend to criticize him for what he did: evangelize them and bring them a different way of looking at the world."
"I think he would have been mortified if he realized the very people that he loved, that he devoted his life to, would now see him as the culprit in their disintegration," Mendoza said.
The professor has been involved in research and conservation projects at several California missions founded by Serra. He said many of the Spanish missionary's critics are confusing the impact of Spanish colonizing and missionary activity on the native communities with what happened after California became a U.S. territory in 1848.
"A decimation of the Native American population," Mendoza said, occurred "in the period after 1850; Serra had no connection to that phenomenon. Those who criticize Serra the most tend to conflate the American period with that of the missionaries."
Another major objection to Serra's canonization involves reports that Native American adults at his mission were beaten.
"There is no documentation that Serra himself abused any Native American," Mendoza said. "The system under which he operated did use corporal punishment, but that was also used for transgressors from all walks of life, including soldiers."
Mendoza supports the canonization and said he believes it "has much to offer the peoples of Latin America, especially those of us of Mexican-Indian heritage who currently live under a shadow of doubt and denigration."
Msgr. Francis Weber, a historian and former archivist of the Los Angeles archdiocese, told reporters he was certain Serra does not care whether he is canonized, but "I care."
The job of an archivist and historian, he said, is "reading other people's mail" and letters from people who knew Serra demonstrate his total devotion to evangelizing, educating and administering the sacraments to the native peoples of what is now California.
What is more, he said, "five nations have concluded that Father Junipero Serra was worthy of [being honored on] a postage stamp -- that's a distinction even more rare than canonization."
Weber said church officials in California and at the Vatican spent "72 years sifting through" historical evidence to verify that he lived a holy life, loving God and serving others. "Serra did this in a way that went far beyond the average person."
"He traveled to the periphery of the world -- California was the end of world back then -- to share his love of God with the Native Americans, whom he deeply loved and they loved him in return," the monsignor said.