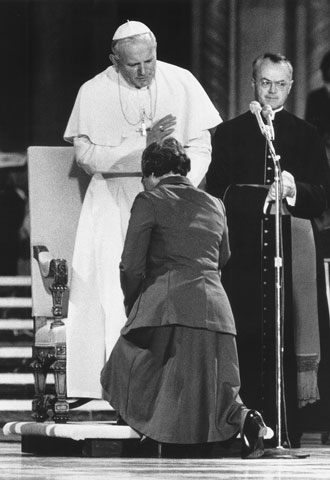 Mercy Sr. Theresa Kane is blessed by Pope John Paul II at the Basilica of the National Shrine of the Immaculate Conception in Washington 1979. (CNS)
To hear Sr. Theresa Kane speak is to be struck with an urge to act.
When the Sister of Mercy welcomed Pope John Paul II in October 1979 as the spokeswoman for U.S. women religious, she chose those brief moments to ask for equality and ordination on behalf of Catholic women everywhere. Her words, though met with fierce negation by the pope and Vatican officials, were broadcast around the world.
There are few who dare to speak their truths aloud under such powerful opposition and public eye, but Kane didn't shy away from truth in 1979. She encouraged the end of oppression for women in the church, setting alight a spark of change. She continues to be a leading voice in the feminist religious movement decades later.
To celebrate the 35th anniversary of Kane's greeting, WATER (Women's Alliance for Theology, Ethics, and Ritual) spoke with her as part of the organization's monthly WATERtalk series. As a new staff member, and a born-and-bred Mennonite who arrived unacquainted with progressive Catholic history, I had never heard the name Theresa Kane, much less about her courageous speech.
The WATER office was abuzz in the days leading up to the talk; we were to speak with the Theresa Kane. Her name was given a kind of reverence, both first and last whispered in a hush reserved for household legacy. She was the ticket, I was told. She was it.
But I still didn't understand what awaited. We watched clips of the speech, grainy tinted film of Kane at a podium in front of thousands. She spoke to the pope and the nation with eye contact that never waivered as she delivered what was, in the 1970s, a minority opinion. I'd grown up picturing in my mind nuns as women with black habits and auras of quiet reverence. But there was Kane in a suit, blowing the whole world away.
Throughout our hour of conversation, Kane's urgency and passionate spirit struck me. At the age of 77, she remains a professor at Mercy College in New York. A vibrant sense of activism, propelled by a desire to follow her life's work for justice, was palpable, as unwavering and well-articulated as the greeting years ago.
The fight for feminist equality in religion remains, as does the need for Kane's continued leadership and advocacy. There is one question she still hears often: Would she repeat the address again?
"Most assuredly, yes, and I would express my plea with greater urgency and greater passion," she said. "I realized through these years that [equality] really is an urgent, passionate, absolutely critical issue that we need to look at -- universally, as church and society."
Advocacy for women's equality existed before Kane gave her address at the National Shrine of the Immaculate Conception in Washington, D.C. At the Leadership Conference of Women Religious (LCWR) meeting in 1975, a resolution for women to be in all ministries passed almost unanimously, and two years later, the Sisters of Mercy of the Union endorsed a similar statement.
By the time Kane, as LCWR's president, welcomed the pope, she knew what she would say. Visible glints of support were present in the crowds that day; a group of sisters wore blue armbands to signify advocacy for women's ordination.
"That's where I became alive," Kane said. "It has become a vision, a passion, a focus for my life, and a priority. My greeting was considered a commencement. It was not the end of my responsibilities. ... For me, it has been a lifelong journey."
As the spokeswoman for LCWR, Kane was also conscious of herself as "a voice in the desert," she said. "I needed to speak not just for women religious, but for all women. That particular moment was somewhat of an inclusive mindset that deepened solidarity."
The greeting was highly publicized by both the U.S. and international media. But enter the library in D.C.'s National Shrine today, and evidence of Kane's greeting is nowhere to be found, even in the area highlighting John Paul's first visit to the U.S. It's as if the speech never happened.
Yet thousands of letters poured in to express thanks and scrutiny. When Kane was asked to clarify her greeting several weeks later to priests in Rome during an annual LCWR visit, she presented about 100 of the letters as a record of reaction. She explained that many people were scandalized by the speech -- but there were also many people behind her.
"I think we just need to be stronger about our corporate action," Kane said during the WATERtalk. "How do we get our message out there? How do we make it known if we don't do it in some dramatic way? I think we have to have the courage to do that."
When LCWR gave Kane the Outstanding Leadership Award in 2004, her speech at the ceremony mentioned what she calls the "colonizing spirit" -- the idea that as long as there is no gender equality, women, without meaning to, take a secondary role and fail to recognize their own power.
It is Kane's belief that until the church achieves radical equality, "we have a sacred responsibility as women to pursue this vision. We really can stand strong and stand firm and say gender equality is a gift from God. As martyrs of old, we're willing to die for it, but more importantly, I'm willing to live for it."
I have seen the more progressive side of my faith denomination. In my Mennonite church in Indiana, women are treated as equals. My lead pastor was female. My mentors were females. I was baptized by a female. My surrounding communities showed me women who were able to live their power and callings in the church unbound by the patriarchal structures so present in many religions -- even in sectors of my own denomination.
The same causes Kane advocated for are still in limbo: the right for leadership and ordination, the right for say in religious governing bodies, the right to be heard with equal voice and to act with equal stance. There is a fight for women's tongues, hearts and minds, in solidarity with and for one another. Whether with armbands or a speech in front of thousands, whether with trembling voice or shaking feet, women continue to press forward in what Kane calls an urgent, critical time.
Kane opened my eyes to the path set by her and thousands of other leaders nearly 40 years ago. This is not new work; it is continued work. Kane has a reach far beyond her denomination, far beyond her 35-year-old welcome to a pope. Regardless of religious affiliation, her call to action is necessary for young leaders and thinkers. Her words deserve recognition for what came before. So much groundwork has been laid. So much lies ahead.
"The source [of my courage] is the tremendous solidarity that I experience with many, many women and a growing number of men," she said. "When I go before God, I am responsible to God for who I am and what I've done. ... I am truly responsible for my psyche, for my soul and spirit, for what I do with something I believe so strongly. It does have to come out of your gut."
I, too, now understood what it meant to utter the words Theresa Kane.
[Kate Stoltzfus completed an internship year at WATER at the end of July.]
A version of this story appeared in the July 31-Aug 13, 2015 print issue under the headline: A legacy beyond Catholicism.