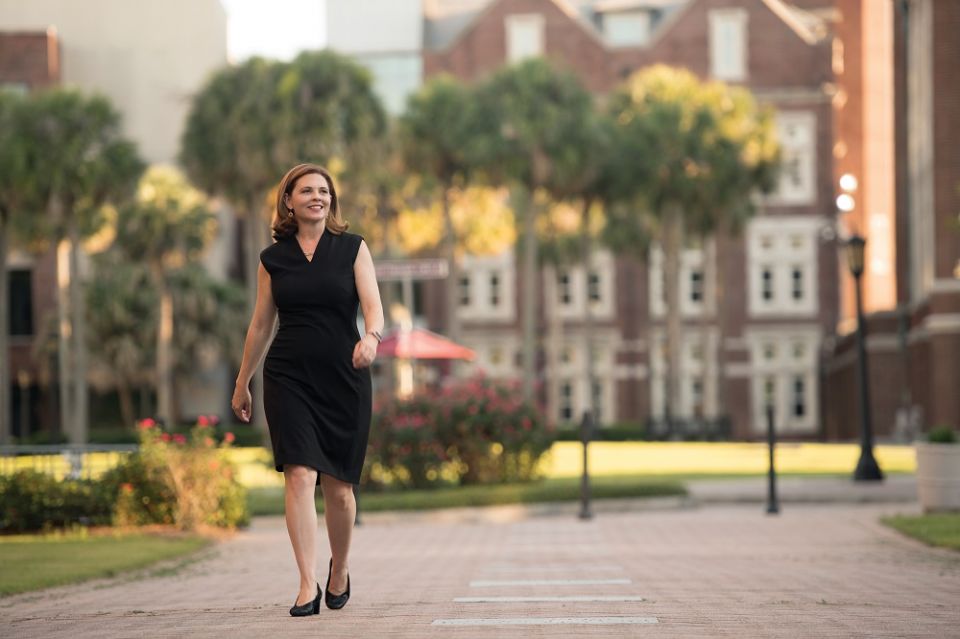 Tania Tetlow, first female and lay president of Loyola University, New Orleans, walks on campus (Loyola University)
On her first day as president of Loyola University last fall, Tania Tetlow walked across the New Orleans campus looking at all the faces. Most she knew, some were new to her. It is a daunting task, being president of a university, but she promised herself that in a few months, she would personally come to know almost everyone on university grounds.
Last year, Tetlow was appointed the first woman and first lay president in the 107-year history of this Catholic university. Her predecessors have all been Jesuit priests. But somehow, she couldn't imagine being president anywhere else.
"I grew up on this campus. My father taught here; my mom went to law school at night. My family is full of Jesuit priests, so I'm very steeped into the tradition of Loyola and Jesuit education," she said.
Tetlow had a very "unusual childhood." Her father was a Jesuit priest for 17 years before he was "called to have a family." Her mother was a theologian. "So when my parents didn't want to be understood by the children at the dinner table, they spoke in Greek or Latin," she said.
Tetlow has been part of the St. Ignatius chapel community at Loyola since she was 6 years old. "I was steeped in faith my whole childhood in a way that was both about emotional support and intellectual rigor." As a teen studying in a secular institution, she decided that if she ever wanted to rebel against her parents ("like every adolescent does") she would do so while being part of the church.
The members of her chapel are happy at her appointment.
"During the presidential* search, which was kept secret until the end, it felt perfectly natural [to the community] that a member of their church choir should be chosen as the president," she said.
Tetlow graduated cum laude from Tulane University in 1992. She went on to receive a law degree from Harvard University in 1995.
"I never imagined being a university president. When I was practicing law, I actually taught adjunct at Loyola Law school, one class a year as a volunteer. Coming in as a president is not something I pictured."
During her formative years, Tetlow found a mentor in U.S. Rep. Lindy Boggs, who later served as ambassador to the Vatican. At age 16, Tetlow wrote to Boggs, saying she admired her and requested to meet. Soon, she joined Boggs' staff as a summer intern. The congresswoman had a profound influence on Tetlow.
"She was a devout Catholic, and she was able to be virtuous not by being withdrawn from the pressures of the world, but by engaging with great power."
The role of a mentor, said Tetlow, is very important in the lives of young people, especially women.
"It raises our expectations and ambitions for ourselves to see women in authority," she said. "I think for so many people, they can look at not just their parents, but the role that mentors have had on them — someone who chose to invest time in them and make all the difference in their lives. That was certainly true with Ms. Boggs."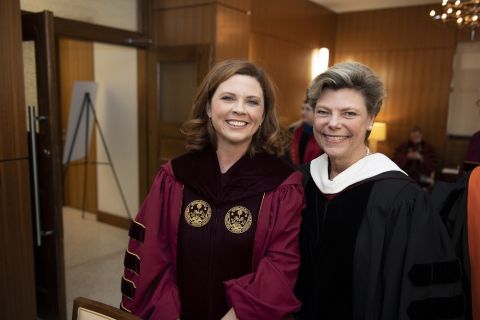 Tania Tetlow, left, poses with her mentor Cokie Roberts at Tetlow's inauguration ceremony, Nov. 16, 2018. (Loyola University)
After the death of Boggs in 2013 at the age of 97, Tetlow found another mentor in the congresswoman's daughter, Cokie Roberts.
"Cokie picked up the mantle of being a mentor to me, which was an extraordinary act, because she had hundreds of people she was mentoring on her own," she said. "She knew how much I missed her mother, and she just stepped in as somebody who I could talk to and get advice from."
Whenever Roberts was in town, she would often insist on meeting with Tetlow's 7-year-old daughter. "They had a very sweet relationship."
Roberts' recent death, September 17, left Tetlow bereft.
"I went home that day and cried for hours," she said. "I was incredibly sad to lose her. I recently wrote that you could hear a howl of grief that day in Washington and New Orleans. She meant so much to so many people."
From Boggs and Roberts, Tetlow learned to push forward. She understands that women are often discouraged from being ambitious. "We [women] have a fraught relationship with our own dreams and aspirations." Women also often struggle to negotiate for themselves.
"However, where women struggle to negotiate for themselves, they are equally good at negotiating on behalf of others. And so, that's a trait critical for all humanity really — to be ambitious on behalf of serving other people," said Tetlow, who worked for years as a vocal advocate for victims of domestic violence.
She credits her early education under women religious for instilling in her the belief that women can achieve anything they set their minds to. "They [sisters] run schools, run hospitals. One of the main lessons in education in Catholic institutions is that women can do anything."
Like every working parent, Tetlow is juggling work with responsibilities at home. As she spoke to NCR over the phone, she laughed and mentioned that her daughter was in her office. But having her child at her workplace is an advantage, she said.
"I get to demonstrate to her the joy I take in my work, which helps in her dreams," she said. "And also being a mother means that I have to keep myself from working all the time, which means I'm less likely to burn out."
Tetlow admitted that she often takes a break from work to play with her daughter. "As hard as it is to juggle, it creates a healthier balance, because it forces you to think about everything else in life that matters."
As the first lay and woman president at Loyola University, she said it's critical to be purposeful about the mission of the university. She wants to use the opportunity to make clear that "we do not just rely on the priests among us to take forward the mission. It's important that each and every one of us does."
One goal for Tetlow is bridging the gap between "what students deserve and what they can afford to pay." With student debt on the rise, many find a college education unaffordable. She understands that many families struggle with paying tuition. Recently, the university completed a fundraising campaign, raising $36 million in scholarship money.
"It is the biggest part of our budget — financial aid. And we work closely with students to have a plan to figure out how to work through the difference. But the average of what they are paying is incredibly reasonable. So it's just the question of helping students make decisions about how they will go forward to pay for higher education."
Along with that list of goals, Tetlow hopes she leaves a lasting legacy through her work.
"I was reading this beautiful, big book of the history of Loyola, full of pictures, with my daughter," she said. "And we got to the end of flipping through it, and she said, 'Mommy where is your chapter?' And that felt very symbolic of the way that she will grow up as part of the experience, too."
[Sarah Salvadore is an NCR Bertelsen intern based in New Jersey.]
*This story has been updated to correct a word in a quotation.