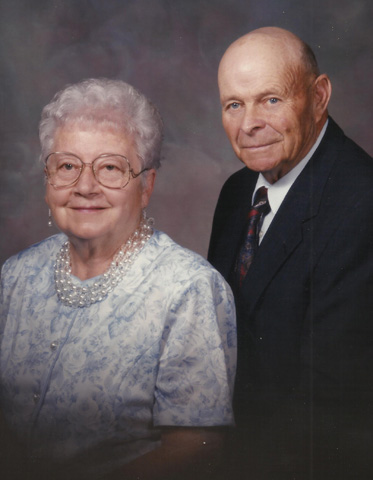 Lila and Norman Cleveland, upon their 40th wedding anniversary in 1999
Gathered around our 87-year-old mother's open casket, my siblings and I were astonished and gratified by what we learned. Our mother, who taught us to obey the rules, had herself disobeyed them 55 years earlier, with life-altering consequences for herself and for her family. My mother made a choice that would alienate her from the religion she had followed her entire life. Her decision, based on love, ultimately resulted in her virtual excommunication from the Catholic church.
Why would this small-town Kansas widow forsake the religion into which she had been born? That church forced her to choose between her past and her future, between adherence to strict Catholic doctrine and the man she loved.
The issue was divorce. Specifically, it was when a Catholic wished to marry a divorced person. Mom, a widow for five years with two small children, was dating a divorced man with two small children of his own. The church forced Mom to choose between her religion and the man she loved who promised her a better future. Mom chose Norman. They eloped when we were kids, ages 8, 6, 5 and 4.
My sister and I moved with our mother to Norman's farm. As a part of this newly blended family, we were eager to begin our new lives. We began attending the nearby one-room country school and learned about life on the farm. We were eager to help with chores, but not so eager to slop the hogs.
Mom even learned to drive a truck and plow the fields. Her involvements outside the home became 4-H, PTA, bingo, square-dancing and those Red Hat ladies.
As children, we were too young to understand Mom's defiance. When we grew older, it was water under the bridge. Mom never spoke of it; we never asked. Maybe she thought my sister and I would think less of her if we knew. In fact, the opposite would have been true.
In spite of her own fall from grace, she seemed not to want to tarnish our Catholic education. She took us to catechism classes every Saturday and to Mass on Sunday, my sister and I taking Communion while Mom sat watching silently.
I had not yet come to understand why my catechism classmates, no doubt echoing their parents, taunted me, saying that my mother was going to hell. Years later, I realized that Mom's excommunication, although not official, was but one example of how, for centuries, the Catholic church has crucified its own.
It was only after Mom's death that Norman relayed to me the rest of the story, revealing the details of Mom's courageous choice.
I don't know why Norman chose that particular time to talk about Mom's decision. Because the situation had been painful for our mother, he must have respected her wishes not to talk about it, even though we had learned most of it piecemeal. Now, however, it seemed he wanted us to know all about the choice she had made, because it affected us all.
Lila Mae Gertrude Pelland Lambert Cleveland was born in Cloud County, Kan., in 1927.
Her ancestors were French-Canadian Catholics who immigrated to Quebec and then to Kankakee County, Ill., where a controversy in the 1850s caused a major split in the local Catholic parish.
A charismatic priest, born and ordained in Quebec, had a disagreement with a local property owner in Kankakee County. A lawsuit for libel resulted, and the bishop ultimately excommunicated the priest.
The disgraced priest then became a Presbyterian and founded his own church 10 miles away. Four-fifths of the parish became Presbyterians. My ancestors were among those who remained true to Catholicism, maybe as much for their dislike of the former priest's temperance crusade as for his claims that the Catholic church was unfaithful to the Bible.
The French-Canadian Catholics, surrounded by les infidèles protestants, suddenly became a minority. They sought "higher ground" on a hill hundreds of miles away on the Kansas prairie. They named that hill St. Joseph, with the church and town named in his honor.
The Catholic church, not wanting a fiasco there such as it had experienced in Kankakee, made the community a Catholic enclave. Five Catholic churches were built within 40 miles. Catholic schools were opened and French-speaking priests served there. Assimilation was discouraged.
Life was tough on the Kansas prairie. Mom grew up during the Dust Bowl and the Depression. She remembered when crops didn't grow; her parents were kicked off one farm and moved to another. She attended a different school every year.
The French-Canadian Catholic community took solace in its togetherness and its religion. They prayed together and drank beer together. It was all they had. They married other French-Canadian Catholics and were part of the largest French-speaking community in Kansas. It was within the confines of this devout, insulated and isolated community that Mom made her decision to reject a fundamental tenet held by the Catholic church.
As Norman began courting Mom, the local priest warned her against the evils of involvement with a man who was both divorced and a Protestant. Since the Catholic church did not recognize divorce, she was, in effect, seeing a married man. If they planned to get married, Norman would have to receive an annulment of his first marriage from the Vatican, despite being a Protestant. If he did not, Mom could no longer enjoy the sacraments of the church.
While most of Mom's relatives supported a potential marriage, a few did not. One Catholic aunt demanded an annulment. Norman balked. For the annulment, he would have to communicate with his ex-wife. She had left him and abandoned their two boys, a 3-year-old and a 6-month-old. He swore never to speak to her again. An annulment would never happen.
Then, one afternoon, a young visiting priest came to see Mom. The priest, on a righteous mission, demanded that she stop seeing the divorced man before it was too late. Otherwise, she would face eternal damnation in the fires of hell.
That evening, when Norman came calling, Mom told him of the visit by the young priest.
"What do you think we should do?" Norman asked her.
"I think," she said with a certainty that made Norman smile then and us now, "I think we should get married!"
Mom and Norman had a happy and prosperous life together for more than half of a century. They took care of each other throughout, even during Mom's last 10 years as she fought Alzheimer's disease.
My mother did not realize that she was a pioneer when she chose love over church. In her quiet way, she stood up to the archaic rules of an established organization, trusting her own heart.
Mom knew the comfort of her church at the end of her life. During her final days, a Catholic hospice nurse asked about giving Mom the last rites. I told her that 55 years earlier, the church had denied my mother the sacraments.
"Oh," the nurse said. "We don't care about that anymore."
Mom received the last rites.
[Don Lambert, a resident of Kansas City, Mo., is a longtime writer and promoter of the arts and history of Kansas.]
A version of this story appeared in the June 19-July 2, 2015 print issue under the headline: Mom was a pioneer when she chose love over the church.