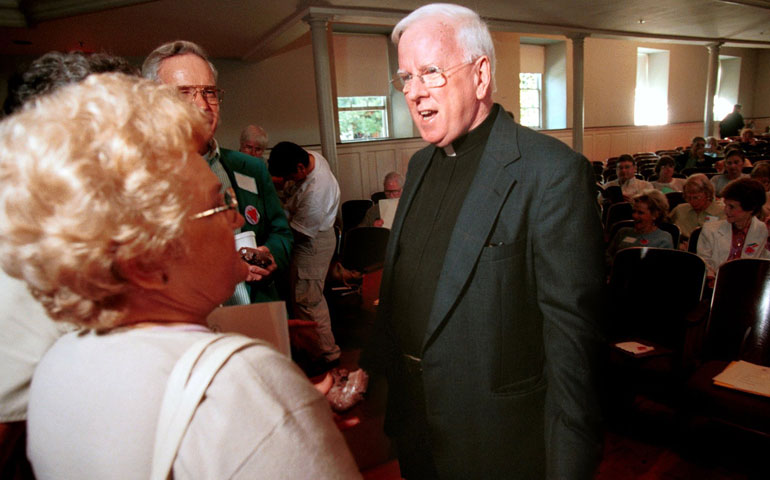 In September 2000 in Haverford, Pa., Fr. Robert Nugent, right, visits with people attending a talk he presented with Sr. Jeannine Gramick about their silencing. (Newscom/KRT/Dan Z. Johnson)
Salvatorian Fr. Robert Nugent, 76, died of complications from cancer in Milwaukee Jan. 1 under the care of his order. Often pigeonholed by his controversial work with the Catholic gay and lesbian community, those who knew Nugent spoke of him in simpler terms.
"Defining Fr. Bob as a person was his priesthood -- his call to serve the people of God," Mary Linton, a friend and parishioner of Nugent, told NCR.
"He was the archetype of a priest," David Gentry-Akin, theologian and confidant of Nugent, commented in an interview with NCR. "It was who he was through and through, in every fiber of his being."
"A big part of his identity was being a priest," Loretto Sr. Jeannine Gramick, co-founder with Nugent of New Ways Ministry, said to NCR. "He was a very good priest, a good counselor, an excellent homilist."
Nugent was born on July 31, 1937, in Norristown, Pa., and he entered seminary in 1957, just two years after high school graduation. Nugent is described as "always having felt called to the priesthood," according to an obituary released by the Society of the Divine Savior, the Salvatorians.
Nugent caught the Second Vatican Council bug during his years of priestly formation, and his ordination as a priest of the Philadelphia archdiocese in 1965 coincided with the council's closing year.
Gramick said Nugent especially welcomed the council's teachings about "renewal of the church, reaching out to the world, embracing the marginalized."
Nugent noticed that the Philadelphia archdiocese, through its official newspaper, The Catholic Standard & Times, wasn't similarly extolling the wisdom of Vatican II.
"He and some other forward-looking priests started The Catholic Substandard & Times, an underground newspaper that printed things about the Vatican Council," Gramick said. "They would print what the archdiocese wouldn't. They were rebels."
Gentry-Akin clarified that Nugent's "rebelliousness came from a place of deep maturity. If he was challenging people or pushing the envelope ... it was a choice that was made out of a commitment to a deeper vision."
Similarly, before the Philadelphia archdiocese officially revised the Mass, Nugent helped lead "clandestine liturgies that were following Vatican II," Gramick said.
In 1971, Nugent "read an article about work that Sister Jeannine was doing in the gay and lesbian community. He felt inspired to reach out and help," Gentry-Akin said. So Nugent offered to become a celebrant for a weekly gay-friendly liturgy that Gramick organized.
By 1975, a decade after his ordination, Nugent sensed a calling to religious community life and the opportunity to engage in social justice work. He entered the Salvatorian order and began working for the Quixote Center, a Catholic social justice organization in Maryland.
Through the center, Nugent continued to encounter "numerous gay and lesbian Catholics who were feeling alienated from the Church," according to the Salvatorians' obituary.
"He saw people on the margins who were hurting and suffering," Gentry-Akin said. "He wanted them to see that the church loved them, too."
So Nugent and Gramick organized a series of workshops for Catholic pastoral workers in 1976 specifically about gay and lesbian issues. The next year, Nugent not only made his final profession of vows with the Salvatorians, but with the help of the Quixote Center, he and Gramick co-founded New Ways Ministry. New Ways is still a nonprofit Catholic resource center, as well as a place of advocacy and reconciliation, for the gay and lesbian community, their families and the larger society.
"It was the first formal, full-time ministry for lesbian and gay people," Gramick said.
The Salvatorian order was known for its gay and lesbian outreach as early as the 1970s, and before the formation of New Ways, the order had written "a great report on gay and lesbian ministry. ... They encouraged the church to take up this kind of ministry," Francis DeBernardo, current executive director of New Ways Ministry, told NCR. Not surprisingly, then, the Salvatorians supported Nugent and his chosen ministry.
However, in 1988, the Vatican established a commission to investigate Nugent and Gramick, "to study and evaluate their public statements and activities and to determine whether these were faithful to Catholic teaching on homosexuality," according to the Congregation for the Doctrine of the Faith. DeBernardo said that the Salvatorians, whenever questioned by the Holy See, consistently found Nugent faithful to church teachings.
"He's right at the top of the good and holy priests that I knew," Gentry-Akin said. "Everything he did was motivated out of his love for the church."
Over a decade of investigations followed, leading the doctrinal congregation to announce in 1999 that Gramick and Nugent were both "permanently prohibited from any pastoral work involving homosexual persons."
"I think it was very difficult for him. I think he would have preferred to stay in the ministry," Gramick said. "But his loyalty to the institutional church didn't allow for that."
Gentry-Akin spoke similarly: "As painful as it was, he was going to show his loyalty to the church by submitting to something he felt was unjust.
"He decided to back away from the work, not because he didn't believe in it or thought he did anything wrong, but because he thought it would show his commitment to the priesthood and the Gospel."
Linton recalled Nugent's response to her question about him leaving New Ways: "I have to be a priest. That's all I've ever wanted in my life is to be a priest."
Nugent assisted in parish ministry at St. John the Baptist Church in New Freedom, Pa., from 2000 until his retirement in 2013.
"He was a good liturgist. People would love to go to his Masses. Not just because he gave good homilies. The Masses were reverent and beautiful," Gramick explained.
Linton said that many parishioners drove over the Maryland border to attend Nugent's Masses. "He ate with people, he blessed their homes, he baptized, he helped with RCIA, he was very much a scholar and a teacher," she said.
Since 1996, Nugent had been leading international pilgrimages for Catholic gays and lesbians, their families and others who wanted to accompany them. After the Vatican censure, Nugent could no longer advertise the pilgrimages as a facet of the New Ways Ministry, but he continued to lead them outside of that context.
DeBernardo recalled, however, that on a pilgrimage Nugent led to Ireland after the censure, he "still attracted a large number of gay and lesbian people and their parents. People were still interested and supportive of him."
Linton, who went with Nugent on nearly all of his pilgrimages, said of the excursions, "Fr. Nugent wasn't standing in front of us, preaching. He was more likely trying to help the group integrate. To let people tell their stories, make sure everyone was comfortable with one another. ... He helped to heal so many families. It was so obvious that people could feel because of this priest, 'I know that God loves me, even though my friends have turned me away.' "
DeBernardo concurred: "One of his messages to the lesbian, gay, bisexual and transgendered community was that they had to follow their conscience in regards to how to live their lives. [After the censure] they could see that he had to follow his conscience."
Gentry-Akin explained that Nugent's "agenda was not to oppose church teaching," but that he simply wanted "the church to live up to what she says about the dignity of every human person."
Both DeBernardo and Gentry-Akin said that one of the best ways to understand Nugent was through a book he wrote, Silence Speaks: Teilhard de Chardin, Yves Congar, John Courtney Murray, and Thomas Merton (Paulist Press, 2011).
"The book is about theologians who had been silenced in the church but who eventually were vindicated and restored," DeBernardo said. "I think that was his epilogue."
[Megan Fincher is an NCR Bertelsen intern. Her email address is mfincher@ncronline.org.]
A version of this story appeared in the Jan 17-30, 2014 print issue under the headline: New Ways co-founder Fr. Nugent dies at 76.