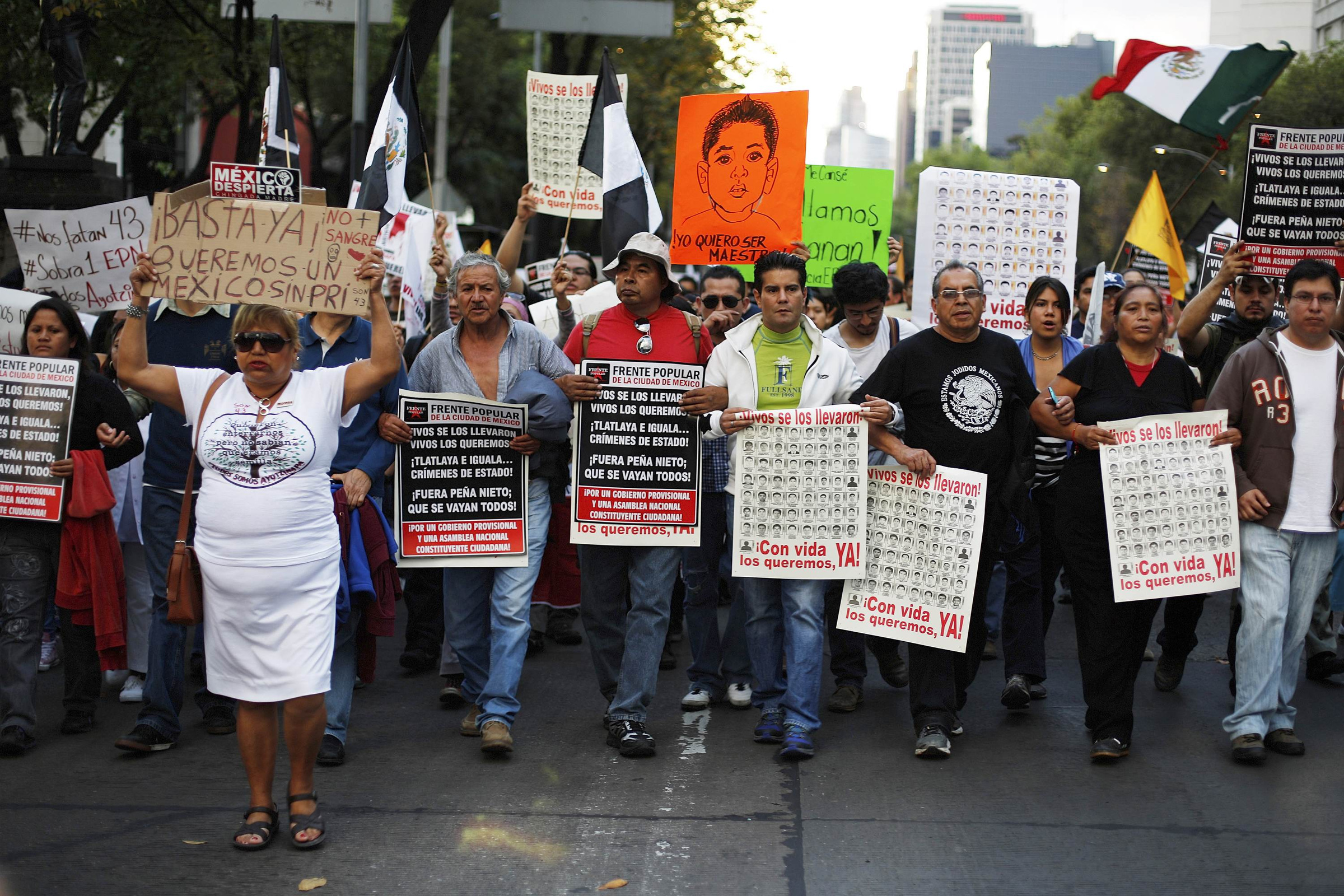 People hold posters and placards during a Nov. 16 march for the 43 missing trainee teachers in Mexico City. The remains of a Ugandan missionary priest missing for months were recovered from a mass grave in Mexico, adding to the horror of the crimes and killings in the region. (CNS/Reuters)
Mexico — November 17, 2014
The remains of a missionary priest missing for months were recovered from a mass grave in the southern state of Guerrero, adding to the horror of the crimes and killings in a region now notorious for the disappearance and possible deaths of 43 teacher trainees.
Ugandan Comboni Fr, John Ssenyondo was found in a grave with six other bodies in the Chilpancingo-Chilapa diocese, according to a source quoted by Reuters. The source said Ssenyondo had refused to baptize the child of an alleged gangster.
The Centro Catolico Multimedial reported that Ssenyondo was abducted by armed assailants after celebrating a wedding April 30. It added that his remains were identified using dental records.
Attempts to reach Fr. Victor Manuel Aguilar, diocesan spokesman, were unsuccessful.
Aguilar previously told Catholic News Service that Ssenyondo had been working in a small parish near the city of Chilapa, 100 miles north of Acapulco, since 2010. He added that Ssenyondo had refused to pay extortion, which was demanded because he was believed to be receiving foreign funds.
The death again demonstrated the risks run by priests working in regions rife with organized-crime activities. The Centro Catolico Multimedial reports seven priests being murdered over the past two years. Another two priests are missing.
The discovery of Father Ssenyondo's remains comes as investigators and private search parties uncover unmarked graves across Guerrero state, where organized crime and drug cartels are accused of operating with impunity and infiltrating municipal governments.
It also follows news of 43 teacher trainees in Guerrero state going missing. Federal officials say police detained them and handed them over to gang members, who confessed to burning the bodies in a garbage dump.
Parents of the missing students reject that explanation and insist their children are alive.