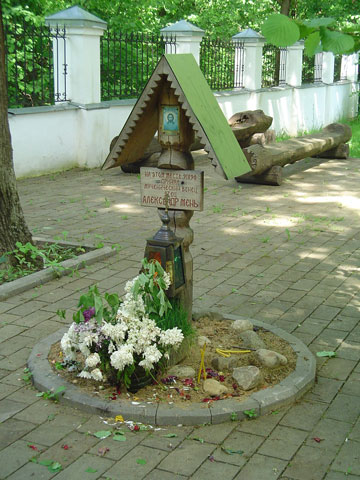 A memorial to Alexander Men in Semkhoz, Russia (Wikimedia Commons/A. Savin)
On Sunday, Sept. 9, 1990, Russian Orthodox priest Alexander Men left his cottage at Semkhoz, on the outskirts of Moscow, to take the early train to Novaya Derevnya to celebrate the liturgy at the parish church. He had been pastor there for more than 20 years and had built up a community that many considered a model. Alongside his normal parishioners, many came from Moscow and the surrounding towns to assist at the liturgy.
To get to the train station, he had to go down a dirt road bordered by trees. But Men never arrived at the train station. Someone came up from behind him with an axe, struck his skull and fled. Men managed to drag himself back to his cottage, bleeding profusely. His wife rushed him to the hospital, but it was too late. He died from loss of blood. He was 55 years old. His assassin was never found. Today, a chapel stands on the spot where he was struck and it has become a place of pilgrimage.
Men was born in Moscow in 1935. Two years later, the Stalinist "purge" attained its peak. Nearly 24,000 people, including nearly all the priests and monks of the capital, were executed in the infamous polygon of Boutovo, just outside Moscow.
His father was an agnostic. His mother was Jewish, but she became a very devout and pious Orthodox Christian. She had Men baptized in secret several months after his birth and was baptized herself in the same ceremony. One of his earliest memories was a Mass celebrated in a nearby forest where all of nature seemed to praise God in union with the clandestine congregation. Men often recalled this event as decisive, in that he had an intuition of God as revealed in nature.
He grew up under the tutelage of Fr. Seraphim, the priest who baptized him and was a disciple of one of the last starets, or elders, of the famous monastery of Optino. As soon as he learned how to read, Men devoured all the books that Seraphim could lend him -- and more. After high school, he began to study biology, but at the last minute, he was refused permission to take his final exams. That door closed, he began to study theology by correspondence.
Men came into contact with a circle of intellectuals who had been former parishioners of St. Alexis Metchev, a very holy and simple parish priest who lived and preached an Orthodoxy open to the world. It was probably through these new friends that Men learned of the revival of Russian religious thought in the West and was able to obtain some of the writings of the philosophers and theologians of the Russian immigrant community.
By the time he was ordained a priest, Men was firmly rooted in a current of spirituality dating from the elders of Optino, in communion with the Russian exile community and fully aware of the spiritual poverty of the people after 70 years of Soviet propaganda.
Men's priestly career did not start well. He was quickly removed from the first two parishes to which he was assigned. He finally found stability in the small rural parish of Novaya Derevnya, where he spent the last 20 years of his life.
All this time, he was writing prolifically, including a six-volume study on pre-Christian spirituality. This was followed by The Son of Man, perhaps his best-known work, and a trilogy on Life Within the Church, which studies the Bible, the sacraments, common prayer and private prayer. After his death, a sort of biblical dictionary containing 1,790 articles for Russian seminarians was finally published. Aside from these "intellectual" books, Men wrote catechisms for children and adolescents, as well as manuals of prayer for adults.
The little parish of Novaya Derevnya began to acquire a reputation -- especially among the intelligentsia. Men's auto-education was vast and profound. He could address the needs of the highly educated and talk to them on their own terms.
A few of his talks have been translated into English and give us some idea of how he could simultaneously address the poor, religiously uneducated parishioners and those intellectuals and artists who were seeking a meaning to existence. He constantly used examples from nature mixed in with historical observations, references to the church fathers, and philosophical considerations, yet always directed his audience toward the fundamental truths of the faith.
Those who knew him speak of his capacity to listen to each person with compassion and maximal attention. He spoke without notes and answered questions willingly, with little hesitation. His physical presence, gestures and facial expressions indicated a person totally convinced, sure of himself and at ease with himself and others.
During the early years of his ministry, the KGB was suspicious of Men, precisely because of his success, especially with intellectuals. His house was raided several times, and on occasion he was taken "downtown" for prolonged questioning. These interrogations didn't seem to faze him. When he returned from one such session, someone commented that he must be exhausted after such an ordeal. "Not at all," he replied. "I enjoy talking with people."
His liturgies were simple and in Slavonic, even though he advocated the use of modern Russian. He remained faithful to the liturgical prescriptions, but also encouraged the congregation to participate in the liturgy through such measures as leaving the "royal doors" open during the canon and saying the eucharistic prayer aloud. One innovation was the formation of little "house churches" where people would come together for prayer and Bible study. He would visit these communities frequently and never passed up an opportunity to instruct his parishioners.
What had been building in his parish of Novaya Derevnya came to light when Mikhail Gorbachev, president of the Soviet Union, opened up Soviet society. Men almost immediately became a sought-after lecturer and TV commentator. He was caught up in a whirlwind of activities and became a national celebrity almost overnight. The style that had had so much success at the parish level proved to be equally effective on a larger scale. Men steered clear of partisan politics; his message was addressed to all those of goodwill.
Those who knew him at this epoch were amazed at his resilience, but so was he. At one point, he remarked that his capabilities of endurance had increased by "several orders of magnitude" compared to when he was young. "The grace of God is responsible for this, not I."
But it seemed as though he realized that the time allotted to him would be very short. On several occasions, he made allusions to this. He had made many enemies along the way.
The Russian Orthodox church was essentially a branch of the state government until the beginning of the 20th century, when a series of upheavals led to a council being convened in Moscow in 1917-18. The council hoped to free the church from the state and restore the patriarch, parish councils and local synods.
This "Living Church" was a communist usurpation of the Council of Moscow, ultimately aimed at destroying the hierarchy and even the authority of local priests. It did not catch on and in 1927, the acting patriarch, Sergius Stragbrodsky, declared loyalty to the Soviet state.
In the fall of communism and the breakup of the Soviet Union, the Russian church profited as Orthodoxy again -- in the times of the czars, Orthodoxy had been one of the pillars of society -- became a defining characteristic of Russian identity.
Men's vision of the church was quite different. It looked to the future, not the past. It was open to all because only within it could a person realize his potential and, ultimately, his destiny. Men had a deep and real appreciation of the church's traditions, but he believed that this tradition should be alive and able to adapt itself to new circumstances.
Ecumenism was important to him. Through his extensive readings, he was familiar with ecclesial life and theological developments in the Western churches and tried to make them points of reference for reform within Orthodoxy.
Men did not engage in polemics with his detractors nor even reply to them. What he preached was an all-inclusive gospel of love that was not only tolerant of differences but embraced them. As he became more and more popular, the attacks increased in virulence. One well-known Orthodox priest put out a pamphlet -- distributed in parish bookstores -- accusing Men of no less than nine heresies, including black magic. The attacks also posited that Men was of Jewish descent and that he had "converted" many Jewish intellectuals and artists, all part of a Zionist plot to subvert the Orthodox church.
This was precisely the epoch when Russian "liberals" were having their moment of glory. There was a rediscovery of Western culture and a keen interest in the religious thought of the Russian exile community. But this moment of glory was short-lived. The economic and social models set up by the "neoliberals" imploded and dragged with them the reformist elements in the church.
The authoritarian regime of Russian President Vladimir Putin restored a semblance of order and a sense of national dignity. At the same time, however, it enabled the more conservative elements in the Orthodox church to regain the upper hand and once again ally itself with the state.
The memory of Men is still venerated and there are still those who try to build on what he left behind. The Russian Orthodox church no longer vilifies him; he is simply dismissed as a charismatic but "wayward" missionary, naive and erratic.
Men was struck down when he was having his greatest success. He seemed to have struck a chord in the heart of the nation by appealing to people's most fundamental aspirations. Through him, many discovered a different, nonsectarian visage of Orthodoxy beyond national borders, a universal Orthodoxy based on the Gospels and the following of Christ.
[Jerry Ryan is a freelance writer and translator. His translation works include The Way: Religious Thinkers of the Russian Emigration in Paris and Their Journal, 1925-1940 and The Council of Moscow (1917-1918).]
A version of this story appeared in the Sept 26-Oct 9, 2014 print issue under the headline: Struck down, Orthodox priest also struck a chord.