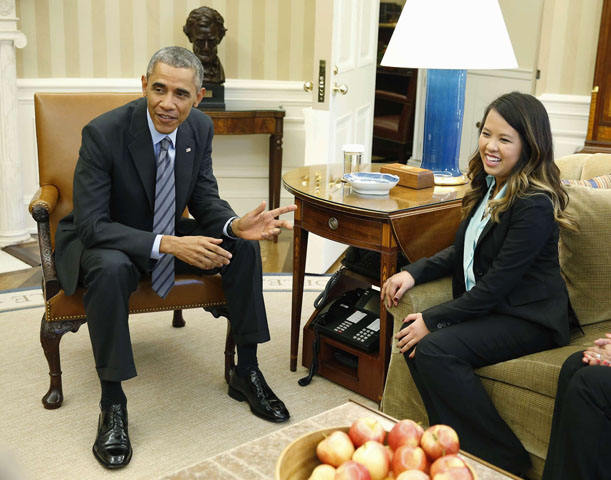 President Barack Obama with Dallas nurse Nina Pham on Oct. 24 at the Oval Office in Washington (CNS/Reuters/Larry Downing)
Bethesda, Md. — October 27, 2014
Nina Pham, a Dallas nurse who was the first person known to have contracted the Ebola virus in the United States, thanked God, her family and her medical team for her recovery Friday.
Pham held a news conference in Bethesda after she was declared virus-free and released from the National Institutes of Health Clinical Center.
"I feel fortunate and blessed to be standing here today. I would first and foremost like to thank God, my family and friends," she said. "Throughout this ordeal I have put my trust in God and my medical team.
"I am on my way back to recovery even as I reflect on how many others have not been so fortunate," added Pham, 26, who grew up in Our Lady of Fatima Parish in Fort Worth, Texas, and where she and her family have been longtime members.
She was "thankful for everyone involved in my care," she said, "from the moment I became ill and was admitted to Texas Health Presbyterian Health Dallas up to today," when she was being discharged from NIH.
After she was released from the hospital, she paid a visit to President Barack Obama in the Oval Office at the White House.
Pham was involved in the care of Ebola patient Thomas Eric Duncan prior to his death Oct. 8. Duncan contracted Ebola in his home country of Liberia and had traveled to the Dallas hospital where he was being treated.
The Centers for Disease Control initially said Pham's contact of the virus was likely a protocol breach, but the nurse is said to have worn the required protective gear and is believed to have followed the hospital's procedures.
She was kept in isolation at Texas Health Presbyterian. Pham received a blood transfusion Oct. 12 from Ebola survivor Kent Brantly, who had been working with Ebola patients in Liberia when he contracted the virus in the summer. He recovered in an Atlanta hospital.
On Oct. 16, she was transported to NIH.
Pham is a 2006 graduate of Nolan Catholic High School in Fort Worth. When the school community found out she contracted Ebola, it organized a rosary service at the school's chapel.
The pastor of Our Lady of Fatima, Father Jim Khoi, also asked for prayers for her. "She knows that everybody knew to pray for her, especially in this difficult time," he told The Dallas Morning News shortly after Pham was found to have the virus.
"Her mom is very calm and trusts everything to God's hands," he noted.
Pham's apartment was thoroughly cleaned after tests confirmed she contracted the disease. Her dog, Bentley, was put into isolation to be cared for and tested for Ebola. The dog has since been found to be virus-free. Pham said she looked forward to returning to Texas and being reunited with her family and her dog.
A second nurse who contracted Ebola, Amber Vinson, also has been declared virus-free, but news reports said she would remain in treatment in Atlanta until further notice. On Oct. 23, a U.S. doctor who just returned from treating Ebola patients was found to have Ebola and he is now in isolation at a New York City hospital.
In Arizona, the Crosier Fathers and Brothers announced Friday the community would offer a novena of intercession for protection from Ebola in conjunction with St. Theresa Catholic Church in Phoenix.
The novena is to begin Tuesday and continue for nine consecutive Tuesdays. Each evening service, lasting 30 to 40 minutes, was to have "a different theme of deliverance," a news release said.
It said the novena is built on a prayer service featuring the solemn chanting of the "Haec Est Praeclarum Vas," which was sung by the Crosiers in the Middle Ages to ward off the threat of the bubonic plague. That chant continued daily for centuries thereafter in Crosier communities.
"Given the widespread concern and fear of this deadly virus, we invite people to come together and pray for protection. We are drawing on an age-old Crosier tradition of reflection and intercession to Our Lady of Protection," said Fr. Robert Rossi, a member of the Crosier Community of Phoenix and chair of the community's Apostolic Presence Commission.
"The Crosier mission is to accompany people in their suffering, to stand with them and assure them that God has not abandoned them but is bringing about new life in some mysterious way," he said. "We touch suffering with hope."
Fr. Chuck Kieffer, pastor of St. Theresa, added: "While this type of prayer service is rooted in our ancient traditions, it is very relevant to what's happening today."