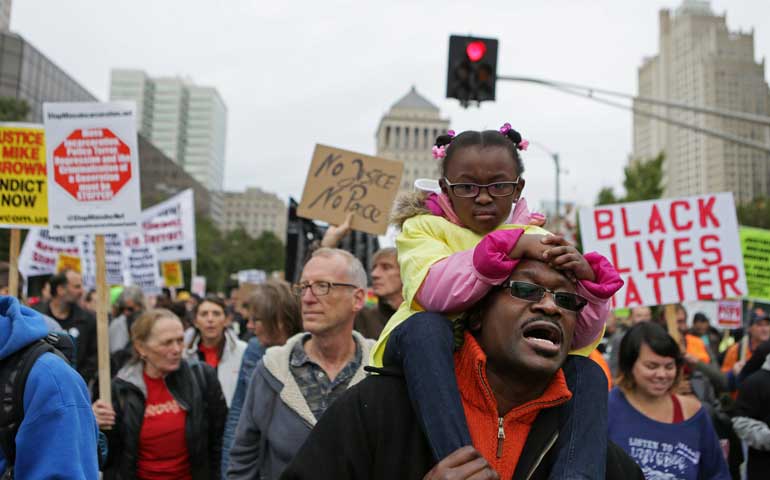 Darnell Taylor marches with his daughter, Lauren, 4, in St. Louis Oct. 11 as part of Ferguson October demonstrations. (Newscom/Polaris/St. Louis Post-Dispatch/Cristina Fletes-Boutte)
As the Ferguson October protests shut down three Wal-Marts -- in support of John Crawford's family, a black teenager recently shot by a police officer in an Ohio Wal-Mart -- among other actions, the church and people of faith need to attend to "the fire next time," to echo the warning of James Baldwin's classic.
It is "not permissible that the authors of devastation should also be innocent. It is the innocence which constitutes the crime." So wrote Baldwin in an open letter to his nephew, titled "My Dungeon Shook: Letter to My Nephew on the One Hundredth Anniversary of the Emancipation," which constitutes the first part of his book The Fire Next Time.
Baldwin introduces his nephew to what sociologist E. Franklin Frazier called "the cities of destruction." Simply put, cities of destruction isolate and impoverish black Americans and communicate a devastating message: Black lives do not count.
In this context, Baldwin advises his nephew, "You can only be destroyed by believing that you really are what the white world calls a nigger. I tell you this because I love you, and please don't you ever forget it."
Black survival means learning to affirm your own dignity and worth as the white world threatens it. The entire white world -- the norms by which white Christian churches and society live -- creates death and destruction for people of color as whites live a fantasy of innocence and superiority.
Thomas Merton understood Baldwin's point and drew upon it. Merton intentionally invites a contrast between his book Seeds of Destruction and his Seeds of Contemplation. Just as contemplation is ultimately rooted in the heart and spiritual practices of love, so the seeds of destruction are rooted in people's hearts and in spiritual practices that create relationships of superiority and inferiority.
In other words, destruction is not only about the weapons that people use to maim, kill and destroy other human beings. Cities, indeed our entire society, reveal who we are as a people because they show where and how people live, worship and die -- and they communicate who we do and do not value.
White innocence constitutes the crime. It is how whites tend to think, speak and act as if we play no role in the racial conflict that is largely of our making and responsibility.
As Jennifer L. Pierce argues in Racing for Innocence: Whiteness, Gender, and the Backlash Against Affirmative Action, whites tell a story about ourselves that disavows any accountability for racism. White denial of responsibility, including how we are socialized into a racist society, is rooted in the American myth that we as a white nation are an exception and exceptional. This myth, of course, whitewashes history, forgetting a history of genocide of first American peoples and how our capitalist system is built on slavery and racism.
Pierce further explains that the myth of white innocence thrives within the American liberal myth of the unencumbered individual. Whites live as if we are innocent until proven guilty; we assume every individual is treated fairly and respectfully.
The story of innocence we tell ourselves renders the most basic questioning of white privilege and systemic racism invisible for critical reflection.
It is not only that whites tend to live by the myth of American innocence, but we also live by a fantasy of Christian innocence.
Even as we may affirm universal human dignity, white racial bias is shaped by Christian imagery of good and evil in which white equals innocent and black equals guilty. The core of The Scandal of White Complicity in U.S. Hyper-Incarceration, my co-authors and I argue, is the implicit theology and spiritual practice of black guilt and white innocence that subverts any claim that all human beings are made in the image and likeness of God.
The assumption of white racial innocence also means that white people who claim to follow the nonviolent Jesus, who claim to be committed to peace through justice, can do so without ever addressing the violence in our own cities.
Merton indicts white American Catholicism: "To assume the superiority of the white race and of European-American culture as axiomatic, and to proceed from there to 'integrate' all other races and cultures by a purely one-sided operation is a pure travesty of Catholic unity in truth."
Naming this "fake Catholicism," Merton contends that we live by a "parody of unity which is no unity at all but a one-sided and arbitrary attempt to reduce others to a condition of identity with ourselves, is one of the most disastrous of misconceptions."
The Fire Next Time says that if "the relatively conscious whites and the relatively conscious blacks" work together "like lovers" and "insist on, or create, the consciousness of the others … we may be able, handful that we are, to end the racial nightmare, and achieve our country, and change the history of the world."
The handful of relatively conscious folks are led by groups like the Organization for Black Struggle and the Karen House Catholic Worker of North St. Louis who provide ample resources for unlearning white innocence as we share responsibility for building a just society. Otherwise, as Baldwin concludes, "If we do not now dare everything, the fulfillment of that prophecy, re-created from the Bible in a song by a slave, is upon us: God gave Noah the rainbow sign, No more water, the fire next time!"
[Alex Mikulich is co-author of The Scandal of White Complicity in U.S. Hyper-Incarceration: A Nonviolent Spirituality of White Resistance (Palgrave, 2013).]
A version of this story appeared in the Nov 7-20, 2014 print issue under the headline: Whites live a fantasy of innocence.