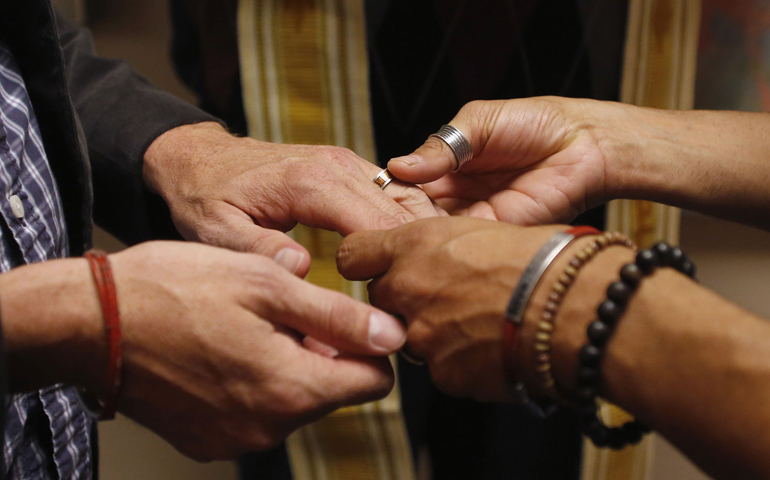 Jim Derrick and Alfie Travassos exchange rings as they get married Oct. 6 at the Salt Lake County Government Complex in Salt Lake City. (CNS/Reuters/Jim Urquhar)
When the month of October opened, 19 states and the District of Columbia allowed marriages for same-sex couples. As of Tuesday, the list had grown to 32, and more states could be added by the month's end. By Thanksgiving, 200 million Americans could be living in states that allow same-sex marriage.
Since June 2013, when the Supreme Court ruled 5-4 that the federal government must recognize gay marriages performed in states where it is legal, one federal court after another has struck down state bans on same-sex marriage. The Supreme Court gave the marriage equality movement added momentum Oct. 6, when it refused to hear a number of lower court decisions that overturned laws against same-sex marriage, thus allowing those decisions to stand.
Just 10 years ago, Massachusetts became the first state to legalize same-sex marriage, and just two years ago, the country was evenly split on the issue, 46 percent in favor and 44 percent opposed, according to one poll. Now the majority of Americans favor such unions, and that majority is growing more solid.
The U.S. bishops, their lawyers and personnel directors have some hard choices to make in the next few weeks. What will they do with Catholic employees who enter valid legal marriages with partners of the same sex? To date, their track record on this issue has been bleak.
At least 17 U.S. church employees have been fired, resigned, refused to renew restrictive contracts, or had job offers rescinded over LGBT-related employment disputes this year. Catholic school teachers and parish music ministers have been fired because their same-sex marriages became public. In many cases, these were employees of long standing who were well-respected by their school and parish communities. Often, the communities already knew the employees' partners. There was no problem until they entered legal, civil marriages.
Church actions against these employees are unjust and must be rectified.
We do not here speak of the sacrament of matrimony. The issue we address is legally contracted civil marriages and employment. Church personnel policies must allow employees to enter into such marriages without fear of losing their jobs. The church can depend on First Amendment protections for the right to worship to safeguard the sacraments, and policies could delineate narrow ministerial exemptions when it comes to civil marriages, but for the vast majority of church employees, a legal marriage should not be a job impediment.
Reactions out of the U.S. Conference of Catholic Bishops do not bode well. A statement from the conference called the Oct. 6 Supreme Court decision "extremely disappointing" and an Oct. 8 statement pledged to continue to fight same-sex marriage. The announcement did not specify where they will do battle, but a protracted fight through the court system that yields dubious results -- like the bishops' ill-advised court struggle against the contraceptive mandate in the Affordable Care Act -- will give no one justice.
A version of this story appeared in the Oct 24-Nov 6, 2014 print issue under the headline: Marriage should not be job impediment.