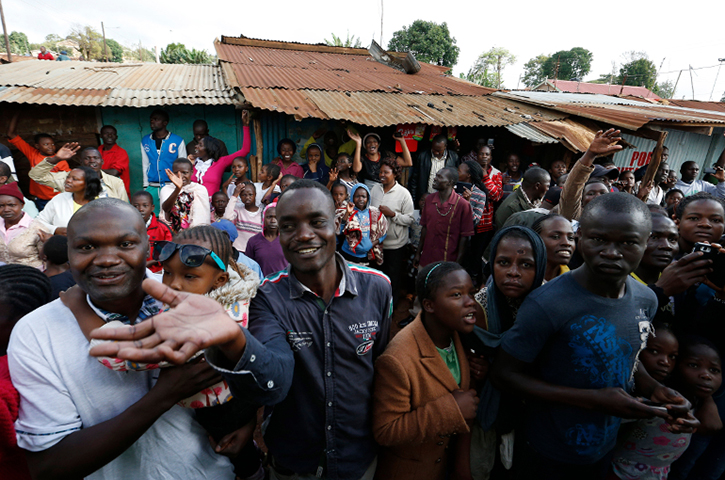 A crowd waiting to see Pope Francis waves to journalists during the pope's visit to a Catholic parish in the Kangemi slum on the outskirts of Nairobi, Kenya, Nov. 27. (CNS photo/Paul Haring)
NAIROBI, Kenya — November 27, 2015
Speaking in a church surrounded by corrugated cardboard homes in a moving visit to one of the notorious and long-lasting slum neighborhoods here, Pope Francis on Friday cried out against a global economic system that he said gives a wealthy minority license to let the majority suffer poverty.
In a second meeting later in the day with Kenyan young people, the pontiff also poignantly spoke out against societal and personal corruption -- saying it exists "including in the Vatican" and eats away at our values like poison in our blood.
The pope first met with some of the estimated 100,000 people who live in Nairobi's Kangemi slum. He identified with their concrete struggles, thanked them for the witness they give the world, and intensely called on Christians to do something about the vast numbers of people in need.
And, with words that were biting in their strength, the pontiff said people living in such situations suffer "wounds inflicted by minorities who cling to power and wealth, who selfishly squander while a growing majority is forced to flee to abandoned, filthy and run-down peripheries."
"This is what happens when we forget that 'God gave the earth to the whole human race for the sustenance of all its members, without excluding or favoring anyone,'" he forcefully said, quoting Pope John Paul II's encyclical Centesimus Annus.
Francis was speaking in the first meeting Friday in a special visit to the western outskirts of Nairobi, where people in Kangemi live a life marked by uncertainty. There is little infrastructure and basics needs such as access to drinking water or ability to use toilets are not guaranteed.
The slum is one of many in Nairobi, which have persisted for generations and strike a stark contrast to other well-developed areas of the city. Many who in the slums -- the majority of the city's population -- live in small shacks, covered by cardboard or other temporary materials.
Opening his short but powerful talk to people in Kangemi, the pope said he felt a need to visit them "because I want you to know that your joys and hopes, your troubles and your sorrows, are not indifferent to me."
"I realize the difficulties which you experience daily!" he cried out. "How can I not denounce the injustices which you suffer?"
Francis also that there is a wisdom found in poorer neighborhoods "that the language of exclusion often disregards or seems to ignore."
He said it is a wisdom of "stubborn resistance" and of caring for one another -- giving examples such as helping bury a dead person, finding a home for someone who is sick, or sharing what little you have with those even hungrier.
The pope said that their wisdom is "grounded in the fact each human being is more important than the god of money."
"Thank you for reminding us that another type of culture is possible," he told those present.
In the later meeting with young people at a local sports stadium, Francis spoke quite personally during a some-45-minute, off-the-cuff discourse to tens of thousands of youth. There, he spoke most forcefully about corruption and tribalism.
"Corruption is something that eats from the inside," said the pope. "It's like sugar. It's easy. We like it. And then we end up in a bad way."
"So much sugar we either end up being diabetic or our country ends up being diabetic," he said. "Every time we accept a bribe and we put it in our pockets we destroy our hearts, we destroy our personalities and we destroy our country."
"Please, don't develop that taste for that sugar that is called corruption," he asked.
Francis also spoke personally in trying to respond to a young man who had greeted him at the meeting and asked how people in Kenya and Africa can better face daily tragedies they encounter.
"How can I see the hand of God in tragedy?" he asked aloud. "There's no response. There is a path. Look at the son of God."
"God entrusted him to save all of us," he said. "God became a tragedy. God allowed himself to be destroyed on the cross. When you don't understand something, when desperation hits you, then look at the Cross."
The pontiff then said he carries two things in his pockets at all times: A rosary and a small version of the way of the cross -- with little images of Jesus being condemned, suffering, "right up to when he was buried."
"With these two things, I do the best I can," said Francis. "Thanks to these two things I do not lose hope."
The pope also called on the young people to seek out friends who may be lonely in order to stop them from making decisions out of desperation, and even becoming radicalized into terrorism.
"If you receive love, then love others," he said. "If you felt pain of loneliness, come close to those who are alone."
"Flesh is cured by flesh," he continued. "And God became flesh in order to cure us. Let's do the same ourselves."
In the Kangemi slum, the pope called on Christians everywhere to do something about people the global economic system is leaving in poverty.
"I wish to call all Christians … to take initiative in the face of so many situations of injustice, to be involved in their neighbors' problems, to accompany them in their struggles, to protect the fruits of their communitarian labor and to celebrate together each victory, large or small," said the pope.
"I ask you to remember this is not just another task; it may instead be the most important task of all, because 'the Gospel is addressed in a special way to the poor,'" he continued, quoting Pope Benedict XVI.
Francis made his visits Friday morning as his last public events during his two-day tour of Kenya, part of a Nov. 25-30 trip to Africa which will take the pope on to Uganda later on Friday before heading to the Central African Republic on Sunday.
The pontiff spoke in Spanish at both meetings Friday morning. During both events a monsignor translated the remarks into English for the participants. The pope spoke in Kangemi at St. Joseph the Worker church, a Catholic parish run by Jesuits that serves the community.
Before his own remarks in the slum, Francis heard personal testimony from a woman who lives there and from a Catholic woman religious who directs a center that provides childhood develop services for its inhabitants.
Mercy Sr. Mary Killeen, director of Makuru Promotion Centre, explained how fires break out easily at the slum because of the materials used to construct the simple homes and how it is also often floods with drainage.
Citing statistics indicating that more than half of Nairobi's population lives in slums, Killeen said that only four percent of local church personnel minister there. "Why is this when so many congregations were founded to work among the poor?" she asked.
"Sometimes the challenges … almost cause us to despair," said Killeen. "Your visit has given us new courage and hope. By your very coming you shine a spotlight on these challenges."
"We hope that when you have challenges of your own you will be inspired by the people of Nairobi slums who have endured repeated setbacks, yet live courageously with good humor," she said.
After landing in Uganda Friday afternoon, Francis will visit president Yoweri Museveni at the country's State House and both leaders will offer remarks.
Francis is to continue his Uganda trip Saturday with visits to separate Catholic and Anglican shrines to 19th century martyrs, and is to celebrate a Mass expected to attract tens of thousands from the country and from around east Africa.
The pope is scheduled to leave for the Central African Republic on Sunday.
[Joshua J. McElwee is NCR Vatican correspondent. His email address is jmcelwee@ncronline.org. Follow him on Twitter: @joshjmac.]