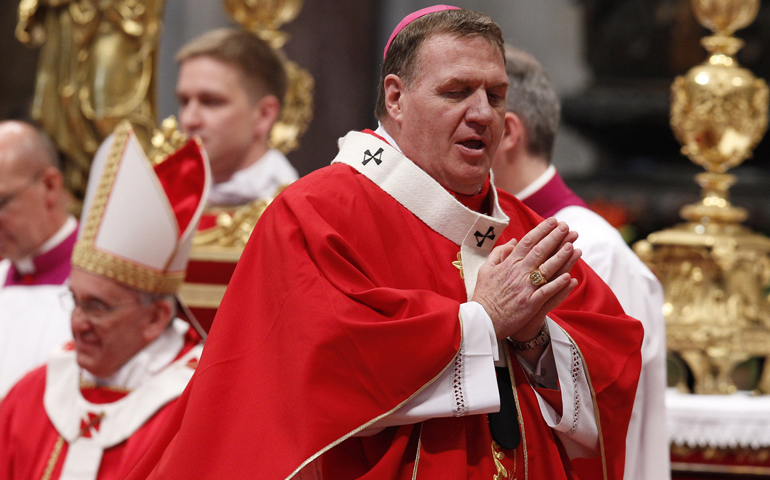 Cardinal-designate Joseph Tobin of Indianapolis is pictured in a 2013 photo at the Vatican. (CNS/Paul Haring)
Vatican City — November 7, 2016
Pope Francis has moved Cardinal-designate Joseph Tobin from Indianapolis to Newark, N.J., giving the New York area two cardinals for the first time and assigning him to take over for an archbishop who has been sharply criticized in recent years for his handling of clergy sexual abuse.
Tobin, 64, was named by Francis as one of three new U.S. cardinals last month and will officially take up that role in a ceremony in Rome Nov. 19. He replaces Archbishop John Myers, 75, who has led the Newark archdiocese since October 2001.
The appointment came Monday, a week before the U.S. bishops' annual meeting, which will be held in Baltimore Nov. 14-17. The Newark archdiocese borders the New York archdiocese, led by Cardinal Timothy Dolan, giving the nation's most expensive and largest media market a new Catholic voice to turn to for comment.
Tobin was the first cardinal in history chosen from the Indianapolis archdiocese and will be the first Cardinal archbishop of Newark. In an NCR interview shortly after his appointment as a cardinal, Tobin reflected at length on Francis' focus on mercy and said his wish is that the church would become "a sacrament of mercy" in our world.
The new cardinal replaces an archbishop who has come under criticism for his handling of sexual abuse and for his spending on his own retirement residence.
Questions of Myers' handling of abuse center on the fact that in 2013 it was revealed that a priest convicted of criminal sexual contact with a minor had been serving in the archdiocese as a youth minister. The Newark archdiocese has said it was unaware of the priest's activities.
Myers has also been criticized for expanding his home to some 7,500 square feet at a cost close to one million dollars, which was first revealed in 2014.
In 2013, Francis took the extraordinary step of appointing a coadjutor archbishop for Newark, Bernard Hebda, which some analysts said indicated a lack of confidence by the pontiff in Myers' leadership. However, after nearly two years in Newark, Hebda was appointed in 2015 as the new archbishop of St. Paul and Minneapolis in Minnesota.
A coadjutor bishop is an assistant bishop who has a right of succession, meaning he immediately takes over leadership of a diocese at the death or resignation of the ordinary bishop.
Pope Benedict XVI appointed Tobin, a member of the Redemptorist religious order, as the archbishop of Indianapolis in 2012. He had previously been in Rome for some 15 years, serving from 1997-2009 as the head of his order and from 2010-12 as the secretary for the Vatican's congregation for religious life.
One of Tobin's new confreres in New Jersey praised the cardinal-designate's appointment in an email to NCR Monday morning, saying his "many and diverse gifts, coupled with such diverse pastoral experience, make him a great choice for the diversity he will find in the Archdiocese of Newark."
Trenton, N.J. Bishop David O'Connell, whose diocese is about 60 miles southwest of Newark, also praised Tobin's commitment to the poor and marginalized and said he is "insightful, kind and blessed with a really great sense of humor that will quickly earn him a joyful, effective place in the Garden State."
The Newark archdiocese covers about 500 square miles in northeastern New Jersey. Archdiocesan statistics indicate the archdiocese has 219 parishes and 488 archdiocesan priests active in ministry.
One expert on Vatican-American relations said Tobin's appointment may indicate that Francis recognizes that Newark needed "somebody with a pastoral sense to get some of the problems straightened out."
Jesuit Fr. Gerald Fogarty, who teaches religious studies and history at the University of Virginia, also said Francis' earlier selection of Tobin as a new cardinal shows that the pope "is trying to moderate the extreme division within the [U.S.] hierarchy."
In a letter to Catholics in Indianapolis released Monday morning, Tobin said he will be installed as Newark's archbishop on Jan. 6, the day celebrated in the Roman Catholic church as the feast of the epiphany. The cardinal-designate said he did not immediately like the idea of leaving his Midwestern archdiocese.
"The thought of leaving you devastated me," Tobin writes to his flock in the letter. "I have had many sleepless nights and shed more than a few tears."
"I had always understood my vocation as that of a missionary disciple, one whom Jesus called to be with Him so that He might send me out to preach and heal," he continues. "Now Pope Francis has asked me to become a missionary disciple and pastor in another local Church."
[Joshua J. McElwee is NCR Vatican correspondent. His email address is jmcelwee@ncronline.org. Follow him on Twitter: @joshjmac.]