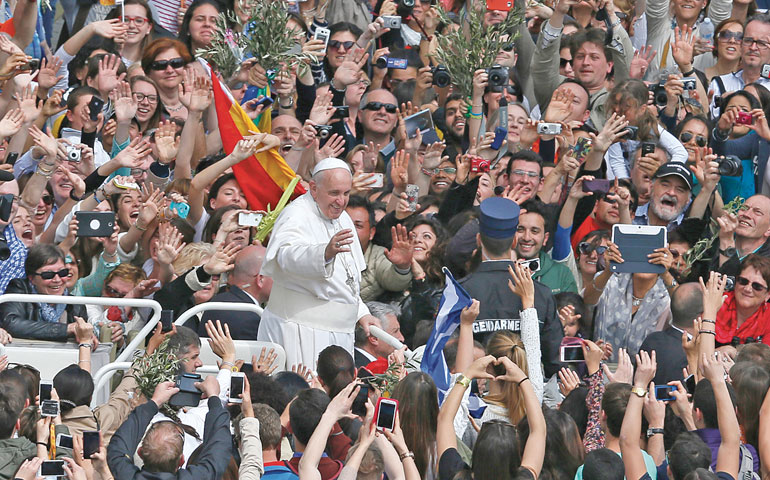 Pope Francis greets the crowd after celebrating Palm Sunday Mass in St. Peter's Square at the Vatican April 13. (CNS/Paul Haring)
Pope Francis is seeking to build a "new way of being church" for Roman Catholics in a similar way to how St. Francis of Assisi reported being told by God to repair the church during the 13th century, a cardinal who is one of the pontiff's closest advisers said.
"There is a new concept of church here" in how the pope is governing the Vatican, said Honduran Cardinal Oscar Rodríguez Maradiaga, speaking April 8 in St. Petersburg, Fla. "There is a new way of thinking, including the way of governing in the church, here."
However, Rodríguez said, while Francis is popular among people around the world, he is facing opposition in the Roman Curia.
"We have to be prepared, since this beautiful but strange popularity is beginning to strengthen adherences, but equally to awaken deaf opposition not only in the old Curia, but in some who are sorry to lose privileges in treatment and in comforts," Rodríguez said.
"Expressions like 'What can it be that this little Argentine pretends?', or the expression of a well-known cardinal who let slip the phrase, 'We made a mistake,' can be heard," Rodríguez said, making an apparent reference to a cardinal who regrets the selection of Argentine Cardinal Jorge Bergoglio as pope.
Rodríguez, archbishop of the Honduran capital of Tegucigalpa, is also coordinator of the Council of Cardinals, which Francis appointed last year to "study a project of revision" of the Vatican's bureaucracy.
The cardinal was speaking at a meeting of provincials of the Order of Friars Minor, one of several religious orders that trace their roots directly to St. Francis. The meeting was hosted by the order's English Speaking Conference, which represents friars in the United States, Canada, England, Ireland, Lithuania and Malta.
Franciscan Fr. Thomas Washburn, executive secretary of the conference, provided NCR a text of Rodríguez's talk. Washburn said in an email that the Franciscans invited Rodríguez to speak at their semiannual meeting because the cardinal is an affiliate of one of the order's New York-based provinces.
Although the cardinal is a member of another religious order, the Salesians of Don Bosco, he referred to himself during the talk as a Franciscan and even wore the traditional brown Franciscan habit while speaking.
Rodríguez began his address by mentioning how St. Francis is said to have heard an apparition of Christ tell him to "repair my church." Rodríguez said the 13th-century saint "caused great scandal" from church leaders who wanted "to maintain their privileges."
Saying the pope is creating "a new way of being church," Rodríguez said Francis "feels called to construct" a church that is, among other things:
"At the service of this world by being faithful to Christ and his Gospel";

"Free from all mundane spirituality";
"Free from the risk of being concerned about itself, of becoming middle-class, of closing in on self, of being a clerical church";
Able to "offer itself as an open space in which all of us can meet and recognize each other because there is space for dialogue, diversity and welcome in it";
A church that pays "just attention and gives importance to women in both society and its own institutions."
Rodríguez ended his talk by directly relating God's reported message to St. Francis to Pope Francis.
"Today, as in the past, the Lord has again called Francis and has asked of him the very same thing he asked of him of Assisi," Rodríguez said.
Asked how exactly Rodríguez meant Pope Francis is repairing the church, Washburn said it was through gestures like washing the feet of prisoners and embracing people with disabilities after his audiences in St. Peter's Square.
"These moments are not just for show or merely external -- these are real gestures with the strength and power and authority of an encyclical, perhaps with even more power than those," Washburn said.
In his talk, Rodríguez also directed the Franciscans to undertake certain priorities in their ministries, including:
Being missionaries to those who are unfamiliar with the church or Christian teachings;
Working for the poor;
Speaking out against violence and destruction of the environment;
Dialogue with other religions, especially Islam.
[Joshua J. McElwee is NCR national correspondent. His email address is jmcelwee@ncronline.org. Follow him on Twitter: @joshjmac.]
A version of this story appeared in the April 25-May 8, 2014 print issue under the headline: Francis encountering curial opposition, cardinal says.