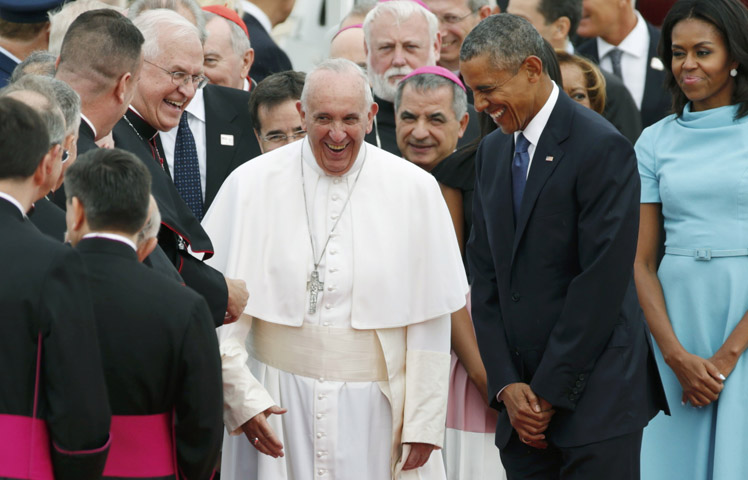 U.S. President Barack Obama and first lady Michelle Obama welcome Pope Francis at Joint Base Andrews as the pope arrives to the United States for the first time Sept. 22. (CNS/Kevin Lamarque, Reuters)
Washington — September 22, 2015
Pope Francis landed at Joint Base Andrews Tuesday afternoon, launching his highly anticipated six-day, three-city visit to the U.S. that will see him become the first pontiff to address a joint meeting of Congress Wednesday before heading to address world leaders at the U.N. in New York Friday.
Arriving here directly after a three-city tour of Cuba, the pope has been using his joint voyage to the Americas to stress themes of reconciliation and healing -- and to make a symbolic push for closer ties between the two long-isolated nations.
---
Related: Pope's Itinerary For Visits To Cuba, US
---
In an unusual gesture of courtesy and welcoming for a pontiff who has never visited the U.S., President Barack Obama met Francis at the airport upon the pope's arrival Tuesday. The two leaders greeted as the pope descended from his plane, smiling and shaking hands.
No formal remarks were given by either leader during the brief arrival ceremony. The pope is to visit Obama at the White House Wednesday morning, where they both are expected to address one another publicly.
Francis' visit to the U.S. is the fourth by a pontiff, following earlier voyages by Popes Paul VI, John Paul II, and Benedict XVI. But this visit has already attracted extraordinarily high levels of interest, with front-page stories in papers across the country speculating on what the pope might say in his 18 scheduled speeches.
Following his meeting with Obama Wednesday, the pope will meet with the country's bishops in Washington's Cathedral of St. Matthew.
The pontiff will then head to the Basilica of the National Shrine of the Immaculate Conception to celebrate a Mass with thousands of people, where he will canonize 18th-century Spanish Franciscan missionary Fr. Junípero Serra. It will be the first canonization to take place on U.S. soil.
Francis will address Congress Thursday morning, before heading north to New York later in the day. He will address the U.N. on Friday, before heading on to Philadelphia on Saturday to take part in the World Meeting of Families.
While it is unknown exactly what the pope might say to Americans, it is expected he will touch on a number of themes that could make some feel uncomfortable -- perhaps pushing for more concrete action to prevent climate change, or for better treatment of migrants to the country, or against abortion or recent efforts to legalize euthanasia.
Security for the visit is expected to be extraordinarily tight, and coverage by media outlets exhaustive.
The Vatican has said the pope is planning to mainly speak Spanish during his three stops in the U.S., and will speak English in only four of the 18 expected discourses.
According to his normal routine on foreign trips, Francis is likely to stick to his prepared texts in formal addresses -- at Congress and the UN, for example -- but may decide to speak off-the-cuff during more informal occasions, like during a meeting in Washington Thursday with members of St. Patrick's parish or with migrant families in New York on Friday.
[Joshua J. McElwee is an NCR Vatican correspondent. His email address is jmcelwee@ncronline.org. Follow him on Twitter: @joshjmac.]