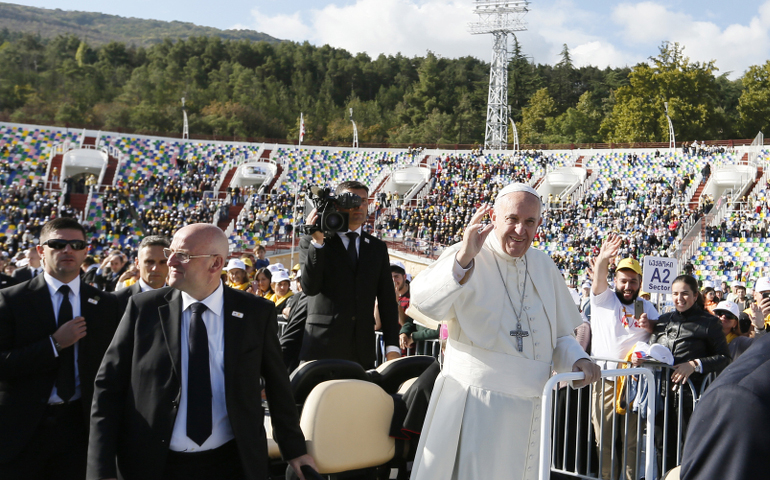 Pope Francis greets the crowd before celebrating Mass at Mikheil Meskhi Stadium in Tbilisi, Georgia, Oct. 1. (CNS photo/Paul Haring)
Tbilisi, Georgia — October 1, 2016
In a country where Catholics comprise a tiny minority of the population, Pope Francis on Saturday urged the local faith community to remember that God has accomplished "great wonders" through small things and told them to favor "authentic Gospel simplicity" over evangelical efficiency.
Speaking in a homily during a sparsely attended but enthusiastic outdoor Mass with a few thousand people at a soccer stadium here, the pontiff said Christians should remember they are primarily God's children and need not be "masters of our lives, but children of the father."
"Blessed are those Christian communities who live this authentic Gospel simplicity!" the pope exhorted. "Poor in means, they are rich in God."
"Blessed are the Shepherds who do not ride the logic of worldly success, but follow the law of love: welcoming, listening, serving," Francis continued. "Blessed is the church who does not entrust herself to the criteria of functionalism and organizational efficiency, nor worries about her image."
Francis' homily Saturday came on the second day of his visit to this Caucasus nation, where some 83 percent of the population of about 3.7 million identifies as Georgian Orthodox and Catholics comprise only about two percent of people.
The Mass, while marked by one of the lowest levels of attendance among the outdoor events organized for the pontiff on his trips abroad since his 2013 election, was noted by enthusiastic participation. People in the crowd wore bright yellow hats displaying the pope's image and Jesus' prayer Ut unum sint ("That they may be one.")
The prayer is particularly significant for Georgian Catholics, who come from three different rites: Latin, Armenian, and Assyrian-Chaldean.
Francis reflected in his homily on a passage in Matthew's Gospel where Jesus tells his disciples: "Whoever humbles himself like [a] child is the greatest in the kingdom of heaven."
"Children, who have no problem in understanding God, have much to teach us," said the pope. "They tell us that he accomplishes great things in those who put up no resistance to him, who are simple and sincere, without duplicity."
"The Gospel shows us how great wonders are accomplished with small things," Francis said: "With a few loaves and two fishes, with a tiny mustard seed, with a grain of wheat that dies in the earth, with the gift of just a single glass of water, with the two coins of a poor widow, with the humility of Mary, the servant of the Lord."
Several other Georgian faith communities sent delegations to Saturday's Mass. But while the Vatican had said earlier that representatives of the Georgian Orthodox would attend, no such representatives were sent.
A Sept. 28 statement from the Orthodox patriarchate said they were not going to participate because of "existing dogmatic differences" between the Orthodox and Catholic communities.
In response to the Orthodox's choice to not attend, Vatican spokesman Greg Burke said Saturday: "We accept their decision."
Later in a visit with Georgian Catholics at a Tbilisi parish on Saturday afternoon, Francis told them they must not seek to convert members of the Georgian Orthodox community.
"There is a big sin against ecumenism: proselytism," said the pontiff. "You must never proselytize the Orthodox. They are our brothers and sisters, disciples of Jesus Christ."
"Walk together, pray for each other, and do works of charity together when you can," the pope encouraged. "This is ecumenism. Do not condemn a brother or sister."
Francis landed in Georgia Friday afternoon. He will leave the country Sunday morning to make a one-day visit to neighboring Azerbaijan before returning to Rome that evening.
The pope met Orthodox Patriarch Ilia II upon arrival Friday and said both faith communities are confronted with a world "thirsting for mercy, unity and peace" that calls them to "ardently renew our commitment to the bonds which exist between us."
Francis met again with Ilia Saturday evening during a visit to the Orthodox Svetitskhoveli Cathedral, the spiritual center of their community.

In remarks for the event, the pontiff referenced that the cathedral has what is claimed to be the mantle, or robe, of Jesus. The robe is made of a single cloth, without evidence of seams.

"This holy tunic, a mystery of unity, exhorts us to feel deep pain over the historical divisions which have arisen among Christians," said Francis. "These are the true and real lacerations that wound the Lord's flesh."

"At the same time, however ... the love of Christ which has brought us together, giving us not only his garment but his very body, urges us to not give up but rather to offer ourselves as he did," the pope continued. "It urges us to sincere charity and to mutual understanding, to bind up wounds, with a spirit of pure Christian fraternity."
Before beginning the Mass Saturday morning, Francis greeted crowds at the Mikheil Meskhi Stadium by taking a tour in a golf-cart style popemobile used for the occasion. The pope also led a procession through an outdoor holy door for the ongoing Jubilee Year of Mercy set up next to the altar.
In his homily the pontiff also mentioned 19th century St. Therese of Lisieux, a Carmelite nun and Doctor of the Church whose feast day is celebrated Oct. 1. He asked that those present be like the saint in asking for a heart "that believes and lives in the gentle strength of love."
Story updated at 10:22 a.m. CT Oct. 1. NCR will provide updates as the pope's visit continues.
[Joshua J. McElwee is NCR Vatican correspondent. His email address is jmcelwee@ncronline.org. Follow him on Twitter: @joshjmac.]