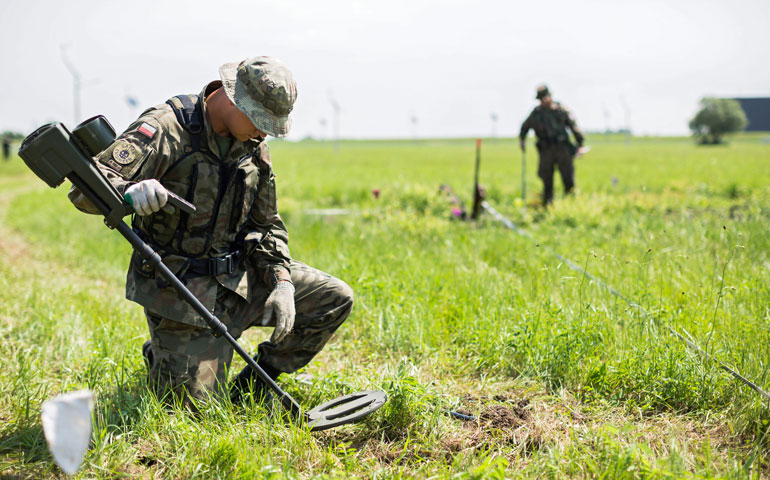 Members of Poland's 6th Airborne Brigade based in Krakow, Poland, search an area with metal detectors July 1 where the main celebrations of the World Youth Days will be held near Wieliczka. (CNS/EPA/Stanslaw)
Editor's note: NCR will be on the ground covering the 14th global World Youth Day in Krakow, Poland, July 25-31. Check the World Youth Day 2016 feature series page for all coverage.
Pope Francis' upcoming visit to Poland in July may afford him an opportunity to pay tribute to his Polish-born predecessor, Pope John Paul II, while challenging the country's political and church leaders to consider more closely Francis' own views on immigration and mercy, said several U.S. experts.
"He's returning to the homeland of John Paul II, his esteemed predecessor," said Declan Murphy, former director of the U.S. bishops' office of Aid to the Church in Central and Eastern Europe. "He's inevitably paying tribute to John Paul II's legacy."
At the same time, Murphy said, "Poland is in a very, very difficult political situation right now."
"The Holy Father's message of tolerance, especially for immigrants and for mercy towards people who are unfortunate, whatever their ethnic origin, is something that should hopefully affect the conscience of Poles on multiple levels," he continued.
"I think the Holy Father's presence there and his message will cause a lot of Poles to thoughtfully reflect on whether the government that they have now is really taking them where they want to go," said Murphy, referring to Prime Minister Beata Szydlo and her ruling Law and Justice party.
Francis will be traveling to Poland July 27-31. He is visiting the country primarily for the celebration of the 14th global World Youth Day, taking place in the southern city of Krakow.
He will also meet with the country's political leaders and Catholic bishops, travel to Czestochowa for a public Mass and to see the famous 14th-century icon of the Black Madonna, and visit the World War II Auschwitz-Birkenau concentration camp.
Critics of Szydlo, who has been in power since November 2015, say she has not done enough to welcome migrants in accord with European Union policy in the ongoing crisis of migration from the Middle East and Africa.
Wider Polish society is also skeptical of migration. A 2013 study by the Center for Research on Prejudice at the University of Warsaw found that as many as 69 percent of Poles do not wish to welcome nonwhite people into the country.
Murphy said Francis may use his trip to Poland as a way of "demonstrating his continuity with John Paul II's legacy and … [saying] this is not how John Paul II would have reacted to immigrants, especially in light of his own beliefs about mercy."
Msgr. John Strynkowski, a former director of the U.S. bishops' doctrine committee who is of Polish descent and travels frequently to the country to visit family, said Francis might "be able to bring about a change of mind and perception."
Strynkowski, who recently retired as the rector of the Cathedral-Basilica of St. James in Brooklyn, N.Y., said another key issue of the visit may be a sort of reconciliation between Francis and the Polish bishops.
The Polish episcopate "are not very persuaded by the pope," he said, adding that some of the country's bishops have been unhappy with several of Francis' moves, including his decision to canonize Popes John Paul II and John XXIII at the same ceremony in 2014 and the Synods of Bishops in 2014 and 2015.
"Overall, I would lump it under the category of reconciliation," said Strynkowski. "That's to say that by his being there, they would perhaps become more reconciled to his style, to his message and sort of realize that John Paul II is no longer the pope."
The former U.S. bishops' staffer suggested that Francis might speak in his address to the Polish bishops about "the need for pastoral realism, taking people where they're at and walking with them."
While in Poland, Francis will celebrate the 1,050th anniversary of the country's Christianization, traditionally marked by the baptism of Mieszko I, the first ruler of the Polish state, in 966.
Francis will also celebrate a Mass at the Divine Mercy Sanctuary in Krakow, the resting place of St. Faustina Kowalska, and will walk through the sanctuary's holy door for the Jubilee Year of Mercy with a group of young people.
The visit to Poland will be Francis' 15th outside Italy as pope and, of those, only his second in Europe, following his visit to the European Parliament and Council of Europe in Strasbourg, France, in 2014.
A version of this story appeared in the July 15-28, 2016 print issue under the headline: Francis to visit John Paul II's homeland.