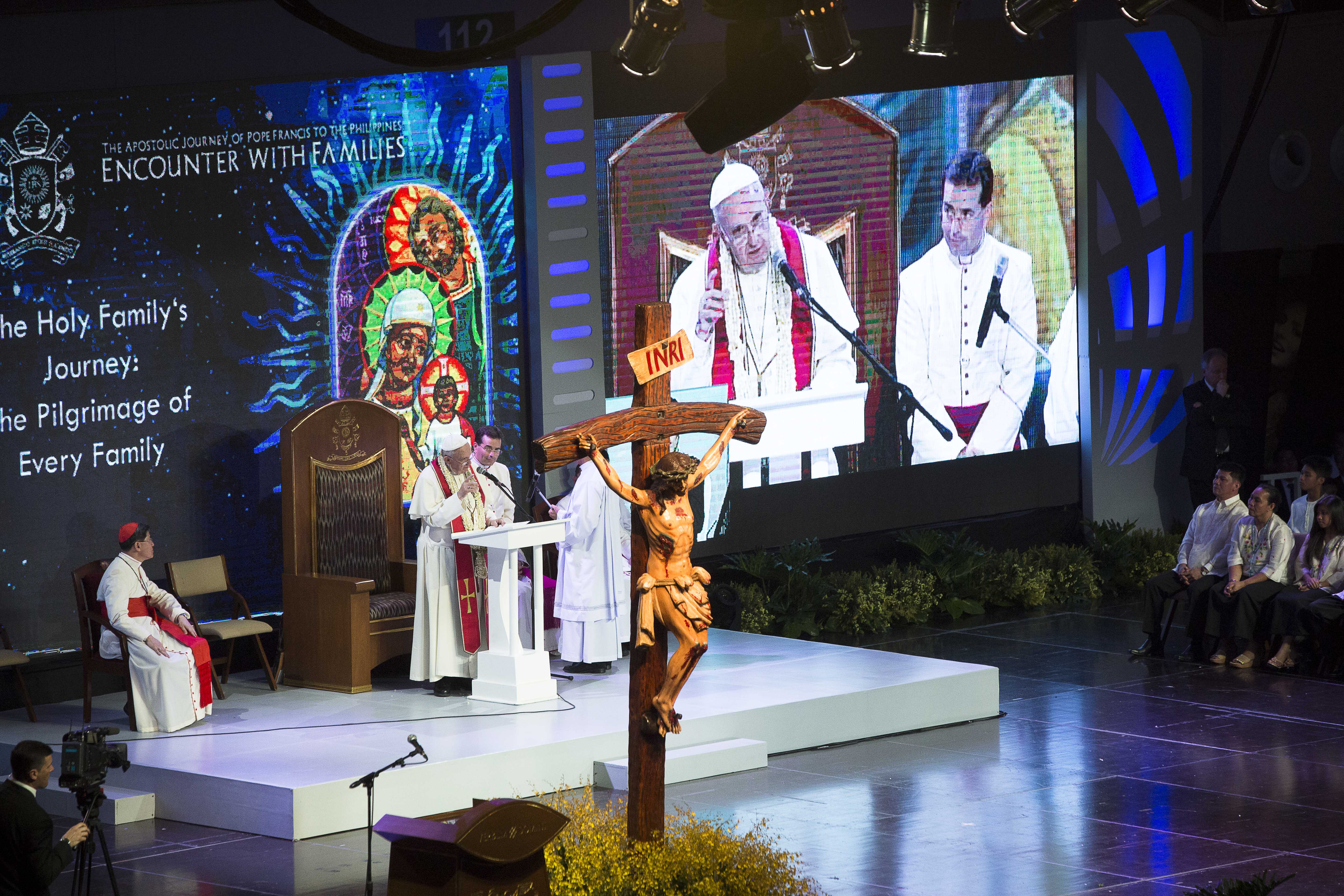 Pope Francis and Cardinal Luis Antonio Tagle of Manila, Philippines, are seen on a big screen during a meeting with families at the Mall of Asia Arena in Pasay City, Philippines, Jan. 16. (CNS/Tyler Orsburn)
Manila, Philippines — January 16, 2015
Pope Francis issued a firm warning Friday against what he calls an "ideological colonization" of family life, in an apparent reference to efforts to legalize same-sex marriage and to the use of contraception.
Speaking in a meeting with families in the Philippines -- where the government only recently approved contraceptive access against forceful opposition from Catholic bishops -- Francis also praised Pope Paul VI, whose encyclical Humanae Vitae prohibited Catholics from using contraception.
But then, in an unusual move for a pope, Francis immediately acknowledged that there were "particular cases" where the contraception ban may not apply.
"In the moment of that challenge of the growth of populations, [Paul] had the strength to defend openness to life," Francis said.
"He knew the difficulties that families experience and that's why in his encyclical he expressed compassion for particular cases," he continued. "And he taught confessors to be particularly compassionate with particular cases."
But the pope continued: "Paul VI was courageous. He was a good pastor and he warned his sheep about the wolves that were approaching."
Francis was speaking Friday in one of several deviations from his prepared text for the families' meeting, where he heard testimony from three separate families about the daily struggles they face before offering his own talk.
The pope issued his warning against "ideological colonization" of families after reflecting on the Gospel story of St. Joseph, who was warned in a dream of dangers that threatened the newly born Jesus.
Saying that God is calling people to "recognize the dangers threatening our own families," Francis stated, "There is an ideological colonization we have to be careful of that tries to destroy the family."
Obliquely referencing historical colonization of the Philippines and his native Argentina, he continued: "Just as our peoples were able to say no to the period of colonization, as families we have to be very wise and very strong with fortitude to say no to these initiatives of colonization that could destroy the family."
The pontiff then suggested that families pray to St. Joseph "to know when to say yes and when to say no" to such colonization.
Manila Cardinal Luis Antonio Tagle called Francis' words about Paul VI "a stroke of genius."
Speaking in a press conference Friday night, Tagle said the pope "affirmed the teaching of Paul VI regarding the openness of the family to life ... but then he reminded all us, too, that Pope Paul VI was very sensitive to particular cases."
There was "sensitivity to particular cases while remaining faithful to the tradition," Tagle said.
Vatican spokesman Jesuit Fr. Federico Lombardi said at the press conference that Francis' words could be put in the context of the upcoming Synod of Bishops, which among other issues may consider whether Catholics who have divorced and remarried may return to Communion.
"I will stress that this speech of today in the context of the process of the synod for the family ... has a very important place, I think," he said.
Pressed on whether the idea of exceptions for particular cases could be applied to divorced and remarried persons, Tagle began to say "maybe" before catching himself and not finishing the word.
"We have a synod," he continued. "I don't want to preempt the discussion of the synod."
"The preparation for the next synod is already in a way mindful ... of these complex particular situations that people find themselves in," Tagle said. "Definitely will consider what is teaching and then also the unique situations."
Francis' warning against colonization at the family meeting was followed by a reflection on the pressures families face. Among those he listed: forced separation of partners trying to make ends meet, redefinition of marriage, and relativism.
"The pressures on family life today are many," Francis said. "The economic situation has caused families to be separated by migration and the search for employment, and financial problems strain many households."
He continued: "The family is also threatened by growing efforts on the part of some to redefine the very institution of marriage, by relativism, by the culture of the ephemeral, by a lack of openness to life."
Use of contraception in the Philippines is a contentious issue. While a new reproductive health law allowing contraceptive access was passed in 2012, it was not put into force until last April when the country's Supreme Court ruled that it was not unconstitutional.
Catholic opposition to the bill was so forceful that leaders of the Philippines bishops' conference at one point allegedly warned that president Benigno Aquino III could be excommunicated if he approved the law. The bishops, though, have denied such a threat.
Besides the tough talk on ideological divides over family life, Francis' time with the families at Manila's Mall of Asia Arena was noticeably personal.
While the pontiff has been steering away from ad-libbing because he has been speaking in English during his Philippines trip, he added text to his talk several times in Spanish, allowing an interpreter to then give his words in English.
Francis particularly encouraged the families to never stop dreaming.
"I like the idea of dreaming in the family," he said. "All fathers and mothers dream of their son or daughter in the womb for nine months."
"When you lose this capacity to dream, you lose the capacity to love," Francis said. "And how many solutions are found to family problems if we take time to reflect."
The pope also revealed one of his personal prayer practices, saying that he keeps a statue of St. Joseph on his office desk.
"When I have a problem or a difficulty, I write on a piece of paper and I put it underneath his statue, so that he can dream about it," he said. "This means that you please pray, St. Joseph, for this problem."
Francis is visiting the Philippines Thursday through Monday morning in the second portion of a two-part Asian voyage that first saw him visit Sri Lanka earlier in the week.
One Philippine man attending Friday's event said it was made more special to him by Francis' continued message of support for those facing economic hardships.
"Something special is that our pope right now is for the poor," said Eutropio Jayectin, mayor of Montevista, a town in the southern Philippines' area of Mindanao, which is known for widespread poverty.
"For me, I want an equal distribution of money," said Jayectin, who added that the pope is helping him in "not losing hope."
Included in the families addressing the pope were Ediza and William Pumarada, along with their daughter Shalmae. Saying their story was "one of the many" of Philippine families forced to separate in order to make money, they explained that William has been living in Singapore since 1995 and is only able to travel home for short vacations.
"Our separation, only three years after our marriage, brought me feelings of anxiety and uncertainty," Ediza Pumarada said. "The psychological and emotional burdens were difficult to bear in spite of the earnings that working abroad brought our family."
Migration of families, she said, "continues to challenge the structure, roles and functions of the family, communities and the larger society."
A nation of some 100 million people, more than one-quarter of the population of the Philippines is estimated to live below the poverty line. The Philippine National Statistics Office estimated in 2013 that approximately 2.2 million Filipinos live abroad for work.
Another Philippine man at the event said he is glad that Francis is encouraging families to "stand strong in spite of the suffering."
"Faith should be the main feature to make a whole family together," Reynald Andales said. "It has to stay focused, hold hand in hand, accept one another, be a blessing to each other."
Andales is the national president of the World Apostolate of Fatima of the Philippines, a public association of the faithful in Cebu, a central island province of the country. He traveled to Friday's event by plane with his wife and children, and 15 other members of his organization.
The meeting between Francis and the families was filled with a number of heartfelt moments. Introducing Francis at the event was Bishop Gabriel Reyes of Antipolo, Philippines, who told the pope that some in the audience are "very weary and lonesome."
"Some of us are tired and burdened," Reyes said. "Discouraged and hurt like the disciples of Emmaus on that Easter afternoon. Our wages are not enough. Our backs are aching from working all day in foreign lands."
"Our children are hungry and we have none to feed them," he continued. "We have not seen our children for years. We look for happiness in drugs and alcohol."
"Speak to us Holy Father and bring us the joy that only comes from Jesus," Reyes asked the pope.
Francis started his remarks by saying he wanted take the opportunity to "rest in the Lord with all of you" and that he wanted to offer reflections on "resting in the Lord, rising with Jesus and Mary, and being a prophetic voice."
Saying rest is "essential for our spiritual health," Francis told the families they must make time each day for prayer.
"But you may say to me: 'Holy Father, I want to pray, but there is so much work to do! I must care for my children; I have chores in the home; I am too tired even to sleep well,'" Francis said.
"This may be true, but if we do not pray, we will not know the most important thing of all: God's will for us," he said. "And for all our activity, our busy-ness, without prayer we will accomplish very little."
Speaking of the threats he identified against the family, Francis said: "Every threat to the family is a threat to society itself." The pope also asked families to be "sanctuaries of respect for life, proclaiming the sacredness of every human life from conception to natural death."
The Philippines is Asia's largest Catholic nation, with 81 percent of its population estimated to belong to the religion.
Earlier Friday, Francis met with Philippine president Benigno Aquino III in a state visit, urging him to root out widespread corruption in the country and to "hear the voice of the poor."
The pontiff also celebrated a Mass with bishops, priests and religious of the country Friday afternoon. Following the Mass he made an unannounced visit to a local home for children rescued from living on the streets.
On Saturday, Francis will fly to Tacloban, an area southeast of Manila that was severely impacted by 2013's typhoon Haiyan. On Sunday, the pontiff will celebrate a public Mass in Manila's Rizal Park, an event the Vatican has called a "mega Mass" that is expected to draw crowds in the millions.
[Joshua J. McElwee is NCR Vatican correspondent. His email address is jmcelwee@ncronline.org. Follow him on Twitter: @joshjmac.]