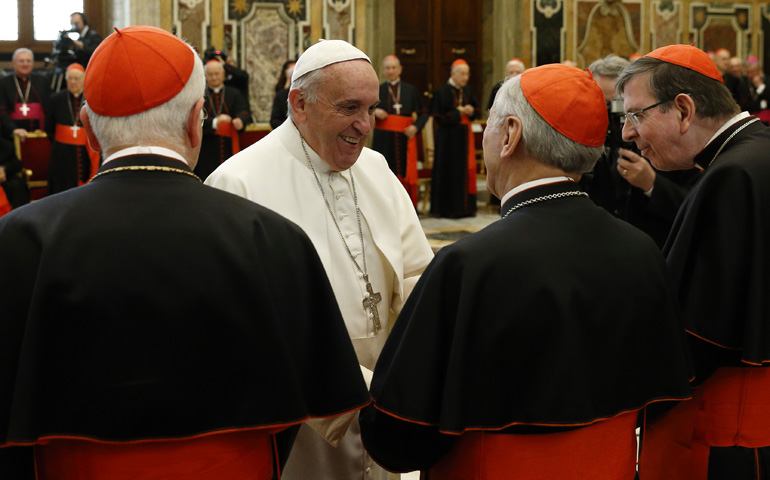 Pope Francis exchanges Christmas greetings with members of the Roman Curia on Monday in Clementine Hall at the Vatican. (CNS/Paul Haring)
Pope Francis on Monday used an annual pre-Christmas meeting with the cardinals and bishops of the Vatican bureaucracy -- normally an exchange of good wishes and blessings -- to issue a scathing critique of them, warning against 15 separate "diseases" in their work and attitudes.
Saying he wanted to prepare them all -- including himself -- to make "a real examination of conscience" before Christmas, Francis said while the Vatican bureaucracy was called to "always improve and grow in communion," it was also prone to "disease, malfunction, and infirmity" like every human institution.
"I believe it will help us [to make] a 'catalog' of diseases ... to help us prepare for the sacrament of reconciliation, which will be a good step for all of us to prepare for Christmas," Francis said.
Many of the 15 diseases given by Francis were frank and blunt: a feeling of indispensability like a "rich fool"; of having a "spiritual Alzheimer's" that makes a person dependent on the present; of living an "existential schizophrenia" of double lives that create "parallel worlds"; and a "terrorism of gossip" that sows discord and that amounts to "cold-blooded murder" of friends and colleagues.
Before listing the diseases, Francis likened the Vatican bureaucracy, known as the Roman Curia, to the Catholic idea of the Mystical Body of Christ -- the notion that all Catholics are connected together through Jesus Christ as one body.
"The Curia is called to improve, to always improve and grow in communion, holiness and wisdom to fully realize its mission," he said. "Yet it, like every body, like every human body, is exposed to disease, malfunction, infirmity."
"Diseases are more frequent in our life of the Curia," he said. "They are diseases and temptations that weaken our service to the Lord."
Francis' speech to the Vatican bureaucracy comes as the pope has been preparing a reform of its functioning over the past months, appointing a Council of nine cardinals to advise him on how best to change the Curia. While that reform has yet to be announced, it seems to be drawing closer to fruition, with reports of coming mergers or downsizing of Vatican offices and staff.
The pope's list of diseases may show just how in need of reform the Vatican is. As long as it is colorful and frank, the list paints a picture of an institution full of gossip, backstabbing and lack of contact with the reality lived by most Catholics around the world.
Francis started his list of diseases Monday by criticizing those who feel immortal, immune or indispensible in their work. He said such people are like "the rich fool," the person mentioned in Jesus' parable in Luke's Gospel who stores grain but does not glorify God.
The feeling of indispensability, Francis said, "often stems from a pathology of power, the 'complex of the elect.' "
That disease, the pope said, "is the narcissism that looks passionately on its own image and does not see the image of God stamped on the face of others, especially the weakest and most in need."
"The antidote to this epidemic is the grace to feel as sinners and say with all the heart: 'We are useless servants. We have done how much we had to do,' " he said.
Identifying a disease of those who "possess a heart of stone," Francis said some "lose the inner serenity, vivacity and boldness and hide under papers becoming 'practical machines' and not 'men of God.' "
"It's dangerous to lose the human sensitivity necessary to make us weep with those who weep and rejoice with those who rejoice," he said. "It is the disease of those who lose 'the feelings of Jesus' because their hearts, with the passage of time, harden and become unable to unconditionally love the Father and the neighbor."
Moving next to warn against a "spiritual Alzheimer's," Francis said some forget the "story of salvation" and lose their personal history with the Lord, the "first love."
"It is a progressive decline of the spiritual faculties that in a longer or shorter period of time ... making them unable to carry out any independent activity, living a state of absolute dependence on his often imaginary views," said the pope.
"We see it in those who have lost the memory of their encounter with the Lord," he said. "In those who are completely dependent on their 'present' ... in those who build walls around themselves and habits becoming, more and more, slaves of idols that they have carved their own hands."
Identifying what he called an "existential schizophrenia," Francis then warned against those who "live a double life, the fruit of hypocrisy typical of the mediocre and the progressive spiritual vacuum that degrees or academic qualifications cannot fill."
"They create like this their own parallel world, where they put aside everything that they teach strictly to others and begin to live a hidden life," he said. "The conversion is urgent and indispensable for this very grave disease."
Labeling a disease of "chatter, murmurings and gossip," Francis said such a disease "starts simply, maybe just for a chat and takes hold of the person making him a 'sower of discord' [like Satan], and in many cases 'cold-blooded murderer' of the fame of their colleagues and confreres."
"It is the disease of cowardly people that not having the courage to speak directly talk behind their backs," Francis said. "Brothers, let us look out for the terrorism of gossip!"
Speaking of those who "deify superiors," Francis warned against officials who "are courting superiors, hoping to get their benevolence."
"They are victims of careerism and opportunism, they honor the people and not God," the pope said. "They are people who live the service thinking only what they need to get and not what they must give."
"This disease may also affect the superiors when courting some of their employees to get their submission, loyalty and psychological dependence, but the end result is a real complicity," he continued.
Warning against a "funereal face," Francis said some think that in order to be serious, "they need to paint the face of melancholy, severity and treat others -- especially those deemed inferior -- with stiffness, hardness and arrogance."
"In reality, the theatrical severity and sterile pessimism are often symptoms of fear and insecurity about himself," the pope said. "The apostle must strive to be a polite person, calm, enthusiastic and cheerful who conveys joy wherever he is. A heart full of God is a happy heart that radiates with joy and infects all who are around him. You can see it right away!"
"Don't lose that joyful spirit, full of humor, even self-deprecating, that makes us amiable people," said Francis, who said he says a prayer attributed to British St. Thomas More every day for this purpose.
Identifying "closed circles" in the Vatican, Francis said some create groups "where membership in the little group becomes stronger than that of the body and, in some situations, to Christ himself."
"Although this disease always begins with good intentions," said the pope, over time it "enslaves members becoming 'a cancer' that threatens the harmony of the body and causes so much harm -- scandals -- especially to our smallest brothers."
"The self-destruction or 'friendly fire' of fellow soldiers is the sneakiest danger," Francis said. "It is the evil that strikes from within, and as Christ says: 'Every kingdom divided against itself is brought to desolation.' "
The rest of Francis' list of diseases:
Being "excessively busy" and not taking time for rest;
Excessive planning of functionalizing, or trying to "close or direct the freedom of the Holy Spirit";
Bad coordination, like an orchestra that produces noise instead of music: "When the foot tells the hand, 'I don't need you,' or the hand tells the head 'I'm in charge' ";
Rivalry and vainglory: "When one's appearance, the color of one's vestments or honorific titles become the primary objective of life";
Indifference toward the needs of others: "When, out of jealousy or guile, you feel joy at seeing another fall rather than lifting them and encourage them";
Accumulation: "When the apostle tries to fill an existential emptiness in his heart by accumulating material goods, not because he needs them but because he'll feel more secure";
Worldly profit and exhibitionism: "It's the sickness of those who insatiably try to multiply their powers and to do so are capable of calumny, defamation and discrediting others, even in newspapers and magazines, naturally to show themselves as being more capable than others."
[Joshua J. McElwee is NCR Vatican correspondent. His email address is jmcelwee@ncronline.org. Follow him on Twitter: @joshjmac.]
A version of this story appeared in the Jan 2-15, 2015 print issue.