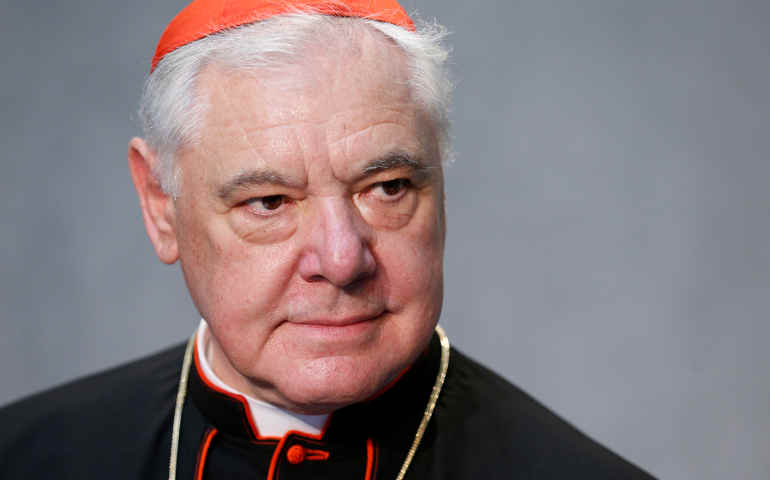 Cardinal Gerhard Müller (CNS/Paul Haring)
Seen through today's eyes, Pope Benedict XVI's 2006 Regensburg Address, which sparked street demonstrations and sporadic violence against Christian churches across the Islamic world at the time, has turned out to be "prophetic," the head of the Vatican's doctrinal congregation said on Tuesday.
The address was a manifesto of dialogue between religions and cultures based on reason, according to Cardinal Gerhard Müller, prefect of the Congregation for the Doctrine of the Faith
Müller made his comments during a Sept. 13 lecture in Regensburg, Germany, titled "Pope Benedict's Regensburg Address: A Rereading After Ten Years," during a week of celebrations to commemorate the 10th anniversary of Benedict's first visit as pope to his Bavarian homeland.
During that visit, the now-retired pope spoke at the University of Regensburg on Sept. 12, 2006, a lecture in which he quoted a 14th-century Byzantine emperor that linked Islam and the Prophet Muhammad with violence. Massive protests in Muslim-majority countries ensued, along with scattered acts of violence against Christians, including the deaths of an Italian nun in Somalia and a priest in Iraq.
Looking back on the address now, Müller said, one can see that "the lasting message of Benedict's address is that without God's peace in our hearts, we will not be able to master the present global crisis. Love and reconciliation -- not hatred and retaliation -- lead to the future."
Applying this message to the situation in the world today means emphasizing that there is no such thing as a holy war, as war is never pleasing to God. "The political and religious authorities in Islamic countries must therefore find an answer as to how the so-called Sword Verses in the Quran can be reconciled with the basic right of freedom of religion, Müller said. "The Islamic authorities must not only reject the use of violent means to spread religion, but also all aims at religious political world domination."
The Regensburg Address was "a historic event of the first order," Müller said. Its influence was shown in 2007, when 138 Islamic scholars, in an open letter to the world's Christian leaders titled "A Common Word Between Us and You," put forth an offer to dialogue on peaceful co-existence between people of different religious convictions.
The cardinal quoted the following passage from Benedict's address: "The intention here is not one of retrenchment or negative criticism, but of broadening our concept of reason and its application. While we rejoice in the new possibilities open to humanity, we also see the dangers arising from these possibilities and we must ask ourselves how we can overcome them."
Related Story:
Austrian cardinal clarifies: It's not 'Islamic conquest' but Christian surrender
Josephine McKenna of Religion News Service reports from Rome that Austrian Cardinal Christoph Schoenborn is trying to clarify a provocative warning he made that Europe is at risk of an "Islamic conquest" because it has squandered its Christian heritage.
The archbishop of Vienna, a close ally of Pope Francis, made headlines when he used the anniversary of the September 11 terror attacks to refer to the triumph of Christians over the Muslim-led Ottoman Empire in a famous battle in Vienna in 1683.
"On this day, 333 years ago, Vienna was saved," Schoenborn said in a homily at Mass in St. Stephen's Cathedral in Vienna. "Will there now be a third attempt at an Islamic conquest of Europe? Many Muslims think so and long for it and say: This Europe is at an end."
But in an update posted on the archdiocesan website on Thursday (Sept. 15) -- in English as well as German -- the Austrian cardinal said his comments were in no way an attack on Muslims or refugees.
"One must not take my homily to be a call to defend ourselves against the refugees, this was not at all my intention," he said.
Schoenborn's comments came off as a sharp contrast to the pope's, who since his election three years ago has repeatedly urged greater compassion for the thousands of immigrants arriving in Europe from Africa and the Middle East.
In a bid to clarify his position, Schoenborn said Europe's Christian legacy was "in danger," but that it was a self-inflicted problem.
"We Europeans have squandered it," he said. "That has absolutely nothing to do with Islam nor with the refugees. It is clear that many Islamists would like to take advantage of our weakness, but they are not responsible for it. We are."
Austria has adopted a hard line on migrants and the government is considering a state of emergency decree that would impose strict measures against asylum seekers including expulsion.
According to the UN refugee agency, UNHCR, nearly 300,000 migrants have arrived in Italy and Greece by sea since January this year and many have resettled throughout Europe.
(Josephine McKenna covers the Vatican for RNS)