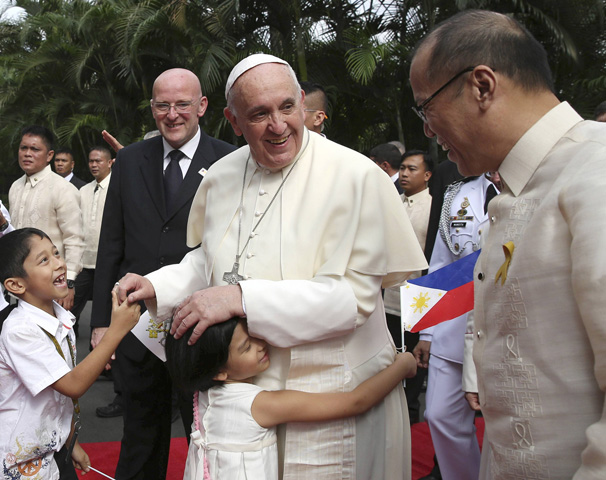 President Benigno Aquino III of the Philippines looks on as a girl embraces Pope Francis after a Jan. 16 welcoming ceremony at the Malacanang Palace in Manila. (CNS/Reuters/Ryeshen Egagamao)
Manila, Philippines — January 23, 2015
Pope Francis deeply touched the many Filipinos who came in droves to see the pope who loves children and poor people, embraces the sick and suffering, and speaks to them heart-to-heart.
According to Francis, he was also moved by the people he met. On an in-flight interview on his return to Rome from Manila, the pope said his visit to Tacloban -- Typhoon Haiyan's ground zero -- was the most moving experience of his Jan. 15-19 pastoral visit to the Philippines.
Even though a typhoon threatened to cut his visit short, Francis arrived in Tacloban, donning a yellow plastic raincoat throughout the entire Mass with survivors and pushing through with his motorcade to the town of Palo and then back to Tacloban airport.
Haiyan survivor Harold Naputo said people would have understood if Francis hadn't come to Tacloban as planned on Jan. 17, "but it was good that the pope came."
"After Mass, I felt free ... like I did not feel in a very long time. I finally had closure," said Naputo, an elementary school teacher.
Naputo, his wife and his young daughters heard the pope's words loud and clear: "So many of you have lost everything. I do not know what to tell you. But surely he [Jesus on the cross] knows what to tell you! So many of you have lost members of your family. I can only be silent; I accompany you silently, with my heart," Francis said during his homily.
Naputo began to weep uncontrollably. "In all these months, nobody had told us that," Naputo told NCR.
Days after Francis' visit, Naputo and friends were still asking, "Why did we not feel that until the pope came?" They wondered why authorities didn't give them the same message of consolation or say that even though they did not know what to do, they were with the people. Naputo said survivors feel "caught in the middle" of the political tension between national and local officials.
While it is unclear what Francis' words and actions will move politicians to do for survivors, Naputo said, "I want to help beggars and people living off the streets that we see but have been ignoring."
The visit with survivors of the 2013 typhoon -- where more than 6,000 people were killed and more than 4 million people lost their homes -- was the main purpose of his visit to the country, Francis announced in his meeting with President Benigno Aquino III.
During his visit, Francis "communicated very effectively" the theme of mercy and compassion and did not dwell on rituals, structures and "the many things we have accumulated over centuries about the Catholic church," said Oblate Fr. Eliseo Mercado. He joined Francis' encounter with families Jan. 16, the Jan. 18 meeting with the youth and final Mass at Luneta Park.
Mercado noted how the pope would drop his prepared speeches to stress points, teach or to express his own personal feelings. "It's very touching, especially for priests like me," he said.
Mercado said he thought the church had lost touch with the poor and was trying to re-engage them.
"The poor are the very heart of evangelization. Remove the poor from the message of Jesus, and there's nothing there anymore," he said. However, Francis focused on the poor in most of his speeches and drew many people from poor communities to his various activities.
The priest liked most the pope's off-the-cuff remarks to families at the Mall of Asia on Jan. 16, when he stressed the importance of dreaming of a baby's future and of good qualities of spouses. The pope also appealed to the 20,000 people in the arena to retain the ability to dream.
The "classic literature" feel to his speech allowed the pope to navigate controversial issues about family and human life without heavy theologizing or moralizing, Mercado said.
"Francis emphasized church teaching that every family should be a sanctuary of life and urged looking into our value as a people instead of falling prey to ideological colonization," the priest said.
In delivering his speech, Francis also opened up to more people, including those of other faiths. "Anybody belonging to any religion has a husband, wife, children, [or] family and can relate to what Francis discussed," Mercado added.
Naputo told NCR he found relief in the pope's words encouraging people to learn to weep. He said he has lived in a kind of "zombie city" since Typhoon Haiyan. He said he has not cried to try to show his family that everything was under control and going to be OK.
"In fact, I was worrying then where to get money to fix up our house," he said.
Benedictine Sr. Mary John Mananzan, a feminist theologian who chairs the board of trustees of Women and Gender Concerns of the Association of Major Religious Superiors, was "so happy" to hear Francis comment that women were underrepresented in that youth-sharing program.
The pope also reminded its organizers that women have a lot to tell society. "Women are able to pose questions we men are unable to understand," Francis said.
"I cheered this. He is all heart," Mananzan said.
Archbishop Socrates Villegas, president of the Catholic Bishops' Conference of the Philippines, told reporters at the end of the conference's plenary assembly that Filipinos also "brought out the best in Pope Francis."
He said the whole world watched the country for five days as both the Philippines and Francis gave their best.
"It feels good to be a Filipino these days," Villegas said.
Many of the estimated 7 million people who came to papal visit routes and events had watched stories about the pope on television or heard them on the radio in previous months as the Philippines church prepared for the papal visit.
"We've been praying for him and the papal visit after every Mass for the past months," Luneta Massgoer Rosanna Remigio told NCR. She had cards with prayers issued by the bishops' conference after the Vatican announced the visit.
However, Carmelite Fr. Marlon Lacal, of the Inter-Congregational Theological Center in Quezon City, told NCR he feels "a pinch of sadness" with his excitement over the papal visit.
"The excitement is for the effect of the pope's visit on the church to become evident, and sadness comes with the concern that we will just go back to our 'positions of power' and not take up the challenges Pope Francis posed to clergy and religious," Lacal said.
[N.J. Viehland is NCR correspondent in Manila.]