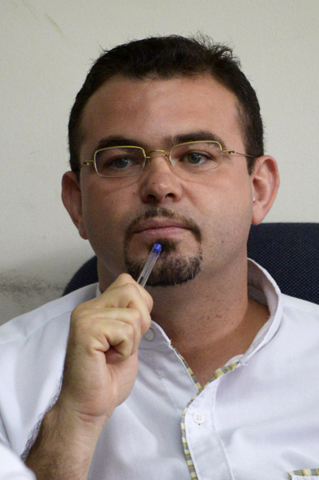 Spanish Fr. Antonio Rodriguez during a court hearing Tuesday in San Salvador (CNS/Reuters/Jessica Orellana)
San Salvador — August 6, 2014
A Salvadoran judge ruled that Spanish Passionist Fr. Antonio Rodriguez, known for his work in rehabilitating gang members, should remain in jail, accused of various crimes regarding gang activities.
Rodriguez, known as Padre Tono, was arrested July 29 and charged with several offenses, including illicit associations, influence peddling and introducing prohibited items -- including cellphones -- into prisons where members of the Barrio 18 or Calle 18 gang are held. He was arrested in connection with a huge police raid against 127 gang members on charges of extortion, among other crimes.
On Monday, he was granted parole, but he was arrested again after the attorney general's office added new charges Tuesday. He is being held by the national civil police.
"I do not understand why [the attorney general] has arrested me, and not Francisco Flores," he said to local media, talking about the former Salvadoran president accused of various corruption charges. Rodriguez rejects the accusations and says he is the victim of political persecution by El Salvador's government.
"Father Tono's attitude has been always controversial, and to the eyes of many people, it is normal to regard these things as politics," Passionist Fr.Gerardo Mendez told local media. "This is a form of persecution."
"Tono knew the risks" of criticizing Salvadoran authorities, he added.
For years, Rodriguez has run rehabilitation projects for gangs in Mejicanos, a suburb of San Salvador. He was critical of a gang truce brokered in March 2012, but supported government plans to bring about peace in the streets.
On Sunday, hundreds of people marched in the Spanish town of Daimiel, where Rodriguez was born, to show support for him.
El Salvador is one of the most violent countries in the hemisphere, with 69.2 murders per 100,000 inhabitants, according to figures from the World Health Organization. The authorities attribute many of these deaths to gangs.