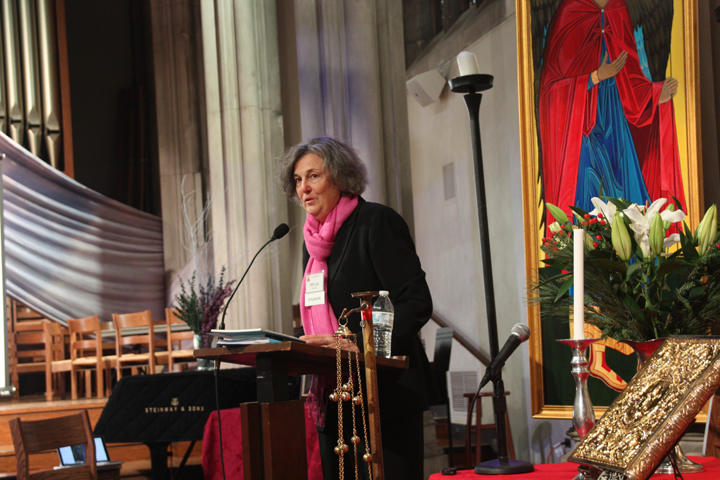 Phyllis Zagano speaks at the Women & Diaconal Ministry Conference, sponsored by the St. Phoebe Center for the History of the Deaconess, on Dec. 6, 2014, at Union Theological Seminary in New York. (Courtesy of St. Phoebe Center for the History of the Deaconess)
The ordination of women deacons gained worldwide attention in October when Canadian Archbishop Paul-André Durocher mentioned the subject during his three-minute address at the Synod of Bishops on the family. Durocher proposed three courses of action for the synod, the third relating to women in the diaconate.
"Finally, concerning the permanent diaconate, that this Synod recommends the establishment of a process that could eventually open to women access to this order, which, as tradition says, is directed non ad sacerdotium, sed ad ministerium ['not to priesthood, but to ministry']," he said.
In an interview with America magazine, Durocher said, "Why not look at the question of ordaining women to the diaconate? It's not a closed issue. There has been no dogmatic statement saying that women cannot be ordained."
But will these statements have any impact on this issue of women deacons?
William Ditewig, a deacon of the Washington archdiocese, believes that is yet to be seen.
"I'm not convinced that it will have much impact, simply because other issues more directly and obviously related to the family would seem to be more immediate," said Ditewig, who serves in the Monterey, Calif., diocese and teaches at Santa Clara University. Ditewig cited admitting divorced and remarried Catholics to Communion as an example of such an immediate issue.
Phyllis Zagano, an internationally acclaimed Catholic scholar and lecturer on contemporary spirituality and women's issues in the church, said it is a healthy sign that the church is at least discussing the question.
"There's never been any definitive ruling against the earlier tradition of ordaining women to the diaconate," said Zagano, who is a contributor to NCR.
Now that the topic has been brought up, Zagano said, "the next step would be for bishops' conferences around the world to discuss the question and simply send a dubium [a formal question] to Rome asking if they can ordain women to the diaconate."
Zagano said it may not work in every conference to ordain women to the diaconate.
"Just as with the altar service -- bishops aren't required to have women altar servers -- just so not every bishops' conference wants women deacons," she said. "In South America, there are bishops who say, 'I would ordain women in a minute.' "
In an interview with a local TV station, Chicago Archbishop Blase Cupich was asked if there would ever be women deacons in the Catholic church. A delegate at the Synod of Bishops, Cupich confirmed Durocher's statement.
"I think that there is going to be some study on that in terms of the theological background," Cupich said. He admitted that he hadn't kept up with the topic but "would always be willing to read and to be informed."
Some see ordaining women as deacons as a slippery slope to ordaining women as priests.
"A lot of people will admit seeing women being ordained as a danger," Ditewig said.
"The fact of the matter is, the diaconate is not the priesthood," Zagano explained. "It is a separate and complete ministry. If the church can understand the separation and the distinction, that's a long way to restoring the women to the diaconate. I think the Holy Father understands that."
Pope Francis has called for a wider inclusion of women in the church.
"If he wants that and wants to include women in governance and ministry, then the obvious way is to restore women to the diaconate," Zagano said. "Restoring them to the ordained diaconate would make them clerics."
Laypeople making their support for ordaining women deacons known is the first step toward its acceptance, according to Jesuit Luke Hansen, an associate editor at America from 2012 to 2014.
"If a Catholic believes that the church should ordain women as deacons, it is important that this person express the conviction to their local priest or bishop," he said. "Bishops are familiar with the pastoral needs of their diocese and the gifts of their people. If they believe the Lord is calling women to serve as deacons, bishops should represent this conviction to the national conference of bishops or directly to Pope Francis. Pope Francis has made it clear that he wants bishops' conferences to make courageous proposals to address the shortage of clergy."
Zagano pointed out that while plenty of women are engaged in ministry in the church, ordaining women to the diaconate would make their work an extension of the bishop's ministry.
In an interview with America magazine, Bishop George Murry of Youngstown, Ohio, said there must be a movement from talking about inclusion to acting on it.
"Women are involved in the church in a variety of ways, but are women in decision-making roles? That's where we have to move from talking about inclusion to acting in different ways," he said.
Murry suggested having a liturgical or theological commission and said it would be "a wise idea to look into it, learn more about it, and then to present a proposal to the pope to say there either are theological problems or not, and, if not, let's move forward."
The final report from the synod includes a paragraph on women in society and the church. One line reads, "A contributing factor in the social recognition of the role of women is a greater appreciation of their responsibilities in the Church: their involvement in decision-making, their participation in the administration of some institutions and their involvement in the formation of ordained ministers."
Hansen told NCR that it is significant that the final synod document makes the same connection Durocher made.
"If women are empowered and take on greater leadership in the church, it contributes to their empowerment in the larger society," Hansen said. "It is significant that the question is even being discussed among bishops."
[Elizabeth Elliott is an NCR Bertelsen intern. Her email address is eelliott@ncronline.org.]
A version of this story appeared in the Jan 29-Feb 11, 2016 print issue under the headline: Special Section on Deacons "Deacons: Synod puts women deacons on the table".