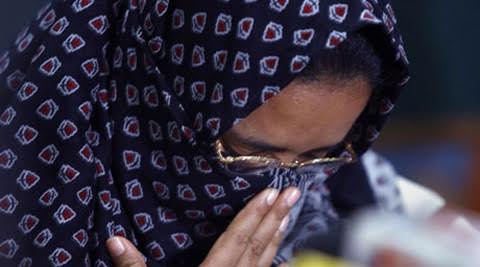 Sr. Meena Barwa addresses a press conference on Oct. 24, 2008, in New Delhi. (GSR photo / Dhanunjaya Senapati)
New Delhi — September 20, 2018
Editor's note: Sr. Meena Barwa, a child migrant and member of the Handmaids of Mary, was the victim of rape 10 years ago during anti-Christian violence in Kandhamal, a district in the India state of Odisha. Her court case is largely unresolved. At the recent conference on migrant workers in New Delhi, she told her story of being a young migrant and undergoing persecution to a crowd of some 160 attendees, who afterward fell into complete silence. Following is her address, which she consented to share with Global Sisters Report.
---
I share my experience and pilgrimage with gratitude to God.
I recount my suffering and triumph for thousands of girls, women, dalits, tribals who suffer — maybe more than I do.
I am a victim of migration, as many of these people are.
I became a migrant when I was 4 years old when a dam was constructed in my village in Odisha state, eastern India, for irrigation purposes. My family was among some 25 tribal families that had to leave their homes. They were shattered as they scattered to unknown places in search of livelihood, work and education. All went different ways, trusting in the providence, bidding farewell to each other, knowing deep down in their hearts that they would never meet again. It was a plunge into the darkness.