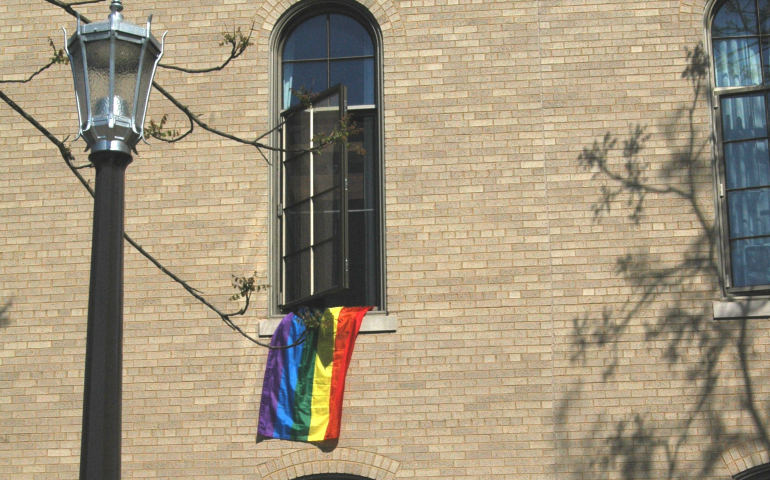 A rainbow flag hangs out of a window at St. Edwards Hall, a men's undergraduate residence hall at Notre Dame. (NCR photo/Catherine M. Odell)
This year's May 21 commencement at the University of Notre Dame may again bring the school, celebrating its 175th year in 2017, into the hot and sometimes blinding spotlight of national controversy.
In 2009, when Notre Dame invited President Barack Obama as its commencement speaker, pro-life groups demanded that the high-profile Catholic university withdraw its invitation because of the president's pro-choice views. At least 90,000 people signed a petition with that demand, while Bishop John D'Arcy threatened to boycott the commencement for the first time in his 25 years as head of the Fort Wayne-South Bend Diocese. When Notre Dame refused to change its plans, hundreds of anti-abortion protestors with placards arrived on graduation day.
This time, any controversy likely will focus on gay rights. Continuing its tradition of inviting national leaders to address its graduates, Notre Dame asked Vice President Mike Pence, Indiana's former governor, to be the principal commencement speaker.
When he first ran for Congress in 2000, Pence proposed that federal funds for HIV/AIDS research should be diverted to support conversion therapy, a psychological intervention to change homosexual orientation that the American Psychiatric Association opposes as "unethical" and potentially harmful.
Pence has often spoken in opposition to same-sex marriage, and in 2015 as governor, he signed into law the Religious Freedom Restoration Act that opponents said made it possible for businesses in Indiana to discriminate — because of their personal religious beliefs — against people in the LGBT community. Within weeks, a national firestorm of protest and corporate boycott threats pushed Indiana's legislature to revise the bill.
As the 2017 spring semester wound down, Notre Dame began sprucing up campus grounds and preparing for an event that would gather graduates, their parents and friends, special guests and the Secret Service.
In a different way, undergraduates and alumni from the Notre Dame and St. Mary's College LGBT community were also busy preparing for commencement. In the third week of April, they distributed almost 500 rainbow flags representing gay pride around campus and asked for community support in displaying them as a protest against the Pence visit. The flags were soon hanging from dorm windows at Notre Dame. They were also seen hanging in Nieuwland Science Hall and Geddes Hall, where many theology faculty members have offices. Flags were also flapping from windows in the 13-story Hesburgh Library.
"Our goal was to put these up before the undergraduates were gone and before graduation," explained graduating senior Bryan Ricketts, former student body president and an LGBT leader and spokesperson. Ricketts said Prism ND, the only officially recognized undergraduate LGBT organization at Notre Dame, wanted to include the undergraduate community in the ongoing conversation about LGBT rights. Picketing and protests of the vice president's visit were likely on commencement weekend, he suggested.
However, not everyone on campus appreciated the flags. According to a May 2 article in the student newspaper The Observer, some flag-flyers were told to remove their flags because it wouldn't be fair to presume that everyone living or working in a particular campus building was supportive of LGBT goals. Others involved in the "flag drop" were told a campus policy banned flags.
Those rainbow flags were also distributed to draw attention to special LGBT events held the last weekend of April.
On April 29, the LGBT Alumni/ae of Notre Dame and Saint Mary's College (GALA ND/SMC), awarded the Thomas A. Dooley Award to Kristen Matha, a St. Mary's graduate, former athlete and current staff member with the NCAA. Matha received the award for her LGBT outreach training and leadership.
Legal and religious steps to the present
With Notre Dame's gender studies department, the gay and lesbian alumni organization also sponsored an April 29 panel discussion titled "Reconciling Religious Freedom and Civil Rights." Liam Dacey, a GALA ND/SMC spokesperson, said that a panel exploring those concerns was really needed on a campus about to welcome Pence.
Panelist Anthony M. Kreis, a visiting professor at the Chicago-Kent College of Law, guided his audience through a summary of decades of cases impacting LGBT legal rights.
"The really great development is Title VII," he concluded, as he addressed contemporary cases. "The law, which says you cannot discriminate against people in the area of employment, protects people in the areas of race, color, sex, national origin and religion."
"Though Title VII makes no mention of sexual orientation or gender identity," Kreis said, the Seventh Circuit Court, based in Chicago, has recently ruled that "sexual orientation discrimination is essentially sexual discrimination."
Kreis added that, at some point, "It's possible that all LGBT persons will be covered under Title VII." That, he said, would help LGBT people who are fired because of their sexual orientation.
Catherine Pittman, chair and associate professor of psychology at St. Mary's, then spoke about her long involvement in LGBT issues as a feminist, clinical psychologist, teacher and political activist. She said it was her work as a psychologist that finally made her passionate about LGBT issues.
"I was seeing things happen in the world that concerned me," she said. "I was seeing individuals who were having difficulty getting fair treatment. They were dealing with stress and anxiety, were being rejected by whole communities, and their families were not there for them. So I became interested in getting more involved in seeing justice happen."
Pittman decided to get involved in campaigns to get human rights ordinances in the city of South Bend, Indiana, and in St. Joseph County, Indiana. The ordinances were especially needed in the areas of housing and employment, and it took eight years to get one of those ordinances passed, she said.
Another panelist, the director of Notre Dame's gender studies department, shared the challenges she's faced on a high profile Catholic campus. Though raised as a Catholic and identifying as a straight woman, Mary Celeste Kearney told her audience that a fundamental principle of gender studies flies in the face of traditional Catholic teaching. She remarked that at times, "We are in a precarious position at a conservative Catholic institution like Notre Dame."
"Gender studies," she said, "defines gender as a social formation that impacts all of our various identities, relationships, opportunities, employment and points of agency — for everyone." But the church, she said, argues that "gender is biologically determined or ordained by God."
Academic freedom protects faculty teaching concepts in the gender studies department that might contradict Catholic teaching. But there is, Kearney said, "a safe place where students can learn about themselves without being closeted. Part of my mission is to make sure that our academic unit is a supportive place."
Ricketts, representing Notre Dame's student LGBT population, began his part of the panel discussion with his own Notre Dame story.
"I was the first openly gay student body president here at Notre Dame," he said. "I was able to run on my experience of leading Prism ND, and that experience was seen as an asset, which was wonderful."
Though Ricketts sees a growing openness for LGBT students at Notre Dame, the progress has taken a long time. Notre Dame did not sanction Prism-ND until 2012. And the university only allowed Prism's sanction if students understood that it was not to be an activist organization, he noted.
"At a public university, that kind of a restriction wouldn't exist," said Ricketts. "But this is a private university."
Nonetheless, Ricketts said he's believes he's leaving a Notre Dame that's more willing to talk about LGBT issues than the one he encountered five years ago.
"I see that many people want to live out their Catholic faith by allowing everyone to feel welcomed," he said. "And there are plenty of LGBT people here who are also faithful to Catholicism and who continue to be practicing Catholics. I don't think there's necessarily any conflict between the two. Notre Dame is a place where all that is being sorted out."
[Catherine M. Odell is a freelance writer and editor and the author of 14 books. Her latest book, co-authored with Margaret Savitskas, is Angels of the Lord: 365 Reflections on Our Heavenly Guardians (Our Sunday Visitor, 2016).]