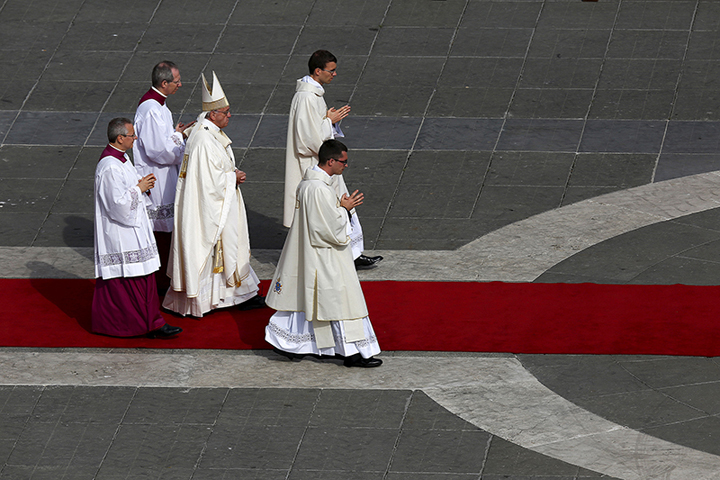 Pope Francis leads the Mass for a canonization in St. Peter's Square at the Vatican on Oct. 18, 2015. (Reuters/Alessandro Bianchi)
Vatican City — March 10, 2016
Pope Francis has approved new rules to tighten financial oversight of the canonization process after leaked documents revealed abuses and high costs in creating saints.
The new measures focus on how the Holy See handles applications for sainthood, which can be a lengthy and expensive process that involves examining claims made by supporters of a would-be saint.
The rules published on March 10 demand regular accounting by the person managing the application, in addition to "scrupulously respecting the intention of donors" who finance an application for sainthood.
They also impose greater supervision at every stage, giving the Vatican's Congregation for the Causes of Saints the power to demand financial information and documents from the administrator at any moment.
Anyone caught abusing his or her office in the sainthood process will face disciplinary measures, the Vatican said. The rules were put in place for a three-year trial period.
The pope's new rules come four months after leaked documents were published by two Italian journalists, Gianluigi Nuzzi and Emiliano Fittipaldi, detailing financial mismanagement within the Vatican administration, including the sainthood process.
Nuzzi's "Merchants in the Temple" book claimed that the canonization process cost an average of 500,000 euros ($550,000) and said the Congregation for the Causes of Saints failed to keep balance sheets despite Francis' attempts to impose greater financial accountability.
Both Nuzzi and Fittipaldi are being prosecuted by the Vatican for their alleged role in leaking the documents, in a trial widely criticized by press freedom groups.
Francis is expected next week to announce the date for the canonization of Mother Teresa, whose upcoming sainthood was fast-tracked after her death in 1997.
The high-profile nature of Mother Teresa's work in India and internationally has meant her cause for sainthood was well-funded, although the pope's new rules recognize this is not always the case.
Under the new measures, the Vatican is setting up a "Solidarity Fund" so that applications for sainthood without wealthy backers can appeal for financial support. The Congregation for the Causes of Saints will decide whether to donate the requested funds on a case-by-case basis.