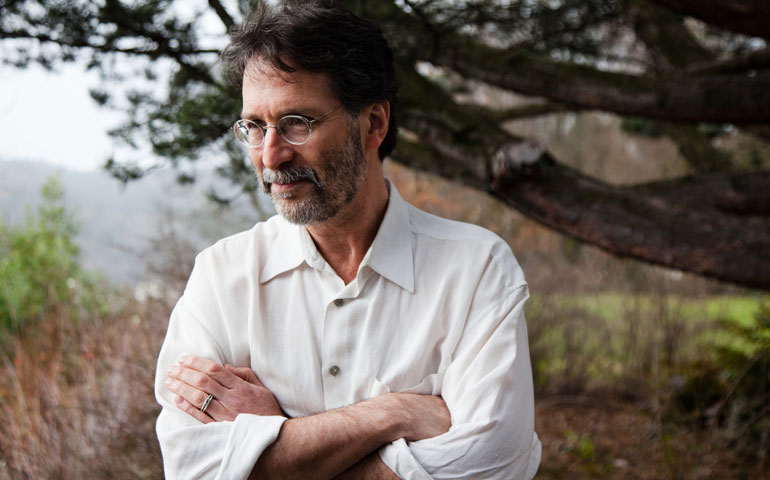 Brian Doyle on the University of Portland campus (Tim LaBarge)
A Sense of Wonder is the second anthology compiled by Portland Magazine editor Brian Doyle from contributions to that quarterly Catholic university magazine. Published 14 years after the first collection, God is Love, this book is a testament not only to the consistent quality of writing in Portland Magazine, but to the remarkable enthusiasm and passion of its editor.
Doyle, a much-published author himself, is by his own account "more absorbed than ever before" in his post as editor, which he has held at the University of Portland, Ore., for more than 20 years.
He attributes this continued zeal both to "the endless river of [University of Portland] kids ... who sizzle your heart every time you talk to them," as well as that "without fail every time I slough toward despondence a story comes and thrums on my heart until I am bruised with joy."
Reading what Doyle writes feels a lot like watching a kid going to town with finger paints, only the splashes of color on his hands, his shirt, the wall, and in his hair are composed of words. His sentences often are both thesaurus-like and zing with his sense of the sublime.
He calls "the magazine and the collection ... inky, papery prayers."
"I am very proud of the writing in our magazine. We draw and share some of the best writers in the world and that seems finally not only graceful and subtle advertising for the University of Portland ... but perhaps, I hope, a holy thing," Doyle said. "Connection is everything. To see and celebrate the shard of holiness, the shimmer of the Christos, in every living being, is the work."
A Sense of Wonder displays short pieces from 36 writers, including Doyle. Most are essays, but there is also some poetry, and a few scholarly submissions discussing historical topics such as the Holocaust, the plight of native tribes, and 9/11.
Doyle chose what went into the book himself, saying, "Committees are the death of anything lively and challenging and piercing and blunt. Committees file off personality and zest." He introduces his authors with superlatives that are surprising only until you have talked with Doyle. "The World's Best Writers" is on the book's cover, and inside, he describes writers as "America's best," "superb," "wonderful," "great," "remarkable," "finest" -- which, in Doyle's crayon box of glowing descriptors, actually shows some restraint.
Describing his urge to publish this collection, Doyle said, "We have glorious writing and I dislike the thought that pieces that fine only appear the once. They ought to keep being read."
To find contributors to Portland Magazine, Doyle explained, some "pieces just arrived from the blue," but that "far more often it's ... staying in touch with lots of writers I admire, and wheedling and pleading and groveling and excerpting and asking and begging and suggesting and hoping and nagging and niggling and listening." He said, "I have lots of conversations and good things happen from them."
As to content, Doyle went on, "We never assign anything anymore. ... Assignments mean writers trying to write someone else's idea. I'd rather they write their own idea and passion and struggle and song."
As far as how he shapes what is ultimately published, Doyle said, "My ambition is not to have to edit at all. The better the writing, the less I edit."
In a November 2015 episode of "Oregon Art Beat" presented by Oregon Public Broadcasting -- watch.opb.org/video/2365599863/ -- Doyle attributes his start in writing to his parents: "My father was a newspaper man and my mother was a teacher."
Doyle's dad is veteran Catholic columnist Jim Doyle, who held leadership positions in the Catholic Press Association from 1958-1988. "Pop's great -- still writing at age 95 -- he finally stopped writing his column for Catholic New York a couple of years ago."
In the Oregon Public Broadcasting video, Doyle described his parents as "gifted raconteurs and storytellers. Stories were everywhere in the air. There were books all over the house, there were stories in every mouth."
Now, Doyle said, "he and my mom are frail and fragile and translucent and illuminated and just as witty and gentle and kind and attentive and wry as ever. I am the luckiest man ever for any number of reasons, and two of them are my parents."
Doyle's wife, Mary, and children -- a daughter, 24, and twin sons, 21 -- are apparently some of the other reasons. He attributes his move from Boston to Portland 25 years ago, when his wife, an Oregonian, was pregnant with their daughter, to Mary's basically tricking him into believing it was "paradise on Earth."
"When we were courting," Doyle said, she only brought him out to the Oregon coast "during August and September," the two months of the year when it doesn't rain.
Regardless of that subterfuge, Doyle has clearly found his home, and voice, in Portland. He has penned 20 books of essays, poems and fiction, among them the novels Mink River and Chicago. He is a nine-time finalist for the Oregon Book Awards, and won in 2016 for his novel Martin Marten.
About A Sense of Wonder, and Portland Magazine, Doyle effused: "The deepest reason for the anthology is the deepest reason for the magazine itself. ... I want our magazine to shoot for the moon, to move and startle and amaze and elevate and shiver its readers."
Doyle hopes to compile another anthology "probably in five years or so," and his book Eight Whopping Lies is set to be published next fall from Franciscan Media.
As for the future, Doyle said, "I was hoping for one fabulously rich child to take care of dad and buy me a small island in the Pacific. We'll see."
[Amy Morris-Young graduated from and taught writing at Loyola Marymount University in Los Angeles.]
A version of this story appeared in the Dec 2-15, 2016 print issue under the headline: Portland editor wants magazine 'to move and startle and amaze'.