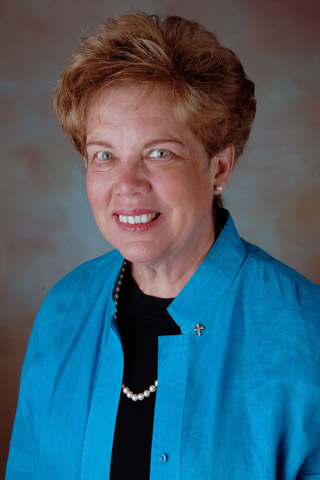 Dominican Sister Donna Markham, pictured in an undated photo (CNS/courtesy Catholic Charities USA)
Women play a key role in helping to fulfill Pope Francis' message of mercy, service and compassion, three women leaders of the largest Catholic social service organizations said in a panel discussion at Georgetown University on Oct. 22.
The wide-ranging session, "Women Taking the Lead: Acting on Pope Francis' Message," also touched on women's progress within the church, leadership challenges within a male-dominated hierarchy and prospects for women's ordination. The panel, consisting of Sr. Donna Markham, president of Catholic Charities, Carolyn Woo, president of Catholic Relief Services and Sr. Carol Keehan, president of the Catholic Health Association, was part of a series of public dialogues hosted by the Initiative on Catholic Social Thought and Public Life and moderated by center director John Carr.
Recounting their experiences during the pope's visit to the U.S., they spoke of the energy and enthusiasm engendered in them, their organizations and the church. "I don't want to let this man down -- he works so hard," said Woo, who is also chief executive officer of the U.S. Catholic international relief and development agency that serves almost 100 million people in 93 countries. She noted how the pontiff was dealing with sciatica and wasn't comfortable sitting or walking, but kept his full agenda plus unscheduled visits, never missing an opportunity to greet people.
Pope Francis "challenges us not to be afraid, to get out and engage," she said. "He challenges how we live, how we share, how we deal with the plentifulness in our own lives and how do we in turn treat the people who are the very poorest."
The ease in which he went from addressing Congress to greeting the homeless in one of Catholic Charities' centers in Washington was "so beautiful," Markham said. Detailed plans for the pontiff's visit were put aside to let the pope have his time with his people. "He said we must see the face of Christ in the poor and respond joyfully."
Invited to the United Nations to meet him, "I was able to thank him for all he's done to raise awareness of those who are dispossessed and on the margins and what he is doing to heal the hurt of the American sisters," she said.
For Keehan, waking up at 3 a.m. to get to the White House and Congress to help greet Pope Francis "was an absolute joy," she said. "When you listen to the Holy Father, whether he was talking to Congress or United Nations and leaders of world, or prisoners, he captivated their hearts," she said. "We have had such an incredible example of someone who shows God's love so well, whoever you are, wherever you are. He calls you to be your very best self."
As women leaders operating in a male-dominated hierarchy, each spoke of having to work harder, to be more prepared and competent than their counterparts. As the first woman leader in the 105-year history of Catholic Charities, Markham noted her approach to leadership differs from male predecessors. It is highly relational and banks on a strong team, "knowing we're all in this together and not being the only one making a decision."
That collaborative decision-making style "has been part of the joy of leadership," she said. "That kind of working together is a real gift in leadership today and that is something women are really often able to offer to the work environment."
Formerly the dean of the Notre Dame College of Business, Woo said she sets very high expectations for herself, her students and colleagues, an example instilled by the Maryknoll sisters who were her teachers. She never set out to be a leader, she said, and went to college initially to help support her migrant parents.
On leadership, she said, "don't do it for yourself -- do it for a cause you really believe in. I really believe in Catholic Relief Services and Notre Dame."
At a time when women had limited roles in society and the church, women religious built the "largest and most successful health care system the world has ever known," Keehan said. Working within the church "helps if you have brothers," she said. "We are a male church, the leadership of the church is male. Men don't say things the same way."
As for criticism of whether they are "too Catholic" or "not Catholic enough," each said they stay focused on the mission of their organizations. On a personal note, Markham said "I have to be grounded in the Gospel. I have to pray and start my day and end my day in prayer. I have to listen to what God is saying to me through the Gospel, what Jesus is saying to me."
Those who say Catholic Charities should not accept federal funding aren't based in reality, she said. Of the organization's $4.6 billion in services given to 9 million people, 64 percent comes from federal funding and seven percent from the church.
Critics who say Catholics are out of touch "should judge us by the work we do, judge us by the way we keep our promise to the people we serve," Woo said. She drew laughter from the audience in noting that her first two years at Catholic Relief Services were difficult, "but now critics say the Pope is not Catholic enough."
Keehan said it is important to listen to concerns raised in good faith and discuss differences, yet took issue with those whose "favorite indoor sport appears to be shooting at folks as to being too Catholic or being not Catholic enough."
Such mean-spirited criticism is in danger of undermining the faith of people who support their organizations. "To give them a sense that the church is off base, that our Holy Father is off base, I haven't been able to decide if it's a sin against the Holy Spirit but I think we're getting close," she said. "This is wrong, and we have to find ways to stand together and say if you have a concern, we'll hear the concern but we're not going to allow that kind of behavior which is antithetical to everything the church stands for."
In response to an audience question, panelists said they didn't think women ordination would happen in their lifetimes, but that shouldn't obscure real progress women have made in the church leadership.
Keehan reminded the audience that the U.S. is six percent of the Catholic church. In parts of the rest of the world, Catholic women have no choice of who they marry, no choice about genital mutilation, or control over their lives, she said. "When we do bring the gift of feminism from the U.S., let's bring the best of it," she said. "Remember, we are not in the church because we believe in the pastor, or the bishop or the pope. We're in the church because we believe in Jesus Christ, we believe in the Eucharist. It always bothers me when we talk about divisions. On the important stuff, we whole-heartedly agree."
In an interview afterwards, Woo said the three women leaders are very supportive of each other and their respective organizations. On women's status in the church, "there a sense that if there is no women ordination that women have not made progress in the church, that whatever progress has been made is token. That's not true."
[Gail DeGeorge is a freelance writer living in Washington, D.C.]