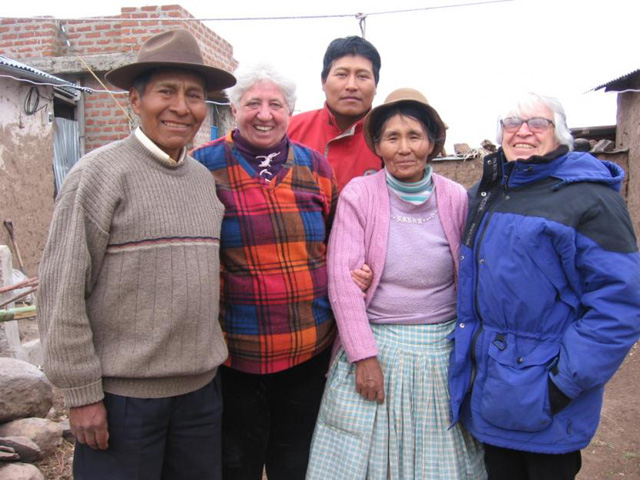 Alfredo and Graciela Fernandez and their son and Srs. Marlene Perrotte and Martha Larsen, RSM. (Joan Brown)
Several weeks ago, I found myself sitting in the rotunda of the New Mexico State Capitol surrounded by beautiful Navajo, Laguna and Acoma people. The 60-day legislative session was in process. We gathered seeking support for petitioning Congress to put in effect the Radiation Exposure Compensation Act for uranium miners and mill workers who are dying from various cancers and diseases. The legacy of uranium mining leaves New Mexicans with 500 abandoned uranium mines, homes built with contaminated mine-waste rock and contaminated water wells even as companies seek new permits to mine. In New Mexico, we also face an escalating oil and gas industry, hydro-fracking, pipelines and various other mines.
Even 10 years ago, I never thought I would be engaged in extractive industry issues. Now I am like a magnet with the minerals and the concerns of communities attaching to my clothing wherever I go. I can understand in a small way Jesus's reaction to the many people who clung to him and his need to go into the desert for prayer, reflection and wisdom. Today, we find ourselves in the midst of an immense extractive industry boom everywhere on the planet that gravely affects our sacred water, air, land and communities -- disproportionately affecting the indigenous communities.
In December, when I was in Peru, I experienced firsthand the enormity of extraction's effects in that mountainous mineral-rich country where corporations own 85 percent of the mineral rights. Mineral rights there include use of water. I was impressed with the work of Mercy Sr. Angelita Roldan Santiago, who is so concerned with water in Trujillo, and Alita Sanchez, who had just attended a meeting on mining in Brazil, where the presence of churches and faith communities was seen as integral to the struggle. Her work is one of accompanying communities to defend creation, the land and water and food sources.