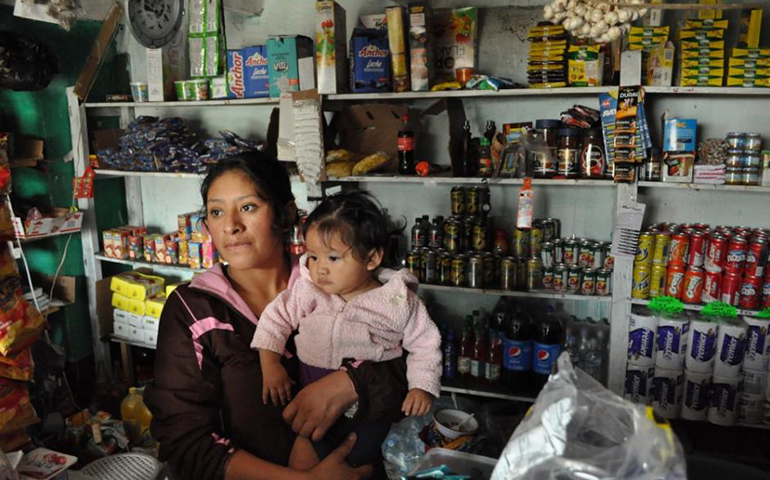 Convenience store owner Oralia Velasquez, 26, says the Marlin Mine has helped improve business throughout San Miguel Ixtahuacán. (GSR/J. Malcolm Garcia)
San Miguel Ixtahuacán, Guatemala — May 24, 2016
Global Sisters Report presents a special series on mining and extractive industries and the women religious who work to limit the damage and impact on people and the environment, through advocacy, action and policy. Pope Francis last year called for the entire mining sector to undergo "a radical paradigm change." Sisters are on the front lines to help effect that change.
Sr. Maudilia Lopez remembered the truck, a silver Toyota pickup, circling the square in 2003 in San Miguel Ixtahuacán, Guatemala.
The driver said nothing about the meaning of the colors of the mountains that were home to the indigenous people here: Red, the energy of mother earth; white, the spiritual life of their ancestors; yellow, the crops that the people eat; blue for the sky and water.
Instead, the driver announced through a loudspeaker an upcoming meeting about plans for a huge project near the town. Everyone in San Miguel Ixtahuacán, Lopez recalled, had heard rumors about an international company but no one was sure what might happen. Some said it was a cement company. There used to be big rocks in the rivers. People said rocks were the right material for cement. Lopez didn't know. She was curious but not at all suspicious.
At the meeting, men in suits revealed their plans. Not for a cement factory but a gold and silver mine. Everything was set. Jobs would be offered. The local economy would prosper, stimulating economic growth. The meeting, Lopez said, was not a consultation but an announcement of their intentions. The company already had leases.
The Marlin mine, owned by Montana Exploradora de Guatemala, S.A, a subsidiary of the Canadian company Goldcorp, began operations in 2005 in the regions of San Miguel Ixtahuacán and Sipacapa, communities largely composed of indigenous Mayans who speak their native languages. The Mam, one of many Mayan nations in Guatemala, make up the majority population. They number more than 600,000 in the western regions of Guatemala.
The mine brought jobs and prosperity to some among the Mam, but by no means to all. It also changed both the landscape and the social fabric of the indigenous community.
Now, more than 10 years later, after countless protests failed to stop production, the mine will cease operations at the end of the year, renewing issues about the economics, environmental and social costs of its operation. Lopez takes little comfort in the impending closure.