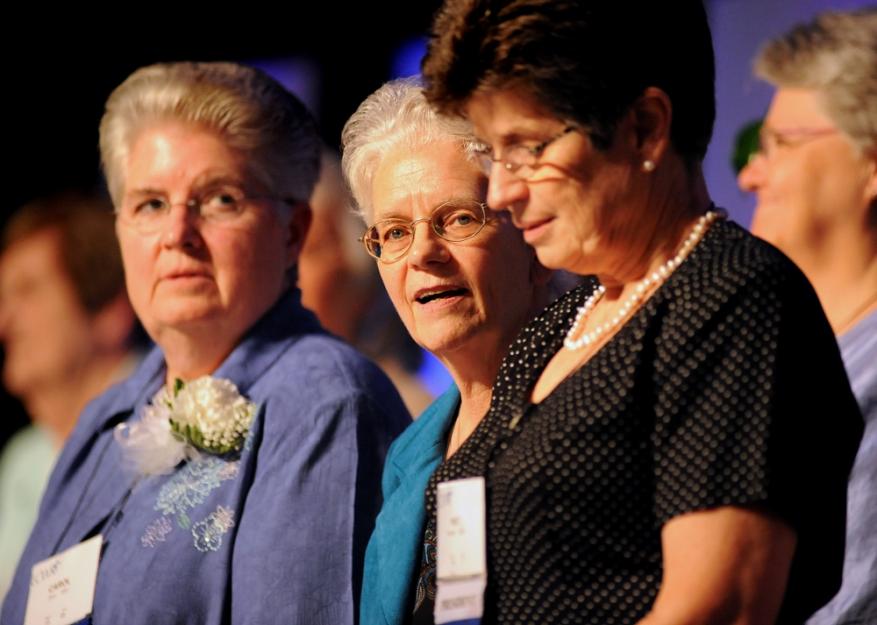 Current LCWR President Sr. Carol Zinn (left), a Sister of St. Joseph, stands with past presidents Franciscan Srs. Florence Deacon and Pat Farrell during the closing Mass at the organization's assembly in St. Louis on Aug. 10, 2012. (CNS photo/Sid Hastings)
"Who are we?" "What are we to be about?" Fundamental questions in the search for meaning in our lives. Broader and deeper dimensions unfold as we mature. Times of transition and crises bring them to the forefront, sharpen them.
Recently I read Spiritual Leadership for Challenging Times, a collection of 10 addresses, spanning the years between 1977 and 2012, given by the presidents of the Leadership Conference of Women Religious (LCWR) at its annual assemblies. The collection allows a glimpse into how the leaders of LCWR have grappled with these fundamental questions of identity and purpose of religious life since Vatican II. LCWR's membership is comprised of the elected leaders of congregations, representing over 80 percent of all women religious in the U.S., so another fundamental question, "How are we called to lead?" echoed throughout.
It seems that the doctrinal assessment by the Congregation for the Doctrine of the Faith (CDF) led, in part, to the publication of this book, according to Sr. Annmarie Sanders, LCWR director of communications, in its preface.
Editor's note: The Catholic University of America's Institute for Policy Research & Catholic Studies is hosting a day-long study event June 7, co-sponsored by Solidarity with Sisters called "Spiritual Leadership for Challenging Times: Leading from the Emerging Future." GSR's Dawn Araujo filed this report on the conference.