A version of this story appeared in the Nov 20-Dec 3, 2015 print issue under the headline: Luminaries dialogue n Florence's redesigned cathedral museum.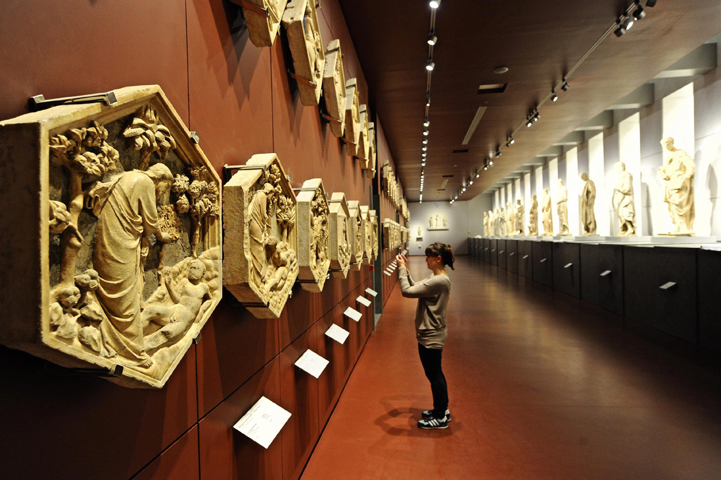 A visitor takes a photo in the gallery of the bell tower in the redesigned Museo dell'Opera de Duomo in Florence, Italy, on Oct. 21.
FLORENCE, Italy — March 9, 2016
Like many other halls of fame, the collection of Florence's cathedral museum, the Museo dell'Opera del Duomo, assembles such staggering luminary power that it's hard not to walk through the building starstruck, with the aesthetic version of a brain freeze headache from consuming too much ice cream too quickly.
Here, near the entry, are Lorenzo Ghiberti's renowned bronze "Gates of Paradise" — the actual 1425-52, nearly 5,000-pound doors that had adorned the Baptistery, opposite the Duomo, until they were replaced (for safekeeping) by copies.
Around a corner, one discovers Michelangelo's "Pietà," the artist's penultimate work, which he sought to destroy, having intended the highly personal sculpture to adorn his own tomb. Italian painter Vasari reported that Michelangelo sculpted it at night by the light of a single candle, and on one such occasion, when he saw Vasari, Michelangelo extinguished the candle, so the former wouldn't get a glimpse of the sculpture.