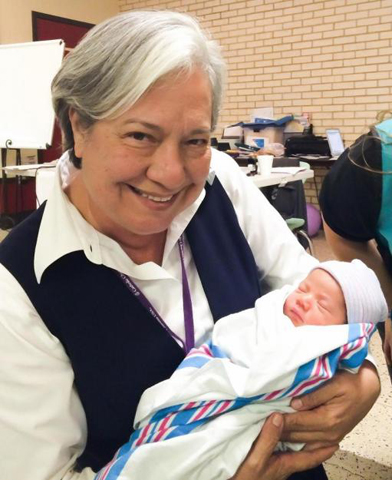 Missionaries of Jesus Sr. Norma Pimentel holds a newborn baby at the humanitarian respite center she started at Sacred Heart Church during an immigration surge in 2014. (Herminia Forshage/Courtesy of Catholic Charities of the Rio Grande)
She was bombarded with high-fives and hugs after she got the call — an invitation to meet Pope Francis during his Sept. 22-27 visit to the United States. But Sr. Norma Pimentel's biggest surprise came Monday, when the pope singled her out during a satellite video feed.
In front of some 400 parishioners, immigrants, government officials and volunteers at Sacred Heart Church in McAllen, Texas, Pope Francis called to the nun from a 9-foot video screen and asked her to come forward.
"I love you," the pope said, thanking her for her work ministering to immigrants along the U.S.-Mexico border.