A version of this story appeared in the Aug 28-Sept 10, 2015 print issue.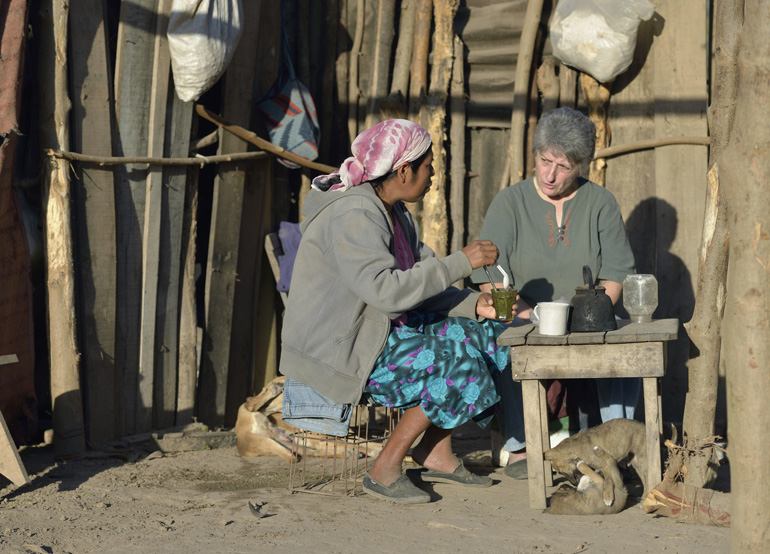 Griselda Arias, a Wichi indigenous woman, shares tea with Sr. Norma Chiappe, a member of the Franciscan Missionaries of Mary, in 2014 at Arias' home in Embarcacion, Argentina.
When the bishops at the Second Vatican Council issued the Decree on the Appropriate Renewal of the Religious Life 50 years ago, they intended it to be a guide for individual orders to update themselves. Communities of priests, sisters and brothers were urged to return to the deep roots of Christian life — to sacred Scripture and the primitive inspiration of their institutes and founders — adapting both to the needs of the contemporary world.
Titled Perfectae Caritatis ("In Perfect Charity") and promulgated on Oct. 28, 1965, the decree encouraged religious to discard all outmoded forms of religious life. The updating was to be brought forward not only by superiors, but with the cooperation of all members. Spiritual renewal was to be the hallmark of the aggiornamento.
To find out how well the task was accomplished and what has been the effect of the renewal, NCR sought out a number of religious across the United States, many in or having had leadership positions with their institute.
Perfectae Caritatis has had "tremendous impact" on religious life, said Fr. Robert Schreiter, a Missionary of the Precious Blood. Religious institutes took up "eagerly and seriously" the document's twin call to return to the founding figures of their communities and to adapt to the changed circumstances of our time, he said.