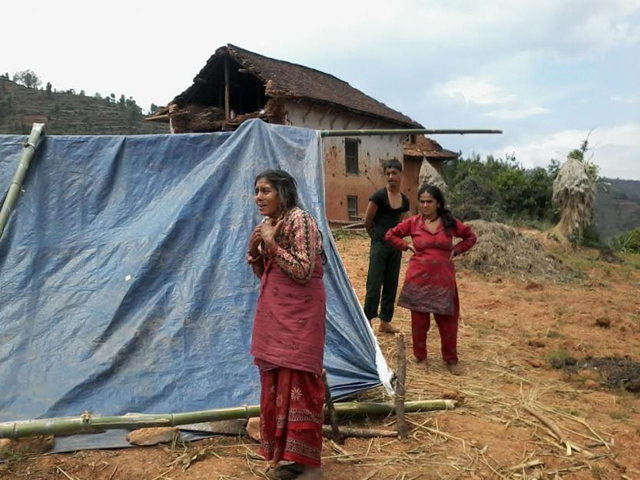 A woman stands outside of a tent in Koshi Dekha village in the Kavre District of Nepal. (Rinzee Lepcha)
Editor's note: This report was filed from India, where Global Sisters Report has a partnership with Matters India, and where most Catholic sisters' communities working in Nepal are based.
Sr. Lisa Perekkatt is desperate and depressed. The superior of the Sisters of Charity of Nazareth convent in Kathmandu is doing what she can to reach out to Nepal's earthquake victims but has felt handicapped because of local rules and a lack of transportation and relief coordination.
At least 5,000 people have been found dead so far after a 7.9-magnitude earthquake ravaged Nepal a little before noon on April 25. Some 100 large and small aftershocks since then, along with rain, have added to people's woes and hindered rescue and relief work.
Nepal Prime Minister Sushil Kumar has predicted the death toll would cross 10,000.
The dead include at least 23 Protestant Christians who were at a church service in Kathmandu when the quake struck, Perekkatt said.
The Sisters of Charity of Nazareth are among 15 women religious congregations, most of them based in India, engaged in various ministries in Nepal. They have all survived the quake and have joined relief work.
The communities are: Congregation of Jesus, Daughters of Mary Help of Christians, Daughters of the Cross of Liege, Institute of the Blessed Virgin Mary (IBVM Loreto Sisters), the active and contemplative wings of the Missionaries of Charity, Religious of the Good Shepherd, School Sisters of Notre Dame, Sisters of Charity of Saint Anne, Sisters of Charity of Saints Bartolomea Capitanio and Vincenza Gerosa, Sisters of the Congregation of the Sacred Word, Sisters of Cross of Chavanod, Sisters of St. Joseph of Cluny, Sisters of St. Paul of Chartres, Sisters of the Adoration of the Blessed Sacrament, and Sisters of the Light of the Gospel.
"I feel so miserable and helpless," Perekkatt told Global Sisters Report over the phone at 10 p.m. April 29 after a hectic day.
Her day started with seeing off two sisters who went to assess the situation in Koshi Dekha, a village in Kavre, one of the five districts of Nepal.