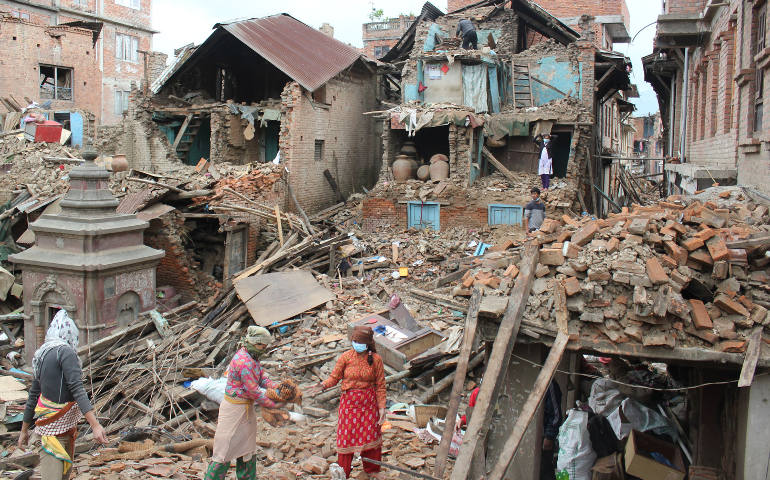 Earthquake survivors of Harsiddhi village on the outskirts of Kathmandu, Nepal, retrieve belongings from their destroyed homes April 29, five days after a major earthquake struck the region. (CNS photo/Anto Akkara)
In the wake of the devastating earthquake in Nepal, a Catholic sister in Louisville, Ky., is doing her part to bring clean water to the impacted areas.
Ursuline Sr. Larraine Lauter sprang into action shortly after seeing footage of the magnitude-7.8 earthquake that struck a mountainous region near the capital city of Kathmandu on April 25. As of Friday, more than 6,000 people had died from the country's worst quake in 80 years. The country's army chief told NBC News the count could surpass 15,000. That many have already suffered injuries, with thousands more still missing.
Worried how contaminated water could exacerbate the death toll, Lauter, founder of Water with Blessings, began reaching out to contacts to see how she could help.
"I knew we had people there, I didn't know if they survived. . . . It's a heartbreaking situation," she told NCR.
Since 2009, the organization has brought more than 2,000 military-grade water filters to impoverished areas around the globe, specifically into the hands of mothers. In 2012, she sent filters to the Sisters of Charity of Nazareth, who have a ministry based in Kathmandu.
"In times of emergency, people starting thinking you got to have the pros in there. Well, the mother is a pro. She's a survival pro. She's going to make sure her children and children around her drink clean water if it's available, so we target mothers," Lauter said.
Water with Blessings is seeking to raise $30,000 in order to send at least 1,000 filters to the impacted regions. As of Friday, it had raised nearly $5,000. In addition, a manufacturer discount that halved the usual $60 cost per filter has helped the effort.