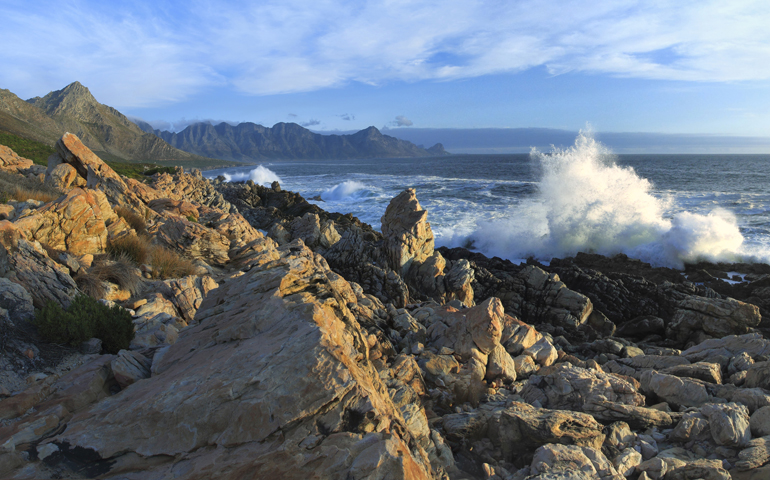 The coastline of False Bay in South Africa (Newscom/imageBROKER/Michael Müller)
A year ago, I ran the ProNutro AfricanX Trailrun. It's a three-day, three-stage run covering a total distance of 56 miles. I ran the race for the first time in 2012 as a fundraiser for the parish in Johannesburg where I was pastor at the time. Last year, I ran it again simply to enjoy the mountains, rivers and valleys of the Western Cape, which provide an awesome escape from life in Johannesburg but, most especially, a space in my own life to "be."
I set off on the first stage, a 20.5-mile leg, doing a loop that ended at the start. The elevation on the first day was about 700 meters through valleys, pine forests and vineyards. (The Cape area is wine country and so vineyards are plentiful!) It was the perfect day for running, a balmy 74 degrees.
The last 2 miles were the toughest. It felt as if I was running up a mineshaft. The first day ended running down the mountains through a series of switchbacks in a pine forest, which was behind the finish nestled away at the foot of the mountains.
On day two, I was bussed to the start on the other side of the spectacular Cape Fold Mountains. A tough 20 miles lay ahead, the toughest being the challenging vertical climb back over the neck of the mountain pass on some tricky terrain, where watching every step was essential to avoid injury. The spectacular view of False Bay, Gordon's Bay and Table Mountain in the distance answered "Why the hell did I do this?"