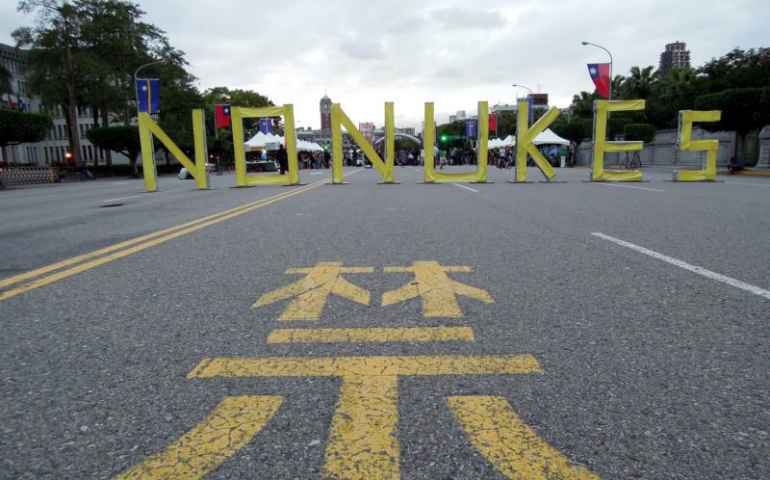 A sign with the words NO NUKES is seen in front of the Presidential Office Building during an anti-nuclear protest March 3 in Taipei, Taiwan. (CNS/Henry Lin, EPA)
Vatican City — May 10, 2017
Fully ratifying and adopting the Comprehensive Nuclear Test Ban Treaty offers the world the "best hope of stemming nuclear proliferation" and taking a concrete step toward the complete elimination of nuclear weapons, a Vatican official said.
"The Holy See cannot but lament the fact that the potential devastation caused by the use of nuclear weapons so clearly identified over 40 years ago has not been relegated to history," Msgr. Janusz Urbanczyk told government representatives meeting in Vienna.
During a meeting May 2-12, the monsignor, who is the Vatican's representative to United Nations agencies in Vienna, reiterated the Vatican's goal of a "world free of nuclear weapons."
While the meeting focused on the Treaty on the Non-Proliferation of Nuclear Weapons, Urbanczyk said a key step in stopping countries from producing nuclear weapons would be to finally ensure the test-ban treaty went into full force. Countries, including the United States, began signing the treaty in 1996, but the U.S. Senate has failed to ratify it. China, Egypt, Israel and Iran also have signed, but not ratified it, while India, Pakistan and North Korea have yet to sign the treaty.
It is "vital that the nuclear-weapon state parties renew arms control and disarmament processes," Urbanczyk told the Geneva gathering.
"Nuclear weapons provide a false sense of security, as do efforts to secure a negative peace through a balance of power," the monsignor said. While nations have a duty to protect their own security, real security is "strongly linked to the promotion of collective security, the common good and peace."
While "negative peace" relies on building up defenses, he said, true peace is "built on justice, on integral human development, on respect for fundamental human rights, on the protection of creation, on the participation of all in public life, on trust between peoples, on the support of institutions devoted to building peace, and on dialogue and solidarity."
The Vatican representative urged nations to dig into the "diplomatic toolbox" and find ways to encourage individual countries "not to limit themselves to ensuring the security of their own citizens, but also to work actively for the global growth of peace, which humanity very much needs today."
A version of this story appeared in the June 2-15, 2017 print issue.