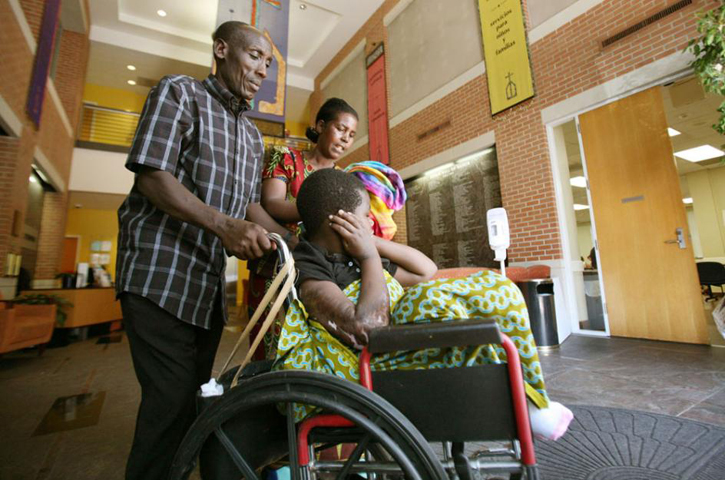 Cikoma Nsabimana, left, and his wife, Nyirategura Mukamurehe, wheel their daughter, Nyiramahirwe Mukamujeni, out of Catholic Charities in Houston. The family, which is from the Democratic Republic of Congo, resettled in Houston a year ago and has been able to become self-sufficient after being helped by the Catholic organization. (GSR/Nuri Vallbona)
Houston — October 15, 2015
When Sham tells visitors about the family she left back home in Damascus, Syria, her voice rises and tears stream down her face. In the midst of her Arabic, she repeats one word over and over again, one of the few she knows in English: "death."
"You tell the people and the government of America what the Syrian [is] suffering is death every day," Sham said through an interpreter, "death, death, death, death every day."
Sham and her husband, Tariq, described the shots and rockets they heard daily as President Bashar Assad's regime cracked down on protesters in their area. (The couple asked that their real names not be used to protect family members back home.)
"Even if there was only one person demonstrating against the government, they started shooting everywhere," Tariq said. Indiscriminate shootings and innocent victims: a man hanging clothes outside, kids playing in the streets.
And that's when the couple and their five school-age children headed for Jordan.
First stop was a refugee camp, then an apartment that a friend helped secure. They lived in the shadows for two and a half years, dodging Jordanian police, until a resettlement offer came through the United Nations.