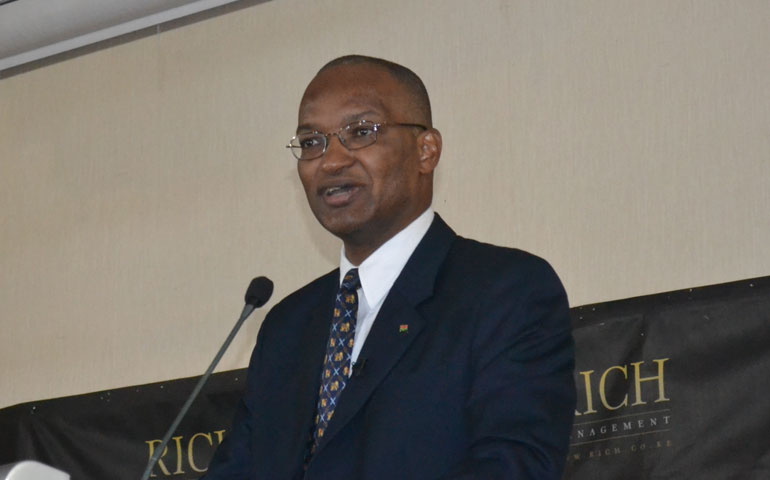 Patrick Njoroge (Kari Mutu)
NAIROBI, Kenya — July 30, 2016
When Patrick Njoroge took over as governor of the Central Bank of Kenya last year, the country's social media went into high gear, and not because of his illustrious career with the International Monetary Fund. What puzzled many was why this 54-year-old successful economist remains a confirmed bachelor and owns not a single asset.
"There is no point in just amassing property or amassing instruments that I cannot use," Njoroge said during an interview with the BBC in January.
Since being appointed in June 2015, Njoroge has eschewed expensive job perks that include a luxury house in an upmarket neighborhood and a fleet of cars with chauffer.
"I could have stayed in the mansion if I wanted to," he said. "I didn't need to. They are not me."
His embrace of a simple lifestyle has propelled him to instant celebrity status among ordinary people in Kenya, where appointment to high office is frequently taken as carte blanche to amass sordid amounts of wealth through dubious means, with almost guaranteed impunity.
The Yale University alumnus has gained further popularity for straightening out the country's economy and banking sector with a vigor and veracity not seen for many years.
The reason for Njoroge's style of public leadership can be traced to his private life. He is a member Opus Dei, an organization within the Roman Catholic church.
Josemaría Escrivá, the Spanish priest who founded Opus Dei in 1928, said, "It is in the midst of the most material things of the earth that we must sanctify ourselves, serving God and all mankind." For the tall, slender and bespectacled Njoroge, the spiritual and professional life is one and the same.
A year ago, the Kenya exchange rate was in free fall, inflation was growing and interest rates were rising, caused by what the governor termed as "market indiscipline" by various actors in the financial sector not following the rules.
"This was a cocktail of problems that had to be dealt with," Njoroge said at a public business forum in Nairobi in May. At the end of the business forum, he was mobbed by university students asking questions and taking selfies.
Njoroge's team also unearthed irregularities in some commercial banks that had incorrectly classified their loans. The governor has since put three banks under receivership, moves that have shaken banks and depositors alike.
These are not decisions that he takes lightly.
"When we put these institutions under receivership, I worried a lot about the people because it's not about the numbers, it's not about the [price-earnings] ratios. It's about the people, the connection that this bank implies. Its connection to depositors, to the employees, and so forth. This is what was most concerning to us," he said.
Naturally, Njoroge's appointment has thrown the spotlight onto Opus Dei (Latin for "work of God"), an organization not well-known in Kenya and perceived as a secretive religious sect. Others recall the Opus Dei monks in Dan Brown's bestselling book The Da Vinci Code, depicted as corrupt individuals given to murder and self-flagellation.
A statement in 2006 from the Prelature of Opus Dei in the United States repudiated that its members "sleep on straw mats, spend all their time in prayer and corporal mortification, or in any other way live like The Da Vinci Code's depiction of its monk character."
Opus Dei has centers worldwide operating with the permission of local dioceses. There are ordained clergy and various levels of lay members who remain under the spiritual supervision of its leadership. Numerary members take a pledge of celibacy, live in communities, may pursue nonreligious careers and usually give their salary to the organization.
Njoroge is a numerary of Opus Dei and sold off his assets prior to leaving the U.S.
"I am single by choice -- it's not because there's a problem or shortage," he reportedly told the panel vetting him for his job.
Njoroge was born and raised in a Catholic family. For his final two years of high school, he attended Strathmore College in Nairobi, an interracial school founded by Opus Dei.
He worked for the Kenyan government as a planning officer and economist for nine years before joining the IMF in Washington, D.C., in 1985. For the next 20 years, he rose up the ranks from economist to deputy division chief in the finance department, and finally as adviser to the IMF's deputy managing director.
His work style is one of unhurried diligence.
"I want to study the matter," he said. "I don't like knee-jerk reaction to things. In some sense I drive some of my colleagues crazy."
But the job does take a toll on him. "I'm actually not that resilient and I feel kind of grumpy sometimes and crappy," he said.
To counter job stress, Njoroge jogs in Nairobi's forest parks, an activity that also brings out his eloquent side. "Post 1hr run. Jacarandas in bloom, resplendent bougainvillea & fresh hibiscus, a hint of jasmine in the breeze," Njoroge tweeted last September.
His firm style of management is paying off. By the end of 2015, the economy was stabilizing, food and fuel prices were declining, and expectations of inflation are lower.
"We are quite comfortable that the war against inflation has been won," he said.
Njoroge's accomplishments have also been noted outside of Kenya. In May, he was named the Central Bank Governor of the Year at the African Banker Awards in Lusaka, Zambia. "Truly delighted and a bit overwhelmed," he tweeted. He dedicated the award "to Africa's youth."
Yet another surprise, since Central Bank governors are not known for their charitable side.
"I love being an economist. We can discuss economics for hours," he said. "So that professional perspective is very clear to me. The other thing is the humanity side of things. I care about people."
[Kari Mutu is a freelance writer based in Nairobi, Kenya. She writes on topics of social justice, arts, culture, environmental awareness, as well as inspirational stories of people making a difference in these fields.]
A version of this story appeared in the July 29-Aug 11, 2016 print issue under the headline: Simple style propels Kenyan economist to fame.