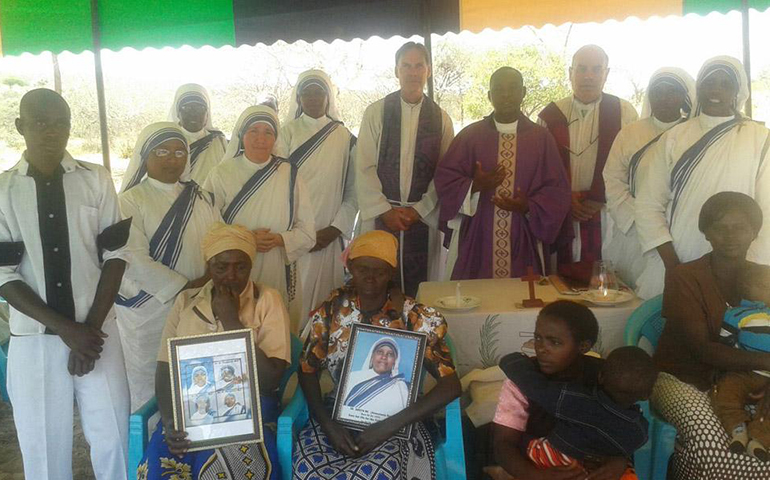 Sr. Judith's family and fellow sisters at her memorial Mass (Courtesy of Fr. Bonaventure Musyoki)
NAIROBI, Kenya — April 8, 2016
News about the killing of four nuns in Yemen filled the air on that fateful day of March 4. They were Missionaries of Charity, commonly known as Mother Teresa Sisters. The sisters killed were identified as Sr. Anselm from India, Sr. Judith from Kenya, and Srs. Marguerite and Reginette from Rwanda. Curiosity grew when Kenyans learned one of the sisters was a daughter of their country.
I spoke by telephone with Sr. Gracia, the superior of Huruma Convent in Nairobi. She told me that Sr. Judith, who was 41, hailed from the remote town of Kitise in Makueni County and the Machakos diocese. She was born Anastasia Kanini, the third of eight children to Mr. and Mrs. Kasangi Kimutu. She was baptized in 1989 and soon developed a desire to become a nun.
Anastasia's family lived in poverty. After Anastasia completed her primary education, her parents couldn't afford to enroll her in secondary school, so she joined a village polytechnic training center to try her hand at dressmaking.
Fr. Bonaventure Musyoki of St. Joseph's Parish in Mbuvo, Sr. Judith's home parish, spoke with Sr. Judith's mother, who sadly narrated her own ordeal. She had to raise the children alone after her husband's death. As sometimes happens to widowed women in the Kenyan culture, she was chased away from her matrimonial home. She took shelter in a faraway town in Makindu located along the Nairobi-Mombasa Highway in Makueni County.
In answer to God's call, Anastasia left home in 2000, and in May 2005, she professed her first vows in Huruma, Nairobi. She then changed her name and henceforth would be called Sr. Judith. This is a practice of the Missionaries of Charity whereby during first profession, one becomes a new being and takes a different name.