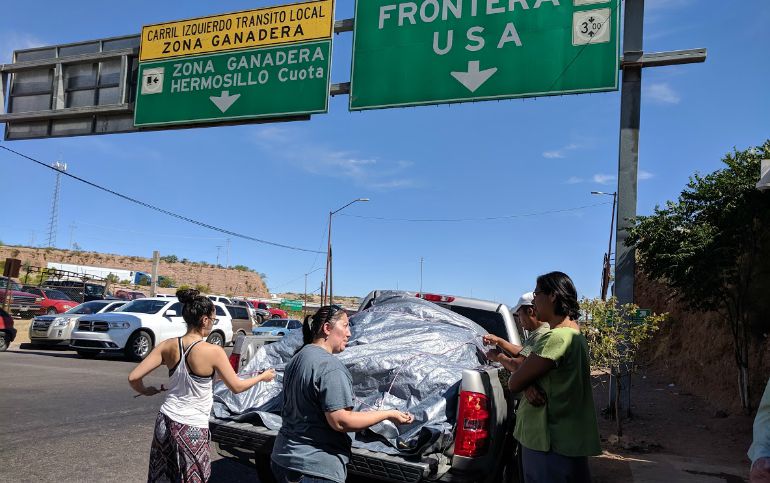 Sr. Maribel Lara, right, in green, meets with donors bringing items for people whom she and other Sisters of the Eucharist will serve at the Nogales, Mexico, Aid Center for Migrants. (Peter Tran)
Nogales, Mexico — August 15, 2019
Editor's note: This is the third in a Global Sisters Report three-part series on sisters helping migrants who are crossing Central and North American borders in pursuit of a better life in a new country. Read Part 1 and Part 2.
Guillermina escaped not one, but two death threats before ending up with her two children in the northern Mexico border town of Nogales, waiting to be interviewed to apply for asylum in the United States.
The first escape was from a gang in El Salvador who raped and threatened to kill her with a machete at her throat. She fled to Quintana Roo, Mexico's easternmost state, where she married a Mexican national. The second escape was from her drug-addicted and alcoholic husband and a brother-in-law who often resorted to violence against her. Deciding that she wanted to live, Guillermina gathered her two children Jose Daniel, 10, and Alexa Guadalupe, 5, packed up and fled. "I am a single mother, with no relatives and no friends. Someone gave us a room to sleep here in Nogales. We have come to El Comedor to eat every day since we came to this town 15 days ago."
For Sr. Maribel Lara, listening to an asylum-seeker's story such as Guillermina's is a "sacred moment." She interviews a lot of migrant asylum-seekers as an intake application coordinator at El Comedor, the popular name for the Aid Center for Migrants. "It is a sacred moment because they open their hearts, talking about suffering and pain during their journey," said Lara, a Missionary Sister of the Eucharist. "I look at their faces as I listen to their stories."
Located about a 10-minute walk south of the Mariposa Border Crossing, El Comedor (Spanish for "dining room") serves meals twice a day and provides clothing items, toys, shoes and first aid for the migrants. The center, which borders the city of Nogales, Arizona, and the state's largest international border community, serves meals to about 150 to 180 people in the morning and 120 to 130 in the afternoon, every day of the year, said Sr. Cecilia Lópes Arias.
Every day the sisters minister to people who have encountered stressful situations. "We hear so many sad stories, such as a story of family members killed by a gang, or family separation with U.S.-born children living across the border while their deported parents are here," Arias said. She also listens to young people who were brought to the U.S. as children, and are now deported. Since they grew up in the U.S., they can hardly speak Spanish and have no connection with their parents' original culture.