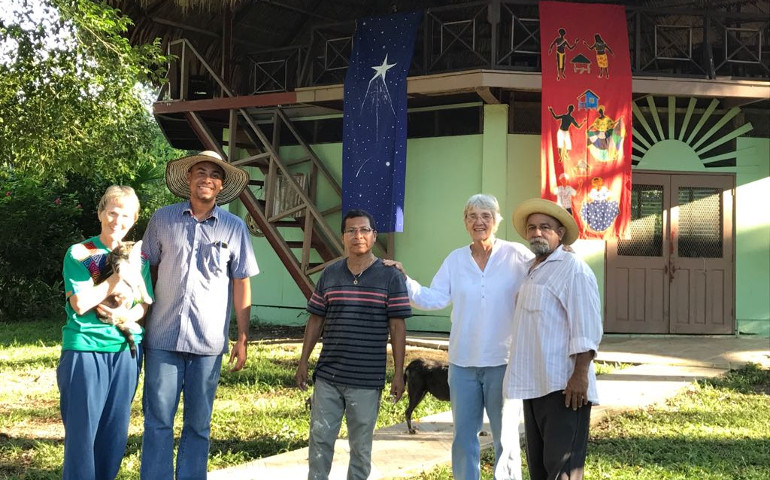 Members of the Santa Fe Pastoral Center community welcome visitors. From left, Sr. Peg "Margarita" Dillon, Horacito, Emel, Sr. Melinda Roper and Horacio. (Clara Meza)
In the tiny country where a slice through the Earth connects its two greatest oceans, Maryknoll Sr. Melinda Roper and her fellow sisters have staked a claim to protect a bit of Panama's lush biodiversity — and are working to rekindle a spiritual connection to the planetary ties that bind us all.
The new eco-spiritual retreat and study program they have launched, the Web of Life, begins today, June 22, and Global Sisters Report invites readers to follow along in a series of blogs, videos and photo galleries. This union of spirituality and science will be articulated in a series of reflections by theologians and scientists in settings as diverse as bustling Panama City, an organic farm and a tropical forest.
"It's a whole historical moment that we're living in, when not only human rights are on the table but the rights of the Earth," Roper said. "What happens when the rights of the Earth come into conflict with human rights, and those rights, at least in the West, come from a very capitalistic, very individualistic, very big business philosophy and way of living?
"Many of us think we've come to a moment in history where that paradigm has got to shift, so that we in the human community can situate ourselves within the whole community of life."
Shifting that paradigm is the aim of the Web of Life program. Beginning in Panama City and then moving to the Maryknoll Pastoral Center in Santa Fe, Darién, the sisters will lead a 10-day series of explorations of the interconnections of all life. Each day will begin and end with reflection, prayer and ritual to help integrate the "experiential scientific study" along the way.
For more than two decades, the sisters have worked to set an example for a different way of life, one in harmony with their surroundings. The 100-acre forest they have preserved is a model of sustainable living, with an organic farm, solar power, rainwater catchment, a holistic health care team and a creative arts-based curriculum aimed at helping people to fall in love with sustainable ways of living on the Earth. At the same time, they've accompanied their neighbors and friends over the years in the fight to defend the natural world around them.
Those two decades of changing lives at the local level is now going global with the Web of Life.
"What we're trying to do with these 10 days is to make a real contribution to the future of the quality of life on Planet Earth," Roper said. "I think religion has a big role to play in that. … The scientific world is challenging us to new lifestyles, to new ways of living our faith, and that's very important to understand as we make political decisions and try to discover new lifestyles that don't harm the planet."