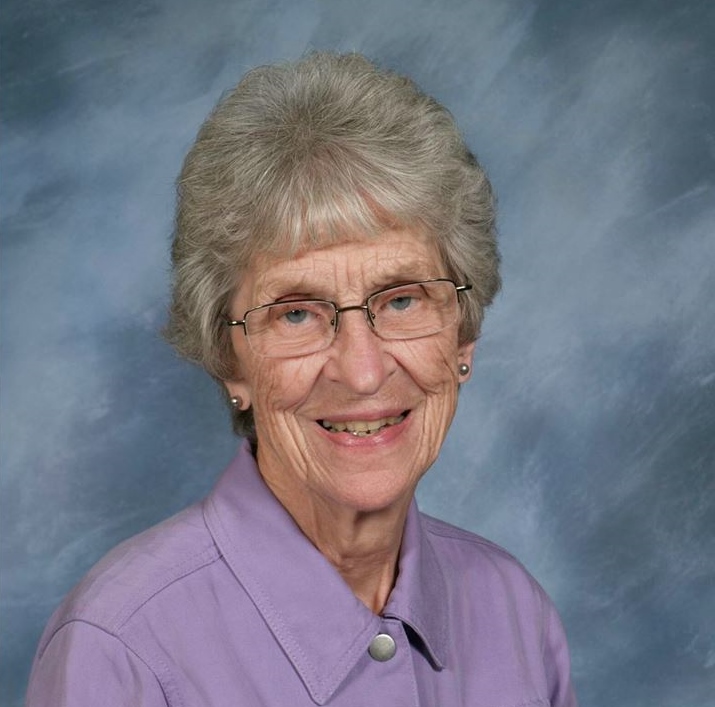 Sr. Margaret Brennan. (Courtesy of Sisters, Servants of the Immaculate Heart of Mary, Monroe, Mich.)
Shortly before she died April 28, someone asked Immaculate Heart of Mary Sr. Margaret Brennan, "As you look back on your life, what are you most grateful for?" She paused, silent for a time, and then responded: "To be an IHM -- being an IHM has made all my life possible."
Margaret was an extraordinary woman -- prophetic leader among Catholic women religious, pioneer theologian, mother of the House of Prayer movement, spiritual director, teacher, mentor, prolific scholar. Yet her rootedness was among her sisters in her beloved congregation of Monroe, Mich., Sisters, Servants of the Immaculate Heart of Mary. It was there that she lived, prayed, laughed and loved, and where she was most fully herself.
In trying to understand any person whose life has unquestioned national and even global impact, it is tempting to see them in terms larger than life. Fortunately, Margaret never made that mistake about herself and, in her deep self-knowing, even in her final hours, she taught one final lesson to those whom she had touched for close to a century: who you are ultimately is more important than what you do.
A late vocation
Born in Detroit in 1924, she was educated by the Religious of the Sacred Heart in primary and secondary school. She was a "late vocation," as those things were understood in the 1940s, since she entered the Immaculate Heart Sisters after graduating from their Marygrove College. Given the religious name of Sr. Benedicta (she, like many, would resume use of her birth name after the Second Vatican Council), she taught for a few years before becoming one of the earliest students in Holy Cross Sr. Madeleva Wolff's legendary theology program for women at St. Mary's College in Indiana. There, one of her classmates was feminist scholar and firebrand Mary Daly, and she also met a young Notre Dame Sr. Margaret Ellen Traxler, who was a graduate student in English and history at nearby Notre Dame University and later founded the National Coalition of American Nuns.
It was an exciting time to be a sister, and a woman -- one that foreshadowed changes which would intensify over the next half century. Margaret relished the freedom to read widely and freely. In her memoir, What Was There for Me Once, she noted that some of what she chose, like the works of female mystics such as Teresa of Avila, was out of bounds and in the "locked section" of her convent and college libraries. Her tastes remained extensive and eclectic for the rest of her life.
Upon receiving her Ph.D. in 1953, Margaret returned to teach at Marygrove until 1962, when she was named novice mistress, and later director, for her congregation. Four years later, she was elected general superior, a post she held both under that title and as her community's first president, for 10 years.
Sisters who came to know Margaret in her time as novice director, and later, remember her as one who taught them how to really pray.
"She knew God by heart," remembers Immaculate Heart of Mary Sr. Diane McCormack. "Prayer was who she was." McCormack recalls that one of Margaret's key mantras was "Notice! Don't miss the extraordinary in the ordinary." She could "read a handshake. She was both wholesome and holy, and the two were one and the same to her."
Her novices recall her sharing with them Vatican II documents, as well as her excitement over what they portended for the future of the Catholic church. As for Margaret, she remembered this as one of the happiest times of her life, and recalled with particular satisfaction how "her" novices could celebrate and experience joy.
Throughout her life, Margaret would continue to mentor young members of her own and other congregations. When onetime LCWR president Immaculate Heart of Mary Sr. Nancy Sylvester, who entered religious life in 1966, was going through a time of confusion and doubt early in her religious life and pondering the possibility of leaving, Margaret wrote her a brief note: "I don't think you should make this decision in February," she advised. Stick around till the spring -- which always comes -- the message seemed to imply. Nancy still has this note, and treasures its message, even as she prepares to celebrate the 50th anniversary of her entrance.
Call for renewal
Margaret became general superior as Vatican II was coming to an end, and her administration took seriously the call for both the renewal of religious life and for aggiornamento of the entire church.
For example, in 1965 she heard Redemptorist Fr. Bernard Haring address the Conference of Major Superiors of Women (later called the Leadership Conference of Women Religious) regarding his vision for a "house of prayer" movement. When he challenged someone to serve as a clearinghouse for the movement in the U.S., Margaret volunteered the Immaculate Heart of Mary Sisters, asking him to keynote a conference at Monroe called "Contemplative Living in the Contemporary World" for 150 women and men religious.
In 1968, she and fellow Immaculate Heart of Mary Srs. Mary McDevitt and Ann Chester met with Trappist Fr. Thomas Merton as he prepared for his final journey to Asia and carried his contemplative inspiration back home with them as they prepared to open the Visitation House of Prayer on the Monroe IHM motherhouse grounds in 1970.
While she had once considered opening a "cloister" within her own congregation -- similar to the Maryknoll Cloister started by Mother Mary Joseph Rogers in the 1930s -- Margaret considered it a blessing that this never happened. As she recalled in her memoir, the Visitation community "explored through prayer and study what it might mean -- for the Church but also for the whole of humankind -- to be actively contemplative in a world of change and challenge." Within five years, and with Margaret's support, women who had lived at Visitation carried spirituality and prayer ministry to Africa, Brazil, the Philippines and Puerto Rico, as well as throughout the U.S.
---
On Global Sisters Report: Sr. Margaret Brennan stood strong in Vatican II call to renew religious life by Joan Chittister
---
These were controversial as well as exciting times for American sisters. As a member of CMSW, Margaret experienced the contentiousness surrounding Cardinal James McIntyre's attempts to discipline California's IHM sisters (no relation to the Michigan group). She watched with frustration and sadness when most of that community's members withdrew as canonical religious and as CMSW -- after much debate, and by a fraction of a vote -- refused to stand in solidarity with them. And, like most in religious leadership, she experienced the pain of loss as many members of her own congregation chose to leave religious life. Yet she did not see any of this as reason to lose hope or to move backward.
Margaret was one of those who helped move CMSW to re-envision itself into the LCWR, and became one of its first presidents in 1972-73. In that role, her influence among sisters throughout the United States and the world only expanded, and she courageously called for them to walk confidently into the future as leaders and as people of prayer.
"One danger for us," she declared in her 1973 keynote address, "is that we may become legitimators of society's commonly held values. The values we hold and the faith we articulate require strong supportive communities and a degree of apartness from the dominant culture if our life and mission are to be countersigns to society. ... Can we as a conference discover ways to be supportive to one another in offering alternatives to society's prevailing mores?"
Dominican Sr. Rosemary Ferguson, prioress of the Adrian, Mich., Dominican sisters at the same time Margaret led the IHMs, served with her lifelong friend on several committees, including the national board of LCWR.
"Thanks largely to her, the IHMs were ahead of most of the rest of us in renewal," she recalls. "Margaret spurred people, including us, to be deepened, both intellectually and spiritually. She was so generous -- and so much fun!"
Immaculate Heart of Mary Sr. Juliana Casey affirmed this assessment, reminding people upon hearing that Margaret had entered hospice care: "Don't ever forget that she loved to laugh -- she loved and relished life!" And Immaculate Heart of Mary Sr. Carol Quigley who joined the IHM leadership team when Margaret stepped down, and who later served as president both of the community and of LCWR, remembers that Margaret often called to remind her to take a day off, and to ask: "What are you doing for enjoyment?"
Women scholars
As president of her community, Margaret understood from her own experience as a pioneer woman theologian, and from her frustration in dealing with clerics who dismissed sisters as theologically naïve and uninformed, that women religious had to be educated in Scripture, theology, and related disciplines so as to be able to hold their own in the church of the future. Her initial plan was to send 10 sisters -- one for every 100 members in the congregation -- to earn doctorates at the best institutions in the world. Others would later follow.
The contributions of scholars like Sandra Schneiders, Sharon Holland, Mary Ann Hinsdale, Juliana Casey, Mary Ellen Sheehan, Theresa Koernke, Susan Rakoczy, Joann Wolski Conn, Moni McIntyre and others, continue to testify to the legacy of her foresight.
As Schneiders put it, not too long ago: "Margaret saw the need for having women religious who were fully trained in theology, both to participate in the academy (bringing women's voices into the conversation) and to enable women's congregations to define themselves, analyze their own issues and arrive at their own conclusions, as opposed to having to 'call in father' to tell them who they were, and what they could and could not do in the church and the world."
"Don't forget that Margaret began this when she still had the authority to act unilaterally," added Sheehan. "Margaret later recalled with a laugh and a wink, 'I'm glad I was a mother general and not a president at the time all this started!' " And yet, Sheehan insisted, "Margaret was collaborative even when she didn't have to be; she had a powerful pastoral sensibility."
Meanwhile, theologian Mary E. Hunt, co-director of the Women's Alliance for Theology, Ethics, and Ritual (WATER), reminds us that Margaret's significance was not just for sisters: "She used her knowledge to create space and opportunities for all the women who followed her. Let her name be synonymous with gracious justice."
Among others who enjoyed both her generosity and her humor were countless contemplative nuns. Despite resistance from some highly placed prelates, Margaret worked with women who would form the forward-looking Association of Contemplative Sisters, inviting them to meet at Monroe and later joining them at gatherings elsewhere. Their contemplative insights, meanwhile, enriched not only her own prayer life but also that of her entire congregation and of those she encountered elsewhere, not only during her years of leadership, but also in the decades to follow.
Traxler, her friend from Indiana days, remembers making her first directed retreat with Margaret in the 1970s. "After decades of preached retreats, during which droning men would address us as we sat silently in auditoriums or chapels, it was marvelous to encounter God personally with Margaret!" she recalled. "I was forever transformed."
Two decades after leaving office, Margaret would help to spearhead a three-year "theological update" for her entire congregation -- vowed members and associates -- which revitalized not only the IHMs but also those with whom they lived and ministered.
Continuing influence
After her time in congregational leadership, Margaret became the first woman to serve as professor of pastoral theology at Regis College in Toronto, where she remained for 24 years, and where her scholarship, teaching, and mentorship touched the lives of hundreds of women and men. She published widely in both scholarly and popular periodicals, and lectured extensively throughout the world.
Retiring from Regis in 2002, she returned to Michigan, where she served in many capacities, including as theological consultant for the Visitation Spirituality Center -- formerly the original Visitation House of Prayer she had helped to found. She received numerous awards, including four honorary doctorates, and in 2010, she received the Outstanding Leadership Award from LCWR.
In her later years, Margaret continued to write. She was a core member of the feminist writing collective that produced the IHM's remarkable sesquicentennial history, Building Sisterhood. Not surprisingly, Margaret wrote the essay on IHM spirituality, "Not Two Exactly Alike." Three years after that appeared, a festschrift in her honor was published, entitled Light Burdens, Heavy Blessings: Challenges of Church and Culture in the Post-Vatican II Era. Finally, Margaret published her moving and important memoir in 2009, entitled What Was There for Me Once.
In considering the influence of her sister, mentor, and dear friend, Immaculate Heart of Mary Sr. Mary Ann Hinsdale wrote in appreciation: "Margaret Brennan looms large, not only in my story but in the story of … women shaping theology."
"Margaret exercised extraordinary leadership for LCWR at a time of great tumult and change, particularly as she worked to bridge understandings between the leaders of the church and U.S. women religious," said Immaculate Heart of Mary Sr. Annmarie Sanders, LCWR associate director for communications. "Early on she could see the significant potential that the call of Vatican II had for religious life and also understood well how challenging such renewal could be. As LCWR president, she articulated well how this life was being transformed and worked tirelessly -- and often at great personal cost -- to help others understand its evolving identity. Her impact on how religious life is lived today cannot be underestimated."
In the epilogue of her 2009 memoir, Margaret wrote: "My life has been a long love affair with the Church. ... [And] like all love affairs, mine has had its seasons." And that love affair isn't over yet. In learning of her passing, Immaculate Heart of Mary Sr. Susan Rakoczy, who now teaches and ministers in South Africa, declared, "May she not rest in peace but enjoy conversations with Teresa of Avila, Catherine of Siena, Alphonsus Liguori and all the great women and men who are now in glory with her."
Poet, essayist, and memoirist Patricia Hampl once mused, "To write history, inevitably, is to write an elegy." Margaret Brennan's life is now history, and it continues to be an elegy to all who knew her, both personally and through the ongoing influence of her work, her writing and her teaching.
[Margaret Susan Thompson is a professor of history at Syracuse University. She writes extensively on the history of women's religious life in the United States.]