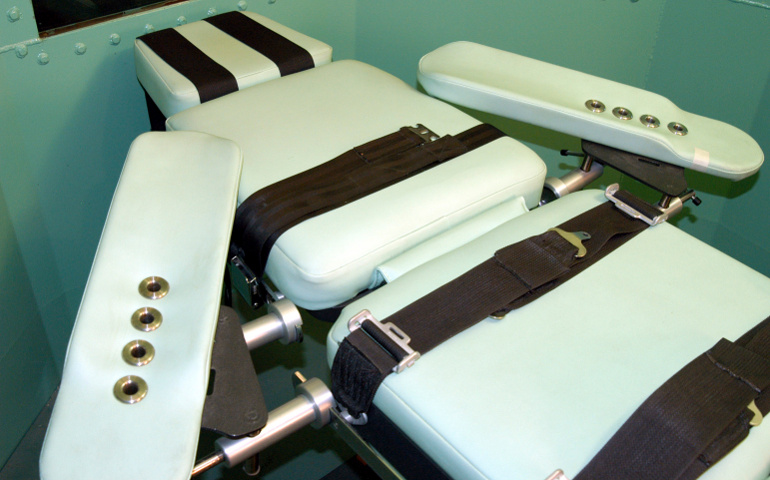 This undated photograph shows a close-up of the table where executions are carried out by lethal injection at San Quentin State Prison in California. (CNS/Courtesy of California Department of Corrections)
Despite a 90 percent decline of executions since the height of the death penalty in the 1990s, the death penalty is still a hot topic that is widely debated throughout the U.S. Here are a few of the top death penalty headlines that are currently capturing the nation.
Arkansas
Arkansas Gov. Asa Hutchinson announced the execution dates for eight inmates in the state, all occurring within an unprecedented 10-day span in April. Starting April 17, the state plans to execute its first death row inmate since 2005. The death penalty has been suspended since 2005 due to litigations and difficulties obtaining the drugs necessary for lethal injection, according to The New York Times.
During a press conference Feb. 28, Hutchinson said that the close scheduling of the executions was "not my choice."
"If we do not set the execution dates, that will not trigger a review and we'll never bring finality to this long and arduous process that really is so difficult on the victims and their families," he said.
It is believed that the urgency of executions is due to the state's dwindling supply of viable execution drugs. The New York Times reports that the state's supply of midazolam expires at the end of April.
Furonda Brasfield, a lawyer and executive director of the Arkansas Coalition to Abolish the Death Penalty, agrees with the assessment.
"Why else would you take something that was going to take place over the course of four months and move it into the state of 10 days? The only logical conclusion is that they know the midazolam is going to expire at the end of April and they want to get as many executions done as they can before then," Brasfield told NCR.
Midazolam
Oral arguments began March 7 in Ohio to discuss the constitutionality of midazolam in the state's lethal injection protocol. The U.S. Court of Appeals for the 6th Circuit in Cincinnati heard arguments from attorneys representing three inmates who are currently on Ohio's death row.
On Jan. 26, Magistrate Michael Merz from the U.S. District Court for the Southern District of Ohio issued a stay of execution for the state's three upcoming executions based on an evidentiary hearing against the use of midazolam. Attorneys argued on behalf of the inmates that the drug violates their Eighth Amendment right against "cruel and unusual punishment."
The ruling comes three years after the execution of Dennis McGuire Jan. 16, 2014, which utilized midazolam. During the Jan. 26 evidentiary hearing, Alan Johnson, a reporter for The Columbus Dispatch, testified about McGuire's execution, saying that McGuire "began coughing, gasping, choking in a way that I had not seen before at any execution. And I remember it because I relived it several times. Frankly, that went on for 12 to 13 minutes."
Midazolam was central to another court case that reached the U.S. Supreme Court. In June 2015, the court ruled 5-4 against inmate Richard Glossip's assertion that use of the drug was unconstitutional. Glossip is still sitting on Oklahoma's death row.
---
More: Capital punishment in the United States is on life support, hanging on in the 2 percent of counties that administer more than half of all executions.
---
Supreme Court
Although the U.S. Supreme Court ultimately ruled in 2015 that midazolam did not violate inmates' Eighth Amendment right against "cruel and unusual punishment," the drug keeps popping up in the nation's highest court.
The Supreme Court recently refused to hear a case pertaining to the stay of execution of Thomas Arthur in Alabama. In the case, Arthur argued that a firing squad would be more constitutional than Alabama's lethal injection protocol, which includes midazolam.
In an 18-page dissent issued on Feb. 21, Supreme Court Judge Sonia Sotomayor wrote that midazolam as a method of execution "may turn out to be our most cruel experiment yet."
"Like a hangman's poorly tied noose or a malfunctioning electric chair, midazolam might render our latest method of execution too much for our conscience — and the Constitution — to bear," she wrote.
Justice Stephen Breyer joined Sotomayor in her dissent. Two weeks later, Breyer wrote his own dissent in the case of Rolando Ruiz v. Texas. The Supreme Court refused to grant Ruiz an 11th hour stay of execution and he was subsequently executed March 7. Ruiz's appeal to the courts was also based on his Eighth Amendment right but on the premise that he has spent 22 years on death row, predominantly in solitary confinement.
"If extended solitary confinement alone raises serious constitutional questions, then 20 years of solitary confinement, all the while under threat of execution, must raise similar questions, and to a rare degree, and with particular intensity," Breyer wrote in his dissent.
The U.S. Supreme Court also refused to review and intervene in another case out of Texas. Christopher Young argued that he deserved a new trial after a potential jury member was removed from his capital punishment case based on their religious affiliation and involvement in a faith ministry. Over 500 faith leaders representing 44 states and 20 different faith traditions signed a letter stating their opposition to the removal of the potential juror.
However, in a glimmer of hope for advocates against the death penalty, the Supreme Court ruled 6-2 in favor of Duane Buck, sending his case back to the Texas courts to reconsider his death sentence. Buck argued that he was given the death sentence in part because of a testimony that said blacks are more likely than whites to commit crimes, according to the Los Angeles Times.
Chief Justice John Roberts told the courtroom that "our laws punish people for what they do, not for who they are."
Montana
Every year since 1999, Montana legislators have considered bills to ban the death penalty.
This year's hopes ended March 1 after the bill was unable to make it out of the state's House.
"We probably had the votes to pass HB 366 out of the House but just didn't have a workable path to successfully get it out of the House Judiciary Committee after they tabled the bill" on a 9-10 vote Feb. 10, wrote Matthew Brower, executive director of the Montana Catholic Conference, in an email to NCR.
"The ball is moving in the right direction and we and the Montana Abolition Coalition are going to keep working this issue to make sure death penalty abolition becomes a reality in Montana," Brower wrote. "So we look forward to 2019 and begin laying the groundwork for those efforts beginning now."
Slain Florida priest
Catholic bishops from Georgia and Florida are speaking out on behalf of slain priest Fr. Rene Robert of the diocese of St. Augustine, Fla. In a Jan. 31 press conference outside a Georgia courthouse, Bishop Felipe Estévez of St. Augustine, Archbishop Wilton Gregory of Atlanta and Bishop Gregory Hartmayer of Savannah, Ga., called for the state of Georgia to drop the death penalty, per Robert's request, in the case against Robert's murderer.
In 1995, Robert signed and had notarized a "Declaration of Life" where he stated that "should he die as a result of a violent crime, he did not want the individual or individuals found guilty of homicide for his killing to be subject to, or put in jeopardy of, the death penalty under any circumstances, no matter how heinous their crime or how much he may have suffered," according to Catholic News Service.
On April 18, 2016, Robert was found murdered in Georgia. Later, Steven J. Murray admitted in interviews that he was responsible for the death. Murray knew Robert — Robert had befriended Murray as part of his prison ministry.
"We have great respect for the legal system and we believe Murray deserves punishment for the brutal murder, but the sentence of death only perpetuates the cycle of violence," Estévez said at a news conference. "It is unnecessary and denies the dignity of all persons."
Ashley Wright, who at the time was the Augusta-Richmond County district attorney, said she would seek the death penalty against Murray. Wright has recently been named a Superior Court judge.
After the news conference, the bishops talked privately to Hank Syms, acting district attorney, and Estévez gave him petitions with 7,400 signatures. Neither Syms nor Wright would comment on the specifics of the case but according to NBC News, Wright said the district attorney "is supposed to be impervious to public opinion or public outcry about how a case should be handled."
[Kristen Whitney Daniels is an NCR Bertelsen intern. NCR West Coast correspondent Dan Morris-Young and Catholic News Service contributed to this report.]
A version of this story appeared in the March 24-April 6, 2017 print issue.