A version of this story appeared in the June 17-30, 2016 print issue under the headline: "Strangers to Neighbors".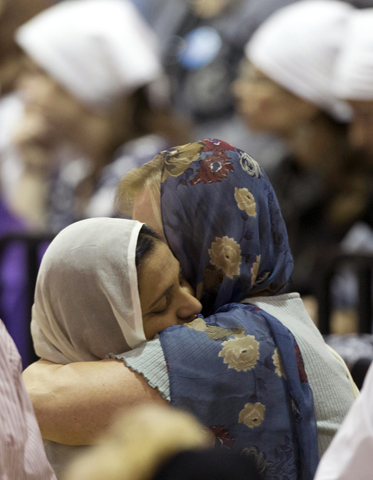 Mourners console one another at the funeral and memorial service for the six victims of the mass shooting at the Sikh Temple of Wisconsin. The public service was held Aug. 10, 2012, in the Oak Creek High School. (AP/Jeffrey Phelps)
On Aug. 7, 2012, the Wisconsin community of Oak Creek nearly skipped the annual National Night Out program, the usually festive event that promotes community anti-crime programs. Who could blame them? Just days before, a white supremacist armed with a 9 mm handgun shot and killed six worshipers at the Sikh Temple of Wisconsin in this community of 35,000. Four others, including Oak Creek Police Lt. Brian Murphy, were badly injured.
"We were so short-staffed that we talked about canceling it but decided to go ahead with it because the community wanted us to do it," recalled Oak Creek Police Chief John Edwards. "A member of the Sikh community walked up to me just after I arrived and asked, 'How are you doing?' It was the most amazing experience -- in 28 years, I've never had family of a victim ask me how I was dealing with events. The day of the shooting, they wanted to go to see Brian in the hospital."