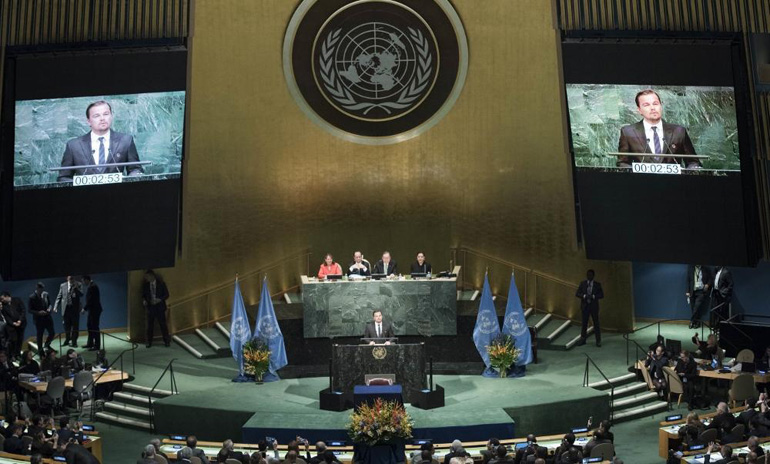 Secretary-General Ban Ki-moon hosted a signing ceremony for the Paris Agreement on Climate Change on 22 April at the United Nations. Messenger of Peace Leonardo Dicaprio addresses the opening segment of the signature ceremony. (United Nations photo)
New York — April 22, 2016
World leaders gathered Friday, April 22 at the United Nations to sign the landmark Paris Agreement that environmental activists and advocates, including Catholic sisters, hope can be a catalyst in reversing the effects of climate change.
"Record global temperatures. Record ice loss. Record carbon levels in the atmosphere. We are in a race against time," United Nations Secretary-General Ban Ki-moon, quoted by the U.N. News Service, said in his remarks to heads of state, ambassadors and activists who attended the Earth Day ceremony at the U.N.'s General Assembly Hall.
"[Today] is a day to mark and to celebrate the hard work done by so many to win the battle of securing the Paris agreement," U.S. Secretary of State John Kerry said about the agreement that 196 nations in negotiations in Paris in late 2015 pledged to support. "But knowing what we know, this is also a day to recommit ourselves to actually win this war."