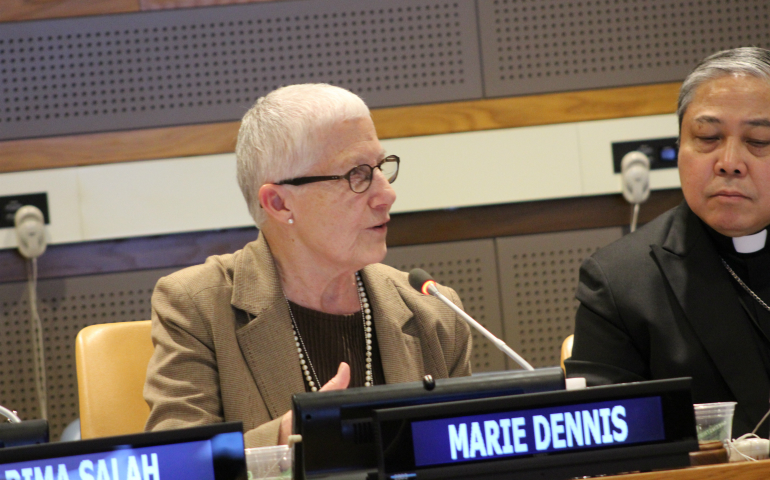 Marie Dennis, co-president of Pax Christi International, was among those speaking at the event, as did Archbishop Bernardito Auza, right, Permanent Observer of the Holy See to the U.N. (NCR photo/Chris Herlinger)
New York — March 14, 2017
Is peace breaking out in the world?
The question may seem odd given so much focus on conflicts in Syria and Iraq, as well as several African countries; the unresolved situation in Afghanistan; and rising international tensions in Asia.
But in a public response to Pope Francis' Jan. 1 peace message, advocates for peace-making said at a March 2 United Nations forum that there are plenty of reasons to be optimistic about the prospects for peace in the world.
"There is actually strong empirical evidence for the superior effectiveness of active nonviolence," said Gerry Lee, director of the Maryknoll Office for Global Concerns.
The frame for the event, co-sponsored by Maryknoll, the Permanent Observer Mission of the Holy See to the U.N., Pax Christi International and the Catholic Nonviolence Initiative, was Francis' call for non-violent alternatives to resolving conflicts.
Advocates reflected on Francis' message for the 50th World Day of Peace, commemorated on Jan. 1. Taking the theme "Nonviolence: a Style of Politics for Peace," the pontiff said that violence "is not the cure for our broken world."
"Countering violence with violence leads at best to forced migrations and enormous suffering, because vast amounts of resources are diverted to military ends and away from the everyday needs of young people, families experiencing hardship, the elderly, the infirm and the great majority of people in our world," he said. "At worst, it can lead to the death, physical and spiritual, of many people, if not of all."
Francis's statement — cited repeatedly at the forum by Archbishop Bernardito Auza, Permanent Observer of the Holy See to the U.N. — touted "decisive and consistent practice of nonviolence" for producing "impressive results."
"The achievements of Mahatma Gandhi and Khan Abdul Ghaffar Khan in the liberation of India, and of Dr. Martin Luther King, Jr. in combating racial discrimination will never be forgotten," the pope said. Francis also praised the particular role of women in peace-making efforts, noting, for example, the thousands of Liberian women who "organized pray-ins and nonviolent protest that resulted in high-level peace talks to end the second civil war in Liberia."
Francis called such peace-building efforts a "natural and necessary complement to the church's continuing efforts to limit the use of force by the application of moral norms" and challenged both those within and outside the church to "apply the Beatitudes in the exercise of their respective responsibilities."
"It is a challenge to build up society, communities and businesses by acting as peacemakers. It is to show mercy by refusing to discard people, harm the environment or seek to win at any cost," he said.
Seeking peace, the pope said, requires people to face conflicts "head-on" and to show that "unity is truly more powerful and more fruitful than conflict."
Lee said that critics would argue that the pope is "being utopian, that active nonviolence isn't practical in the face of the wars and terrorism of today's world. They would argue that lethal force is the only effective answer to such extreme violence. "
But Lee argued that that is not true and made an empirical-based case for the effectiveness of non-violence. Citing a study of non-violent resistance over the last century by Maria Stephan and Erica Chenoweth, Lee noted that the researchers collected data for major nonviolent and violent campaigns to overthrow governments since 1900.
Stephan and Chenoweth concluded that from 1900 to 2006, "nonviolent campaigns worldwide were twice as likely to succeed outright as violent insurgencies."
Moreover, Lee said, the trend "has been increasing over time, so that in the last 50 years, nonviolent campaigns are becoming increasingly successful and common, whereas violent insurgencies are becoming increasingly rare and unsuccessful. This is true even in those extremely brutal, authoritarian conditions where you would expect nonviolent resistance to fail."
The reason for the success, the researchers found, was that campaigns did not fail after reaching "the active and sustained participation of just 3.5 percent of the population," Lee said.
Lee also cited the research which found:
Every campaign that garnered 3.5 percent or more of popular support was nonviolent;
That nonviolent campaigns "were on average four times larger than the average violent campaigns, and they were often much more inclusive and representative in terms of gender, age, race, class and the urban-rural distinction."
Moreover, Lee said, the research shows that 75 percent "of the violent campaigns failed, while a majority of the nonviolent civil resistance campaigns were successful."
One example of a broad-based campaign of civil resistance that welcomed "people of all different levels of physical ability to participate including the elderly, people with disabilities and children" was the "People Power" movement that toppled Philippine President Ferdinand Marcos in 1986, Lee said.
While a rural, largely male insurgency "fought Marcos for years" and did not topple the president, Lee said, "a mass movement of workers, urban poor, students, women's groups, the business community and the Catholic Church unified in opposition to the dictator," and were able "to mobilize over 2 million Filipinos in opposition, using a wide diversity of nonviolent tactics that eroded Marcos' base of support in the army and business community."
A key to that success, said Lee and Auza, who is Filipino, was the role the Catholic Church took in ensuring that protests remained non-violent.
Marie Dennis, co-president of Pax Christi International, expanded the reflection on Francis' call for peace to include the United Nations. She noted that a high-level independent panel that studied U.N. peace-keeping operations recently saw "a widening gap between what is being asked of U.N. peace operations today and what they are able to deliver."
"Repeatedly since 1945 the U.N. has been confronted with an enormous challenge, facing complex and dangerous situations with relatively underfunded or underdeveloped nonviolent strategies," Dennis said. "At the moment of crisis — in Aleppo or Mosel, Rwanda or the Balkans, the Philippines, Haiti or South Sudan — we have time and again opened a toolbox that is flush with military might, but woefully under-invested in the tools of active nonviolence."
Pax Christi International, Maryknoll and other partners in the Catholic Nonviolence Initiative, Dennis said, "believe that much more creative energy as well as intellectual and financial investment in the development of effective nonviolent approaches to peacekeeping and peace-building can help fill that gap."
"Countless movements around the world have shown that action which is both nonviolent and determined is often essential to overcoming the roadblocks to a just and peaceful solution in situations of oppression and violent conflict," she said. "Nonviolent action can dramatize the issue at hand and foster the creative tension that encourages all parties and the larger community to find a path to justice and peace."
One such locale is Colombia, which has just concluded a complex process of peace-making between the Colombian government, right-wing paramilitaries and leftist guerrilla movements.
That has not been an easy process by any means, said Jesuit Fr. Francisco de Roux, a Jesuit priest who has been active in peace initiatives in Colombia and is a founder of the Development and Peace Program in the Magdalena region of Colombia and a winner of the Colombia National Peace Prize.

Jesuit Fr. Francisco de Roux (NCR photo/Chris Herlinger)
A key part of ending the decades-long conflict is the role those who had been victimized by violence took in peace efforts. They opted to work for peace rather than continuing war. Colombia's experience, de Roux said, shows that communities and nations "never get safety and security from weapons."
The case of Colombia was cited by Dr. Maryann Cusimano Love, who teaches international relations at the Catholic University of America, as one of the successes of a world where, increasingly, "peace is breaking out," she argued.
Data shows that there are fewer than 10 wars in the world now, and more than of half of war-related deaths are from Syria and two-thirds are from Syria or Iraq. "Most people [in the world] are living in peace," she said.
But Love added that she does not want to be "cavalier" about peace in the world. "Not everybody is living in peace," she said, adding that a key role for peacemaking is in "rebuilding communities after times of conflict, especially through participation, reestablishment of just relationships, restoration of order, reestablishment, reconciliation among warring parties, and sustainable solutions."
This means focusing on issues of "repair," Love said, "not just of homes and bridges but of the human infrastructure, the human heart."
"We have to remember all wars end; whether they end well or end badly depends on us and whether we build a lasting peace."
Rima Saleh, a former deputy director of UNICEF and another speaker at the event, said that while the data show fewer conflicts between states, the reality of wars in 2017 is that they tend to be internal conflicts that take an increasing toll on civilians.
"That suffering is increasing," she said, and has "created tremendous hardships. The suffering is not like before."
[Chris Herlinger is international correspondent for Global Sisters Report.]