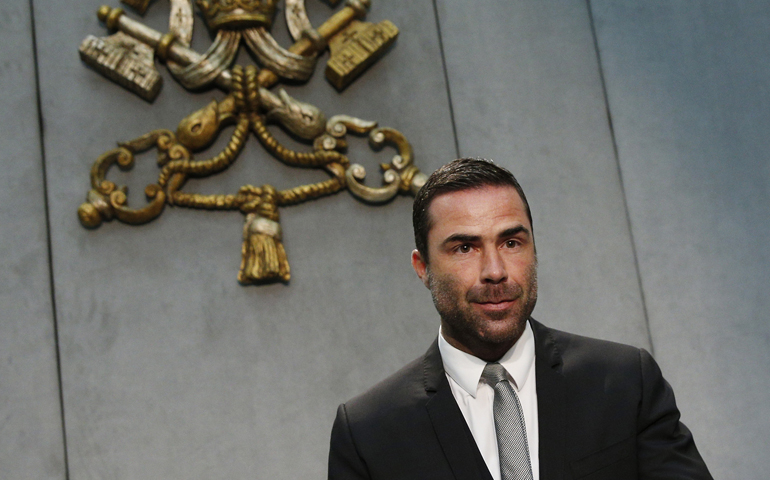 René Brülhart arrives for a briefing on the 2015 annual report of the Vatican's financial watchdog agency at the Vatican April 28, 2016. (CNS/Paul Haring)
Vatican City — January 23, 2017
The head of the Vatican's financial watchdog agency has revealed that the city-state began pursuing prosecutions against people accused of financial crimes for the first time in 2016, in what may be seen as a breakthrough for Pope Francis' continuing reforms.
In an NCR interview Jan. 10, the president of the Vatican's Financial Intelligence Authority said the first prosecutions had begun without public announcement in 2016 and would continue at a faster pace in 2017.
"The work there is increasing and we are definitely making progress on that end," said René Brülhart, speaking about the process carefully.
Lack of prosecutions against those accused of financial crimes has long been a concern of international experts who have examined the Vatican's financial system.
While the watchdog agency has released annual reports since 2012 detailing possible suspicious activity, for example marking 544 activities as questionable in 2015, there had as yet been no prosecutions of those responsible.
A 2015 progress report by Moneyval, the Council of Europe's Committee of Experts on the Evaluation of Anti-Money Laundering Measures and the Financing of Terrorism, widely praised progress the Vatican had made in clamping down on financial crimes but called on the city-state to "deliver effective results in terms of prosecutions."
Brü​lhart declined to give more information about the prosecutorial process, citing the fact that responsibility for criminal proceedings does not rest with his office but with that of the promoter of justice, the Vatican's chief prosecutor.
But the head of the watchdog agency, who spoke to NCR in his Vatican office Jan. 10, expressed confidence in the reforms of the Vatican's financial system, which began under Pope Benedict XVI but have been continued and strengthened under Francis.
"The system is working now," said Brü​lhart, saying that the Vatican's financial institutions are now appropriately reporting suspicious activity to his agency, which is then passing on possible criminal cases to the promoter, Gian Piero Milano.
"Step by step the whole system has taken a path which is really encouraging and we're definitely on the right track," said the watchdog president, who previously served as the head of Liechtenstein's financial intelligence unit and as vice president of the Egmont Group, a global network of financial intelligence units that coordinate the policing of financial transparency requirements.
Asked about what had happened in early 2016 when the Vatican decided that instead of going forward with an external audit of its financial system that it would conduct an internal audit with the help of an outside auditing firm, Brü​lhart compared the process of the Vatican's reforms to a family business that is learning how to grow.
"You have to first ... find understanding in how you're working together," said the agency president. "[It's] a question of collaboration and coordination, but I think quite some progress has been made in that regard."
"Some people want to see a quick fix, maybe rightly," said Brü​lhart. "But at the end of the day I think what counts is that you're going to achieve a sustainable system."
"Sometimes it's probably better to take one step back so you can take two in advance and reflect [on] what is going right, that's normally the easy part, but also what is going wrong," he continued.
"That's a process," he said. "And it's a process where it's very important ... to communicate extensively internally why you're doing that and especially also how you're doing that and what is happening if you're not doing so."
The internal audit process is being led by the Vatican's auditor general, a new role Francis created in 2014. The auditor general reports directly to Francis and has the power to audit the books of any of the city-state's offices. The pontiff appointed the Dutch-born and London-educated Libero Milone to the role in 2015.
Asked whether Milone had been able to conduct his responsibilities independently without interference from any of the Vatican's financial agencies, Brü​lhart said: "There's a clear statute and we had a further clarification last year on the different competencies of the different bodies."
"We are all committed to the rule of law in that regard and to what is provided by the statutes and the legal framework of the Holy See," said the watchdog agency president. "That's what it is."
Brülhart​ said that while there has been a lot of press coverage of the opposition Francis is facing to his reforms of the Vatican that the pontiff is also receiving a lot of support.
"All these reforms ... wouldn't have been possible if there wasn't very broad internal support in doing these types of reforms and especially bringing in financial transparency," said the agency president.
"Unfortunately, in today's world normally only the bad news finds its way to the public, not all the hard work which is done positively and in a very constructive way," he continued.
"If you talk about the opposition or all that, for sure whenever you change something or you come out with something new, probably not everybody is happy about that," he said. "The question is: Do we find a constructive dialogue? Do we find a way together in executing the will of the Holy Father in doing this work? I think we're on a good track there."
Brülhart also said he does not ask himself if there is a chance that the Vatican's financial system could return back to the way it was before Benedict and Francis' reforms.
"We have a clear mandate, we have built a comprehensive legal framework and a solid institutional framework," said the agency president. "It's up to us to fill that with life, to implement it and to go ahead. Once in a while it's helpful to look backwards to learn from experience, but we are mainly looking ahead."
[Joshua J. McElwee is NCR Vatican correspondent. His email address is jmcelwee@ncronline.org. Follow him on Twitter: @joshjmac.]